LTE-A offers ultra-fast network speeds of up to 150 Mbps, two times faster than LTE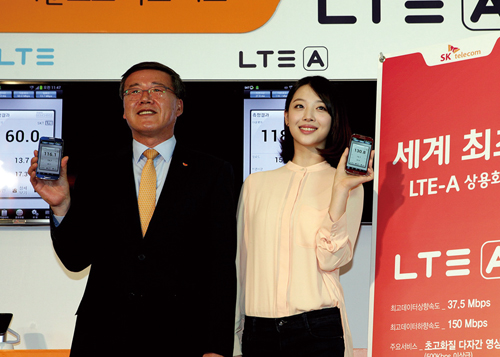 Park In-shik, president in charge of overall business at SK Telecom, and Sulli, a member of the quintet girl group
fx, hold a smartphone at a session to demonstrate the world's first LTE-Advanced service at the SK Telecom
T-Tower in Seoul on June 26. (Photo : SK Telecom)
SK Telecom has launched the world's first LTE-Advanced (LTE-A) service through smartphones on June 26, which offers ultra-fast network speeds of up to 150 Mbps, which is two times faster than that of LTE, and 10 times faster than the 3G network. LTE-A users can download an 800MB movie in just 43 seconds.
The company achieved such a feat in less than two years after commercializing the nation's first LTE service in July 2011. SK Telecom's LTE-A is the most advanced one among the 175 LTE service providers from 70 countries around the world.
With the commercialization of LTE-A, the company expects to further improve customer satisfaction in mobile internet services, and increase the use of ultra fast video contents and other diverse mobile value-added services.
To commercialize LTE-A, SK Telecom successfully developed and applied the most advanced mobile network technologies. The company already applied Carrier Aggregation (CA) and Coordinated Multi Point (CoMP), and plans to apply Enhanced Inter-Cell Interference Coordination (eICIC) in 2014.
CA, commercialized for the first time in the world by SK Telecom, supports up to 150Mpbs speed by combining two 10 MHz components carriers (1.8GHz and 800MHz spectrum bands) to form an effective bandwidth of 20 MHz spectrum bands.
With the surge of data traffic worldwide, CA will act as the key enabler for network evolution among mobile operators around the world. According to network experts, CA will be further advanced to realize up to 300Mbps speed by aggregating two 20MHz component carriers by 2015, and become capable of combining three component carriers by 2016. In addition, they expect to see the realization of uplink CA by 2016. The current CA standards allow for up to five 20 MHz carriers to be aggregated.
SK Telecom has fiercely competed with mobile carriers of other advanced nations to achieve the world's first LTE-A commercialization. Up to date, 13 operators of eight nations, including Verizon, AT&T, NTT Docomo, and Telenor, have announced plans to launch LTE-A, and among them Sprint, Telstra, 3 Italia, and Yota said that they will do so within this year. However, no carrier besides SK Telecom has yet reached the goal of launching an LTE-A network through an LTE-A compatible phone.
Since launching the nation's first generation analogue network (1G) in 1984, SK Telecom led the popularization of mobile telecommunications service by commercializing CDMA (2G) for the first time in the world in 1996, and introduced video telephony service through the commercialization of CDMA2000 1X in 2000. In 2006, the company opened the era of mobile data communications service by commercializing the HSDPA technology over its 3G WCDMA network using a mobile phone for the first time in the world. Then, SK Telecom launched Korea's first 4G LTE in 2011 and successfully commercialized the Multi Carrier (MC) technology for the first time in the world in July 2012.
SK Telecom announced that its existing LTE price plans will apply to the LTE-A service, meaning that customers will be able to enjoy twice the network speed without paying extra. The decision comes as part of its commitment to maximize customer benefits and satisfaction through innovative technologies and services.
With the commercialization of the world's first LTE-A network, SK Telecom on June 26 released Samsung's Galaxy S4 LTE-A. The Samsung device, the world's first phone optimized to work over an LTE-A network, will come in two different colors, red (exclusively available at SK Telecom) and blue.
SK Telecom will embed useful services like 'Safe Message' and 'Safe Data Backup' as basic features in all its LTE-A phones. Safe Message is designed to protect users from smishing (SMS phishing) attacks by enabling them to check whether the message is sent from a trusted source; and Safe Data Backup enables users to upload personal data stored in their smartphones to the cloud server to keep data safe from smartphone loss and accidental deletion. The company also plans to mount these features on all its to-be released LTE phones as well.
Customers can purchase the Galaxy S4 LTE-A at SK Telecom's official online store, T World Shop (www.tworldshop.co.kr), or at one of 2,850 authorized SK Telecom T World retail stores. The company has secured an initial supply of 20,000 units of the Galaxy S4 LTE-A.