Telecom company comes up with surprise marketing blitz before the launch of LTE-A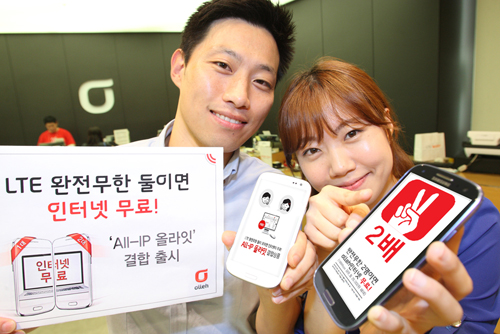 KT has launched a marketing blitz to allow its customers to freely use
twice as much data as the previously allowed levels.(Photo : KT)
KT, preparing for the launch of the Long-Term Evolution Advanced (LTE-A) system, which is two times faster than the existing LTE, has allowed customers to freely use twice as much data as the previously allowed levels.
The beneficiaries of the new plan are subscribers of "Wired and Wireless Unlimited Price Rate" and "Everybody-Olleh Price Rate" (LTE/3G). Such subscribers are given the right to use twice as much data as the basic data amounts between July 1 and Oct. 31. They are allowed to share the two-fold increase among their tablets and PCs.
KT also offers content at discounted prices. KT subscribers will get a 50 percent discount on their monthly usage fees when they use Genie Pack for listening to original music and Olleh Now Pack to watch TV during the six-month period, which will cost 3,000 won and 5,000 won, respectively. Subscribers of KT's membership are given twice as many benefits as before. Long-term subscribers who have stayed with the telecom service provider for two years or more will receive twice as many points as before.
An estimated 10 million subscribers are expected to benefit from the latest marketing move with a maximum benefit of 35,500 won.
KT has introduced the "Olleh letter customer center" to provide consulting on services to customers.
KT Adopts Giga Wi-Fi technology
KT, with 200,000 Olleh Wi-Fi aps worldwide, opened the era of giga Wi-Fi by commercializing its giga Wi-Fi service, which is 10 times faster than fixed line internet access.
KT announced on April 29 that it has already applied its giga Wi-Fi service to the Gwanghwamun area in downtown Seoul and plans to expand it to the Gangnam District and other major cities nationwide at the end of April.
Since smartphones equipped with chip set modules that use IEEE's universal standard are currently being launched, KT customers can download 1GB movie files in 10 seconds in giga Wi-Fi zones.
In particular, KT, which has the world's best internet infrastructure (580,000Km), provides a more optimized giga Wi-Fi service than other operators in spite of heavy traffic on the basis of its fiber optic communication technology.
The main features of giga Wi-Fi are seamless voice call services; Wi-Fi coverage expansion; seamless voice call service based on Femtocell and Wi-Fi connection technology service; Giga-level home Wi-Fi service; and compatible services with more than 200,000 Wi-Fi APs.
Also, KT said, "KT customers can enjoy watching high-resolution live baseball games in downtown Seoul via 400Mbps internet."
"This commercialization of giga Wi-Fi services makes it possible to offer high-speed and high-quality services to KT customers," said Oh Sung-mok, manager of KT Network Division. "It also plans to make the shift to 7Gbps giga Wi-Fi services on the basis of its leadership and competence in Wi-Fi technology."