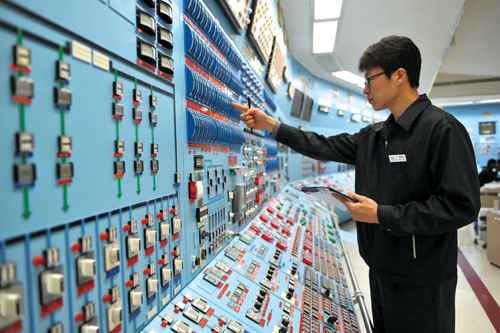 A view of the main control room of Wolsung Nuclear Power Unit 1.
Nuclear energy is almost the cleanest and cheapest energy source available on earth. But the downside of nuclear energy is that a disaster involving its production could conceivably wipe out every living thing on the planet, including human beings, as the nuclear disaster at the Fukushima nuclear reactors reminded us.
A pros and cons debate over nuclear energy has since heated up. For Korea, a nation with a scarcity of natural resources, the reality is that the nation, which depends on nuclear energy for almost half of its electricity, has no options with which to replace nuclear energy.
Against this backdrop, Korea Hydro and Nuclear Power Co. (KHNP) President and CEO Kim Kyun-seop, declared his top policy goal to ensure the safety of nuclear power plants while taking office last June. He indicated his determination to secure the world's safest levels of nuclear energy.
In this vein, KHNP President Kim made public a shift of the company's top priority when operating nuclear power units from efficiency to safety. In the past, KHNP had been scrambling for the restarting of nuclear power units that were hampered by breakdowns and required the replacement of parts. From now on, the company is focusing on taking countermeasures to prevent the repetition of similar breakdowns and to secure enough maintenance time, rather than rushing their restarting.
KHNP has developed a manual for the integration and operation based on the IAEA's safety requirements of GS-R-3, a management system for facilities and activities which the company introduced.
KHNP aims at ensuring the reliability of operating nuclear power units and raising its overseas competitiveness by building the Quality, Health, Safety, Security Environment (QHSSE) system, its integrated management system for nuclear unity safety, departing from the past's quality-oriented process. The power company also has an Advanced Engineering Process System in which nuclear power units are able to ensure efficient equipment replacements and maintenance by predicting and conducting preventive maintenance before getting stuck with breakdowns.
KHNP PUTS ITSELF UNDER THE MICROSCOPE
Globally renowned experts in the nuclear energy field are invited to conduct an examination of its nuclear safety environment and nuclear unit operation regime to dramatically reinvent its nuclear energy culture. Last December, KHNP signed an MOU on safety consulting with the United State's biggest nuclear power operator, Exelon. Robber Hobby, an executive in charge of safety at Exelon, has been appointed to be a safety adviser for KHNP.
CEO Kim believes that at the center of ensuring the safety of nuclear power units lies with KHNP employees' faithfully sticking to principles and procedures. To this end, Kim is focusing on improving KHNP employees' awareness toward the safety of nuclear power units, so his company plans to let its employees conduct a thorough check into equipment in advance and stick to principles and procedures in the course of operating nuclear power units and conduct smooth in-house communication to ensure safety.
First of all, KHNP conducts the "Love+365" drive, named after the initials of the words Law, Obedience, Valuable, and Effort to proliferate awareness toward safety. The campaign calls for employees to recite safety slogans every day, conduct a review of the safety environment, and carry out differential safety team activities on a daily, weekly, and monthly basis.
KHNP has the Employee Concerns Program (ECP), designed to have a free discussion on nuclear safety without fear of punishment, learning the lessons from the cover-up of the disruption of Kori Nuclear Power Unit 1.
The company has established an educational regime tailored to offer educational programs catering to all employees from freshman workers to high-level executives on all cycles of nuclear energy.
President Kim said everyone at KHNP should get back to basics with a renewed mind. He added that his company continues to complement safety regimes as well as create an environment focusing on the safety of nuclear power units.