BPA Accelerates Moves to Secure more Investment and Cooperation from Leading Container Shippers
Pres. Lim attends TOC CSC meeting in Rotterdam to meet with leading container terminal operators and container shippers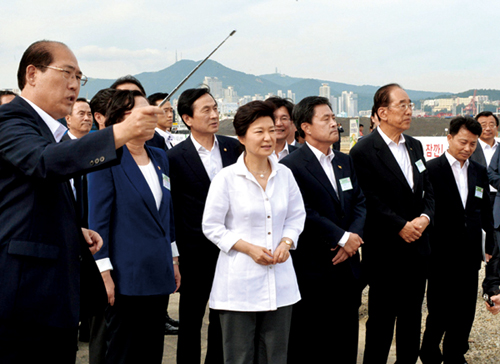 President Park Geun-hye gets a briefing on the progress of the North Port development
project from Busan Port Authority President Lim Ki-taek as she inspects the Busan Port
International Passenger Terminal construction site on July 22.(Photo:BPA)
The Busan Port Authority (BPA) attended the 38th TOC CSC (Terminal Operating Company Container Supply Chain) held June 25 in Rotterdam, the Netherlands, represented by President Lim Ki-taek, who presented attendees with information about the Northeast Asia container terminal market and Busan Harbor.
Lim explained how the new harbor developed at Busan Harbor will boost the Northeast Asia container market's competitiveness, while strengthening its cooperation with major ports in China and Japan under Busan Harbor's cross-border harbor operation strategy.
TOC CSC is Europe's largest harbor and logistics convention held annually to support the development of industries related to harbor logistics. Around 3,000 people representing terminal operating companies, shipping firms, and logistics companies attended the event in Brussels, Belgium, last year.
BPA invited representatives of 50 logistics firms in Europe to a meeting held at Intel Hotel in Brussels to explain the activities at Busan Port and its background sites development plans in an effort to attract investments.
President Lim and other executives also traveled to Antwerp and then Amsterdam, one of the top global oil trading centers, to benchmark their development history on June 26 and 27.
Before their trip to Rotterdam, they visited Dubai to call on DP World and met with Vice President Ahil Wats to discuss possible tie up with Busan and Dubai ports on cooperation and other mutually-supportive matters.
Lim and his entourage also made a call on CEO Jorn Hinge of United Arab Shipping Co., the largest shipping firm in the Middle East, to ask for increased calls on Busan Harbor by its ships.
Lim said, "Through our participation in TOC CSC, we will strengthen the international position of Busan Harbor and attract investments in the background of the new Busan Harbor the best we can."
President Lim and his entourage also paid a call on Dubai Port World, the third largest container terminal operator in the world, located in the United Arab Emirates and met with Senior Vice President Anwar Wajdi to take up such matters as cooperation between BPA and DPW on strategies, information, human exchange, and others to sharpen their competitiveness.
The top executives of the two companies agreed that there has been a slowdown in world shipping and a trend toward bigger containers and that there should be the formation of diverse alliances by container shippers to combat the global sluggishness in the industry through joint strategies.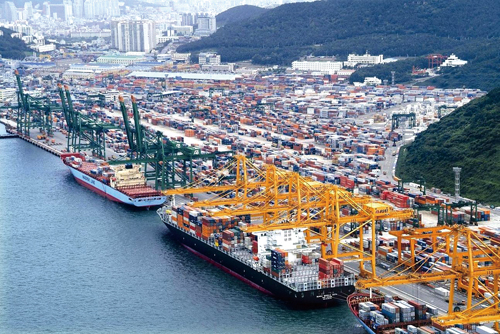 A view of the container terminal at Busan Port
DPW, a major shareholder in the new Busan Harbor, operates 65 terminals around the world as a GTO (global terminal operator) and last year handled 56 million TEU containers, placing it third after PSA and HPH.
President Lim said, "We have a lot to learn from DPW's experience in building a top port in the wild Jebel Ali area near Dubai and developing it to rank among the busiest ports in the world and will work hard to conclude cooperative tie up with DPW in the days ahead."
Lim said that BPA has a lot to learn from the Jebel Ali port, which made itself a major hub port linking the Middle East and Africa taking advantage of its geography. Furthermore, Dubai has also become a hub for air traffic over Africa, making it a general logistics hub between the Middle East and Africa.