Power company signs a deal for $600 million in project financing with Eximbank and four other banks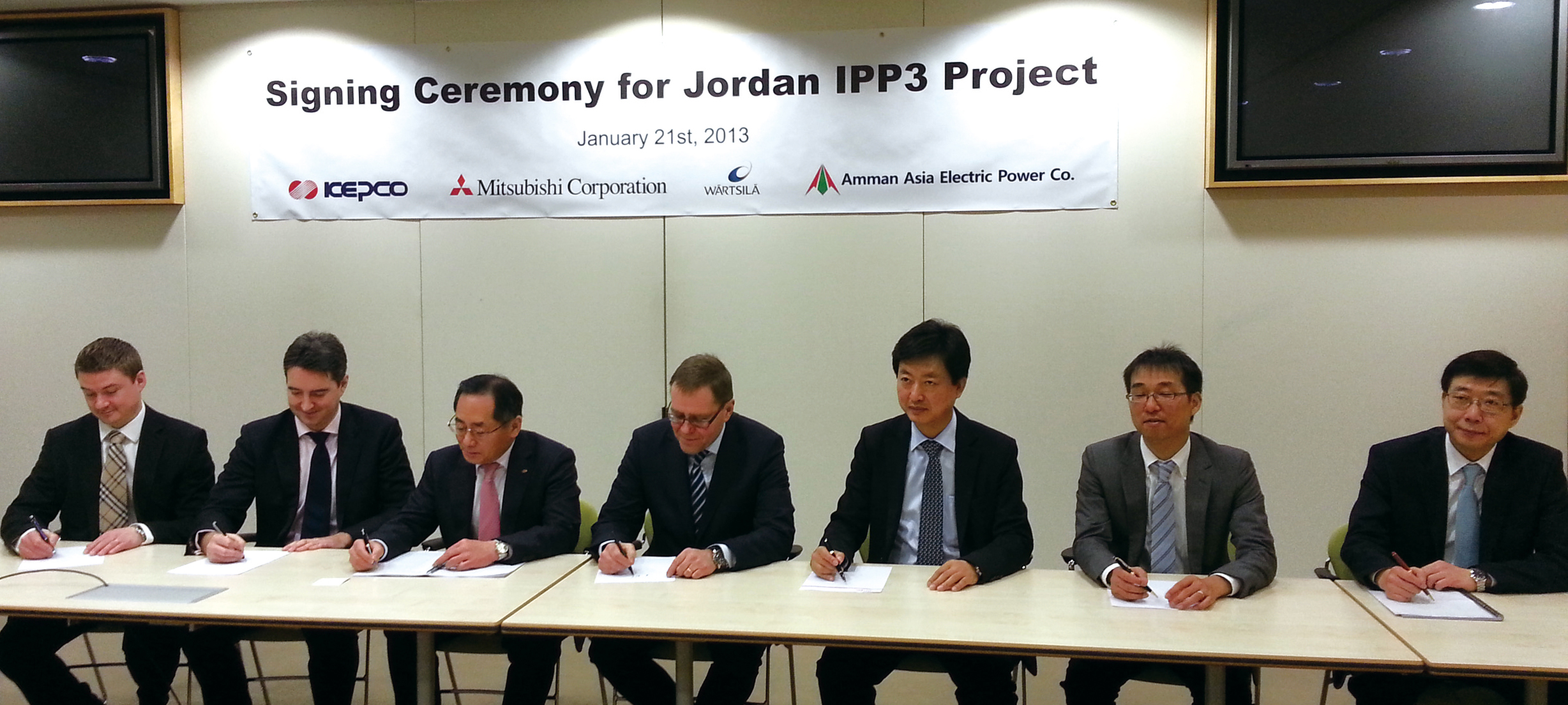 Korea Electric Power Corp. has signed a deal on project financing for the construction and operation of the world's largest diesel-
powered internal combustion plant in Jordan.
Korea Electric Power Corp. (KEPCO) has struck a deal to raise $600 million for the construction and operation of the world's largest diesel-powered internal combustion plant in Jordan.
KEPCO said it signed an agreement on project financing for the 600MW-class IPP (independent power producer) 3 Project with a consortium of commercial banks, led by Korea Eximbank, in London on Jan. 21. Nippon Export and Investment Insurance (NEXI) and three commercial banks from as many countries also participated in the financing.
Amid Korean and overseas plant projects faced with difficulties in securing necessary funds due to the global financial crisis, KEPCO's locally incorporated subsidiary, AAEPC, succeeded in borrowing the funds in the form of project financing based on its own credit without a loan guarantee from KEPCO headquarters.
KEPCO won an international bidding on the project from Jordan's National Electric Power Co. (NEPCO), outbidding world-class IPPs, including ACWA Power of Saudi Arabia, in January 2011.
The project is the world's largest diesel-powered internal combustion power plant in Almanakher, 30 km east of the capital Amman, with a capacity of 573MW of electricity. It will cost $790 million, 75 percent of which will be borrowed from Korea Eximbank, NEXI, and three commercial banks.
In particular, KEPCO is in charge of the development of the overall project; Lotte E&C will be charged with engineering, procurement, and construction; KEPCO KPS will handle operation & maintenance; and Korea Eximbank is in charge of financing. The project will be an exemplary practice of Korean companies' making a simultaneous foray into the foreign market in a win-win strategy in all stages of the value chain ranging from development and financing to construction and operation.
When the plant is put into commercial operation in September 2014, it will reap about $1.6 billion in revenues from the sale of electricity to NEPCO, which will increase the portion of KEPCO's overseas sales on top of existing operations in the United Arab Emirates, the Philippines, Mexico, Jordan, Saudi Arabia, and China.
KEPCO Wins Jordanian Wind Power Plant Project
KEPCO has been selected as a preferred bidder by Jordan's Ministry of Energy and Resources to build a wind power plant in Fujeij.
The project calls for building, owning, and operating a 90MW-class wind power plant in Fujeij, 150 km south of Amman. The project will cost $187 million and KEPCO will operate the plant for 20 years. The money will be raised in the form of project financing involving Korea Eximbank via KEPCO's subsidiary in the Middle East country.
KEPCO said it has 100 percent equity in the project, and it will embark on the project after signing all agreements, including the environmental impact assessment. The plant is scheduled to go on line in the first half of 2015.
The deal is significant because it means KEPCO has established a foothold in the wind IPP market, which is dominated by European companies, as well as the thermal power plant market in the Middle East region.
Spearheaded by KEPCO, the project also involves POSCO E&C, charged with EPC. KEPCO's winning the deal has proved to have excellent project capability and technological power in the new and renewable energy segments. The project is the first in a series of new and renewable energy projects in Jordan, a nation with a scarcity of crude oil, with the goal of producing 1,800MW by 2020.