MOTIE, KSIA, KDIA sign an agreement to build an environment for mutual cooperation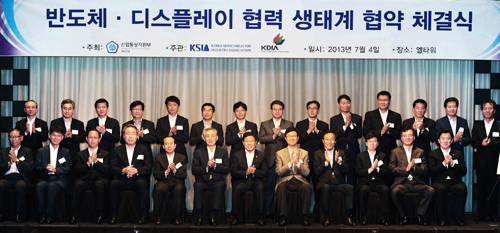 CEOs of large- and small-sized companies from the Korean semiconductor and display industries have agreed to
pursue shared growth at a ceremony at the Eltower in Yangjae-dong, southeastern Seoul, on July 4. (photo: MOTIE)
The Korean semiconductor and display industry communities have begun to see eye to eye with their subcontractors about building an ecosystem for shared growth.
The Ministry of Trade, Industry and Energy (MOTIE), the Korea Semiconductor Industry Association (KSIA), and the Korea Display Industry Association (KDIA) held a ceremony to sign an agreement to build an environment for mutual cooperation and boost their determination to pursue shared growth at the Eltower in Yangjae-dong, southeastern Seoul, on July 4. Approximately 120 people from government and industry circles were present at the event. Among those on hand were MOTIE Minister Yoon Sang-jick; Samsung Display President Kim Ki-nam, concurrently KDIA chairman; Woo Nam-sung, president of Samsung Electronics LSI Business Division; President Park Sung-wook of SK Hynix; President Choi Chang-shik of Dongbu HiTek; Senior Executive Vice President Chung Chul-dong of LG Display; as well as Jusung Engineering President Hwang Chul-ju and other primary and secondary cooperative company representatives.
The agreement's massive benefits for cooperative SMEs will be large enough that they can sense a difference. In particular, large-sized companies want to transfer their success stories to their cooperative subcontractors through means such as the sharing of technology roadmaps and offering idle proprietary technologies free of charge.
MOTIE plans to mobilize a system of evaluating how much cooperative SMEs will benefit from the agreement with semiconductor and display industry communities during the period between September and October, a move to prevent the fizzling out of the agreement, Director Kim Jung-il of the Electronic Parts and Materials Division at the MOTIE said.
MOTIE Minister Yoon evaluated the latest signing of a semiconductor cross license deal between Samsung Electronics and SK Hynix as a new model of shared growth. "Three years of efforts have led to the signing of the semiconductor cross license contract, a good thing on the part of the government, and if they cooperate with each other, the nation will retain the global No. 1 position," he said.
Yoon stressed the need for creating new jobs, saying that it is often true for the semiconductor and display industries to create fewer jobs despite huge investments, and large-size companies should spearhead job creation to realize the Park Geun-hye government's goal of raising the employment rate to 70 percent.
He noted that if companies expand employment in the software sector, it will have a tremendous effect of creating jobs, and the government will aggressively lend a helping hand.
In an effort to build a cooperative ecosystem harmonizing large- and small-sized companies, Minister Yoon said, Korean large-sized companies need to raise the rate of localizing equipment and provide R&D support to their primary and secondary cooperative SMEs.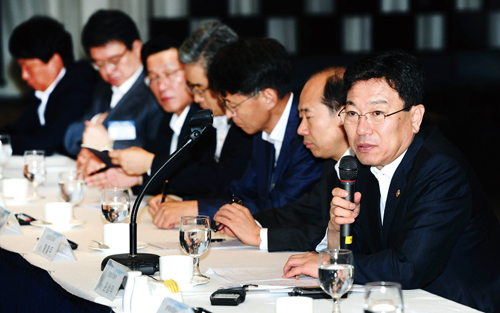 Minister of Trade, Industry and Energy Yoon Sang-jick speaks at a
meeting of CEOs of the Korean semiconductor and display industries.
Yoon said, "The localization of display equipment is now up to 60 percent, but in the semiconductor and materials sectors it is still far too low, just 20 percent and 40 percent, respectively. If materials and equipment makers make concerted efforts, it will lead to the expansion of their ecosystem."
The minister noted that the nation needs to have large-sized equipment makers such as ASML, a Dutch company, and the largest supplier in the world of photolithography systems for the semiconductor industry, and R&D support and collaboration efforts have to be upgraded so that tertiary cooperative companies can grow to have a global competitive edge with advanced technology.
CEOs of large-sized companies such as Samsung Display and SK Hynix have pledged to spearhead efforts to build a cooperative ecosystem for shared growth.
SK Hynix President Park said, "Semicon-ductors are the fruit of collaboration involving hundreds of processes, and we'll devote ourselves to building a cooperative ecosystem for shared growth by furthering our collaboration."
Samsung Display President Kim said, "When even the ecosystem of the materials segment undergoes changes, the industry will evolve in a full-fledged manner, and we'll do our utmost in promoting shared growth with secondary and tertiary cooperative companies."