The trade insurance firm has many foreign exchange rate risk insurance products for turbulent FX rates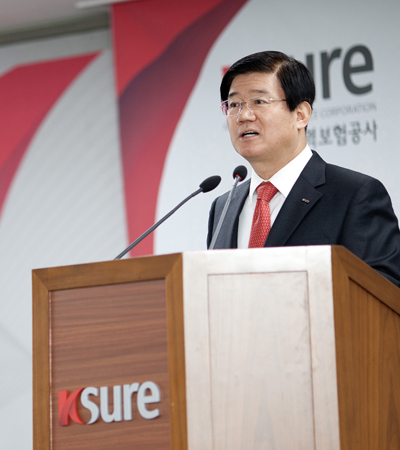 Chairman Cho Kye-ryoong of the Korea Trade Insurance Corp.(K-sure)
Korea Trade Insurance Corp. (K-sure) is ready to extend help to small and medium-sized exporters to solve their difficulties from the continuous appreciation of the Korean won with special measures for their foreign exchange crisis management.
The measures include the expansion of their uses of foreign exchange rate change insurance policies providing them with special quotas if they are dealing in two currencies for their international trade. K-sure will also give a special discount facility for the companies beginning to export their products for the first time.
The company, since last November, held a number of sessions to explain the foreign exchange risks as the subscription of the foreign exchange rate insurance more than doubled in January compared to the preceding month and is likely to increase more in the months ahead.
Since the Kikote incident of 2008, there has been an increasing number of SMEs reluctant to take out a subscription for foreign exchange rate change insurance policies do not understand the importance of the hedging against turbulent foreign exchange rates.
The trade insurance company extended the coverage of its foreign exchange risk insurance to 90 percent of the trade figures from 70 percent and 100 percent to firms whose total trade amounted $5 million or more, since those small firms are more exposed to foreign exchange rate dangers.
Those trading firms who deal with more than two currencies, including the Japanese yen for and the U.S. dollar for exports, are able to get the limit on foreign exchange risk insurance by each trade case, K-sure said.
Korea Export Insurance Corporation (KEIC) assumed the new name Korea Trade Insurance Corporation or K-sure on July 7, 2010, its 18th anniversary, by amending the Export Insurance Act of Korea adopted in 1968, granting K-sure an increased scope of business to cover import transactions on top of export and overseas investment transactions.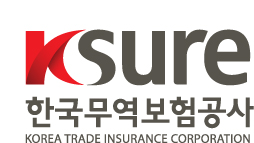 K-sure was born out of the need to provide comprehensive support to overall international transactions in line with a growing interdependence between trade and overseas investment.
K-sure's import insurance scheme (the first import insurance product to be introduced during the first half of 2011) will facilitate Korea to better secure commodities and natural resources that are vital to the national economy and boost future growth engines that will lead the global market including those in the green and cultural contents fields.
Along with the name change, came a new corporate image (CI), visions, organization, internal policies, and management philosophy. In other words, K-sure is now geared toward providing comprehensive trade and investment support and will push Korea toward a better future.
The export insurance system is a policy tool that indemnifies losses suffered by exporters after the shipment of export goods/services and by financial institutions after providing export financing to exporters. As in the case of individuals who purchase non-life insurance to prepare for losses in property and life insurance or health insurance in the event of bodily injuries or health problems in the future, exporters purchase export insurance in case they cannot recover export proceeds.
Broadly, export insurance covers political risk such as war/revolution/rebellion, limitations imposed on importation and foreign currency exchange, declaration of moratorium, etc., in importing countries, and commercial risks such as non-recovery of export proceeds, and in the case the actual export itself is not possible due to the importer's poor credit, bankruptcy, refusal to pay export proceeds, etc.
The import insurance system is a policy tool that facilitates financing for domestic importers and indemnifies losses arising when importers cannot receive shipment on time due to breach of contract by foreign exporters or failure to recover prepayment.