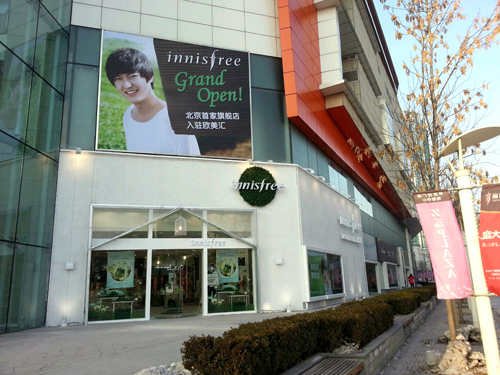 A view of an AmorePacific store exclusively for InnisFree, a Natural cosmetics brand in Shanghai,
China, in April, last year, and the cosmetics firm plans to open 17 more of such stores in major
cities including Beijing in China in the days ahead.
AmorePacific Corp. has a special relationship with China that began in 1993 before China began to open its doors to foreign investors with the establishment of its subsidiary in Shenyang.
The cosmetics firm knew beforehand that China's potential as a great cosmetics market and a market for beauty products would grow fast. The company began to supply its leading cosmetics lines including Mamonde and Amore to department stores and cosmetics stores in such cities as Jiangchun, Harbin, and Shenyang.
Not satisfied with business conditions, the company introduced Laniege, a new cosmetics line, to the market. For three years before launching the sale of the new line, the company surveyed the market, interviewing 3,500 consumers, and set up its marketing strategy for Laneige focusing on large department stores in China.
In May 2002, the company entered the cosmetics market in Hong Kong, a center of cosmetics in Asia where well-known global cosmetics brands compete for market share. The results were very successful. The company opened its first Laneige sales counter at a top department store in Hong Kong and has since expanded to include its products in 23 stores in the former British colony, with each store chalking up an average of 100 million won in monthly sales.
The cosmetics company, highly satisfied with its performance in Hong Kong and its accumulated experiences operating in the Chinese cosmetics market, set up a wholly-owned subsidiary in Shanghai in 2002 and began its marketing offensive in China with the Laneige brand. Now, the cosmetics line is sold at 290 major department stores in some 100 cities in China. Last year, the company stepped up its marketing activities across China by redecorating its stores to strengthen the brand concept and has introduced non-cosmetics products including water sleeping bags and water bank lines, which have become hit products, putting AmorePacific on the upper level of the Chinese cosmetics market, competing head-to-head with some of the world's premium brands.
Laneige and Mamonde have seen their sales increase across China, especially Mamonde, which is sold at 900 department stores and 2,500 cosmetics stores in 270 cities in China. Sulwhasoo, a cosmetics product whose ingredients include medicinal herbs used in Oriental medicine, and a leading brand in Korea, has been expanding its sales outlets in China since its launch in March 2011, starting with its first sales counter at a famous department store in Beijing.
The product is sold at 20 department stores in major Chinese cities including Shanghai with the company continuously promoting the product through marketing campaigns featuring ads publicizing the fact that the products are made with Oriental medicinal herbs.
An employee at a store selling cosmetics products of
AmorePacific in Shanghai explains to a guest about Sulhwasoo.
The company knows that women in China want to keep their faces healthy and youthful despite poor weather conditions, including the yellow dust that sweeps the regions surrounding Beijing every spring, so it introduced its Jajeong Line from Sulhwasoo. AmorePacific also introduced InnisFree, a natural cosmetics brand, in April last year at a flagship store in downtown Shanghai and plans to open 17 more stores in major cities in China.
At the same time, since 2011 the company has been working on its social service campaign for female Chinese cancer patients so that they can get their beautiful lives back.
'Make Up Your Life,' a social service campaign that the company has been promoting since 2008 in Korea involving teaching make up application, skin care, and hair styling to female cancer patients who have suffered from the loss of hair and sudden changes in their looks, has also been taken up by the company's subsidiary in Shanghai.
In order to build a sustainable management base in China, the company has opened an Asian beauty production research center as part of its plan to set up a global-standard environmentally-friendly production, research, and logistics system. Scheduled for completion in March 2014, the base, built on 92,788 square meters of land, will be a top-level production, research, and logistics center for cosmetics in China.