Kumho-Asiana Chmn. Park Works Hard to Bring Korea and China Close Together
As chairman of Korea-China Friendship Association, Park makes a huge contribution to Korea-China business through meetings with key Chinese leaders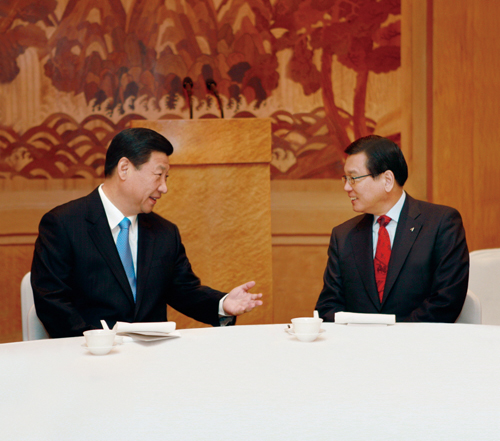 Chairman Park Sam-koo of the Kumho-Asiana Group and also chairman of
the Korea-China Friendship Association, right, meets with
Chinese Vice President Xi Jinping when he visited Seoul on Dec.18-19, 2009. Xi
has now been promoted to the President of China. (Photo: Kumho-Asiana)
Chairman Park Sam-koo has always been engaged in activities for closer Korea-China relations as head of the Korea-China Friendship Association, this year especially as President Park Geun-hye visited the neighboring nation as a state guest.
In order to make the new president's first official visit to China a very successful one, Chairman Park has been occupied with meeting important Chinese leaders who visited Korea such as Tang Jiaxuan, former Chinese foreign minister, in Seoul on June 14. They discussed ways to increase exchanges between the two neighboring nations and to expand friendship and cooperation. Tang was the foreign minister of China from 1998 to 2003.
Also attending the meeting with Tang included Rep. Kim Moo-sung, a former floor leader of the ruling Saenuri Party, and former Korean ambassador to Beijing Lee Kyu-hyung, among others.
Chairman Park met with a number of key Chinese leaders including President Xi Jinping and Premier Li Keqiang, who visited Korea before they assumed the high offices in China. Park has been leading the association since 2005 and his current term expires in 2016. President Xi visited Seoul on Dec. 18-19, 2009 when he was vice president. At that time he met with Chairman Park and Minister Choi Kyung-hwan of the Ministry of Knowledge Economy at a breakfast meeting, which was followed by meetings with the representatives of both ruling and opposition parties, among others.
Xi reacted positively to a proposal to build an undersea tunnel between Korea and China, saying that the same thing is being discussed between Taiwan and mainland China. Xi also said the FTA among Korea, China and Japan can be discussed as Park proposed the matter to the Chinese vice president at the breakfast meeting. Also attending the morning meeting included POSCO Chairman Chung Joon-yang, Korean Ambassador to China Ryu Woo-ik, and Chairman Lee Hee-beom of the Korea Management Association, among some 40 Korean business leaders and an equal number of Chinese government officials who accompanied Xi to Seoul including Vice Foreign Minister Wu Daiwei.
The Chinese vice president traveled to Gyeongju to see the historic legacy of Korea, such as the Sukgulam and the Bulguksa Temple of the Shilla Kingdom, and attended a dinner hosted by Gov. Kim Gwan-yong of North Gyeongsang Province.
Before heading to Gyeongju, he met with Rep. Chung Mong-joon, chairman of the then Grand National Party during which the two highly reappraised the MOU signed between the Grand National Party and the Communist Party of China on exchange and cooperation and agreed to achieve progresses in the companionship between the two governing parties and jointly work for peace in Northeast Asia and the world. Xi said the GNP is the first Korean political party to sign such an instrument with the Chinese Communist Party and he wanted to see that the MOU would also involve the overall exchange between Korea and China, in such areas as cultural and social, not just political.
Park has been leading the association due to Kumho Tire and Asiana Airlines, two of the key affiliates of Kumho-Asiana Group, which set up their operations in China in 1992 when the two nations opened the diplomatic exchanges.
Kumho Tire expanded its operations in China since then and now produces its auto tires in four different locations in China including Nanjing and Tianjin, putting out 30 million tires annually from those plants, which take up nearly half of the company total annual production of 65 million tires.