SK Chmn. Chey's strenuous efforts pay off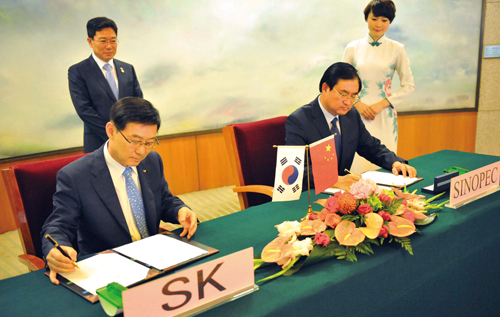 SK Innovation Vice Chairman Koo Ja-young inks a deal on a joint venture with Wang Tianpu, president of Sinopec Group, in Beijing on June 28,
as Minister of Trade, Industry and Energy Yoon Sang-jick, who accompanied President Park Geun-hye on a state visit to China, looks on. (Photo: MOTIE)
SK Global Chemical has signed a deal to establish a joint venture petrochemical plant in Wuhan, China, with China's biggest state-run petroleum company, Sinopec.
SK Innovation Vice Chairman Koo Ja-young inked the agreement on a joint venture with Wang Tianpu, president of Sinopec Group, in Beijing on June 28.
The project, codenamed "W-Project," has come to fruition after seven years of ups and downs since SK Group Chairman Chey Tae-won agreed on the project with Sinopec President Wang.
SK Global Chemical, the petrochemical unit of SK Innovation, will acquire a 35 percent stake in the joint venture for 411.3 billion won. Sinopec will hold a 65 percent stake.
Under the deal, the joint venture petrochemical plant will be built at a site covering 2.94 million m2 in the Wuhan Petrochemical Complex in Wuhan, the capital of Hubei Province. It will produce about 2.5 million metric tons per year of petrochemical products, including 800,000 metric tons of ethylene; 600,000 metric tons of polyethylene; and 400,000 metric tons of polypropylene. SK and Sinopec agreed to take a joint-venture format in April 2006, but one year later, SK's participation in the project seemed to be unlikely as Sinopec unilaterally obtained a green light on the business and held a ground-breaking ceremony, but construction halted due to the effects of the global financial crisis in 2008. The joint venture further slipped away when the Chinese government was reluctant to approve the business, citing its protection of China's key industries, and the project was the subject of criticism over the inflow of foreign capital.
In early 2011, SK Chairman Chey indicated the auguring of the project, but the pace of progress didn't improve.
Things began to change for the better last year when Chey and Sinopec President Wang were on the same page and pushed for the project.
SK and Sinopec obtained approval on the joint venture this past February, and received the final go-ahead from the Chinese government in May.
Many SK Group officials were skeptical about the joint venture, but the business group's long-standing and tenacious efforts, particularly SK Chairman Chey's true grit, finally paid off.
The deal is expected to serve as a good opportunity for SK to lay a solid foundation in the Chinese petrochemical market, industry analysts say. The reason is that SK will be able to secure a stable supply of petrochemical raw materials from the Chinese market, which will flood the markets of the Middle East and the United States with finished items produced at cheaper prices.
The Chinese petrochemical raw materials demand is projected to grow from 31 million tons in 2012 to 40.6 million tons in 2017.
SK will compete in the Chinese market with six other foreign multinationals that produce ethylene in China.