.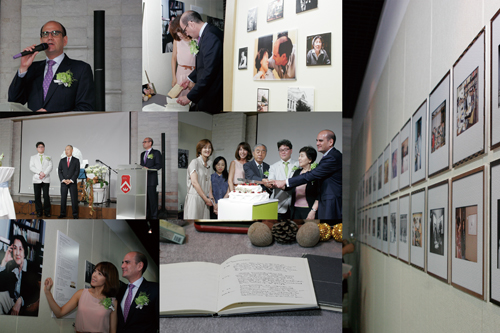 An exhibition honoring the late Cho Chang-soo, mother of Millennium Seoul GM,
that took place from June 10-21 at U-Dream Hall in Sogang University. [photo by NewsWorld]
Millennium Seoul Hilton held an upcoming exhibition at Sogang University that honored the late Cho Chang-soo. Entitled Korea's Proud Daughter, the exhibition took place from June 10th to the 21st at U-Dream Hall in Sogang University, and showcased the life of Cho Chang-soo and her family, detailing her immense contribution to the proliferation of Korean culture, both in Korea and globally.
Born in 1925 in Pyeongyang, Cho Chang-soo attended university at Japan Women's University where she majored in Humanities. She moved to America where she received her Bachelor's and Master's degrees in Folklore, and then started working at the Smithsonian in 1965, where she spent half her life as a curator and East Asian Specialist, selecting, preserving and organizing Korean artifacts and other cultural pieces at the museum with the intention of advancing and sharing people's knowledge of Korean culture.
Cho was instrumental in the opening of The Korea Gallery, the first-ever independent exhibition at the Smithsonian that opened to the public in 2007. This permanent exhibit introduced Korea as a country with a 5000-year-long history, and included an impressive collection of over 4000 pieces. It is the first exhibition hall to introduce Asian culture in the American museum.
Cho was also a prolific author with over 24 titles to her name, including acclaimed books on Korean folklore such as "An Ethnography of the Hermit Kingdom".
Cho's son, Eric M. Swanson, is the current General Manager of the Millennium Seoul Hilton Hotel. GM Swanson remembers his mother with great admiration, saying "My mother is someone that many people admire and respect. She made valuable contributions to introducing Korean culture and history to America. One very vivid memory of her when I was a child was that she was always hard working. While working during the day at the Smithsonian, she was teaching Japanese language at American University by night. My childhood was I suppose a time of great sacrifice for all, especially my mother." Cho passed away in 2009 after a long struggle with cancer, but her sacrifices and lifelong dedication leave a legacy behind that will forever affect the fabric of Korean culture and awareness all around the world. Her contributions to the advancement of Korean culture are the greatest service to Korea and its people, and cement her standing as Korea's honoured and respected daughter.
As well, Cho's brother was the first prisoner-of-war to escape North Korea. A first lieutenant in the South Korean army, Cho Chang Ho spent over 40 years as a hostage before escaping to freedom in 1994. Cho Chang Ho died of cancer on November 29, 2006, and his ashes have been laid to rest at the Seoul National Cemetery.