President Ha unveils a plan to pour 1.2 trillion won into the ICT convergence industry by 2015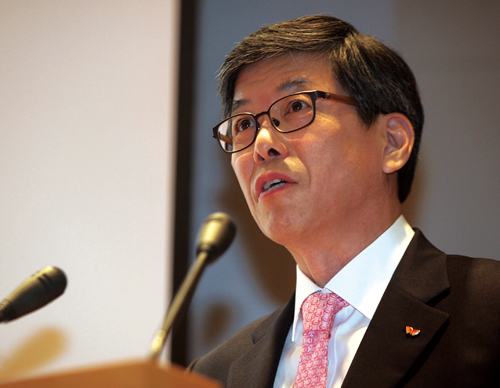 SK Telecom President Ha Sung-min[ Photo on courtesy of SK Telcom]
SK Telecom, the nation's largest telecom services provider, is focusing on two things in regards to its social responsibilities — pursuing coexistence in favor of public interests and social contribution activities. SK Telecom's moves for shared growth with its cooperative companies, to be accompanied by massive investments, are every bit as significant as providing support to the socially underprivileged.
SK Telecom is stepping on the gas to implement social contribution activities and make its move for shared growth during this year under the catchphrase "Happy Together."
SK Telecom has become the first Korean telecom provider so far this year to establish a department in charge of shared growth and make its move to build a systematic and detailed partnership for coexistence.
The telecom service provider is devoting itself to spreading an environment of sharing by providing telecom services that take advantage of ICT, establishing social enterprises contributing to job creation, and bridging the digital divide among isolated people and the older generations.
In a meeting with reporters on May 8, SK Telecom President Ha Sung-min said, "Discovering how a company can be loved by customers is the ultimate goal."
President Ha unveiled a huge plan to pour 1.2 trillion won into the ICT convergence industry by 2015. He enumerated his action plan as pursuing shared growth with SMEs, providing support to baby boomers' start-up businesses, creating jobs, and promoting the industry through the opening of big data.
Out of the total planned investment, 650 billion won will be allocated for the development of the heath care industry such as medical information software and self-diagnosis, while the remaining 550 billion won will be invested into B2B projects and R&D activities to explore new breadwinners. SK Telecom plans to promote shared growth by jointly developing software and systems in cooperation with SMEs.
The telecom provider plans to open a space exclusively for use by baby boomers aged 45 and older who want to start businesses, providing a one-stop service such as expertise mentoring, the production of new items, and marketing activities. The money spent for this support, aside from the individual business' startup funds, will amount to 30 billion won.
SK Telecom is spearheading a nationwide move to reinvigorate the traditional markets by making the most of the ICT sector. Last September, SK Telecom signed an agreement to turn around the traditional Joongok No. 1 Market in Imun-dong, eastern Seoul, under which the telecom provider will strengthen its competitive edge by grafting SK Telecom's ICT expertise to the market. The program has been expanded to cover the traditional Shingi Market.
SK Telecom is active in spreading an environment of sharing ICT infrastructure. In 2004, the telecom provider launched a mobile contribution program, soliciting mobile users to participate in contributions. SK Telecom also developed a smartphone application for free contributions, dubbed "App Sharing Angels' Love" for the first time in Korea in 2010.
SK Telecom is actively conducting a drive to help needy multiracial families in Korea.
In a related development, SK Group's achievements in the shared growth category have stood out.
A survey of the 2013 Win-Win Index survey showed that three of SK Group's five subsidiaries have been listed in the excellent category, and two others are in the good category.
The National Commission on Cooperative Partnership announced that SK Telecom, SK Global Chemical Co. and SK C&C were given an excellent grade in the 2013 Win-Win Index, while SK E&C and SK Hynix got a good grade. In particular, SK Telecom's achievements were outstanding as the telecom service provider got an excellent grade in 2013, two notches higher than last year.