Comes up with a plan to invest 3 tln won for network transformation and expanding virtual goods space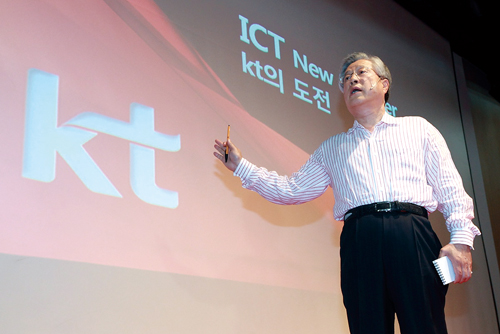 KT Chairman Lee Suk-chae unveils his company's plan to invest in network transformation
and the expansion of the virtual goods space at a meeting with reporters on June 11 to mark the
4th anniversary of consolidating KT and KTF. [ Photo on courtesy of KT]
KT is turning to massive network transformation and the expansion of the virtual goods space in order to be in the forefront of the ICT industry in Korea and abroad.
At a meeting with reporters on June 11 to mark the 4th anniversary of consolidating KT and KTF into an integrated telecom service provider at Olleh Square in Gwanghwamun, downtown Seoul, KT Chairman Lee Suk-chae said, "KT will be in the forefront of the ICT industry in Korea and abroad by offering new dreams and opportunities to people based on the management achievements the company has made over the past four years."
Lee unveiled a plan to create 25,000 jobs based on ICT infrastructure by pouring 3 trillion won into network transformation by 2017 and expanding the virtual goods space.
KT's "new frontier" strategy refers to building a solid foundation so anyone with creativity and imagination can launch a start-up business and challenge by allowing virtual goods-related industries in the virtual space via the smart revolution.
Chairman Lee said, "The ICT industry is not only a foundation of the 'creative economy' and growth momentum that can pave the way for our young people to enter the global stage with a challenging spirit, but also a growth engine to solve unemployment problems." He went on to say that KT will provide opportunities for more people to realize their dreams and make inroads into the global stage by innovating itself, as the company has made good on the promises it made at the time of the merger of KT and KTF four years ago.
To this end, Lee said, KT will implement such action plans as transforming the existing networks into different ones, spearheading TV transformation by introducing a web-based Internet Protocol TV (IPTV) for the first time in the world, spreading its ICT models around the world, and creating a new ICT stage to mitigate inequality, unemployment for youth, and the gap between the rich and the poor.
Specifically, 3 trillion won will be spent for network transformation by 2017, apart from capital expenditure into the existing networks, to usher in an era of giga broadband. The investment money will break down to 2.5 trillion won into building backbone networks and the remaining 500 billion won into networks leading to subscribers' homes. The 3 trillion won will be raised by disposing of its legacy copper cable networks and streamlining budgetary expenditures, KT said. The 3 trillion won is equivalent to half of the total outlays the nation's three telecom service providers spent in 2012 when investment in the construction of LTE networks peaked.
Initially, KT set aside 620 billion won and 120 billion won for backbone and home networks for this year.
In July, the nation's second largest telecom service provider plans to lead the so-called TV innovation by introducing a Web-based IPTV, the first one of its kind, by combining its Olleh TV brand to an open-based OS environment developed by KT, which will allow unlimited access to channels by enabling anyone to produce contents and to search them in virtual space.
The flexible availability of IPTV will not only mitigate educational inequality by offering e-Learning at cheaper prices instead of high-priced English and infant education, but also serve as opportunities for gifted and capable young content developers to participate in business projects on their own.
The upcoming Web-based IPTV technology is expected to make a showing in the global market, as KT has made inroads into the global market with its own 4G LTE Warp technology, KT said.
KT said it will step on the gas to expand its business portfolios abroad. The telecom giant plans to make aggressive inroads into Africa, Southeast Asia, and Central and South America. KT's exploration into Africa has been already in the making. KT plans to establish a joint venture with the Rwandan government and offer LTE services for 25 years from 2014.