KRA Ready to Do Its Best to Help Govt. Secure 100 Tln Won in Welfare Fund
Horse racing organization to diversify its operations to horse breeding, horse exports, theme and leisure park operations, and horse riding classes to increase its earnings and boost its public image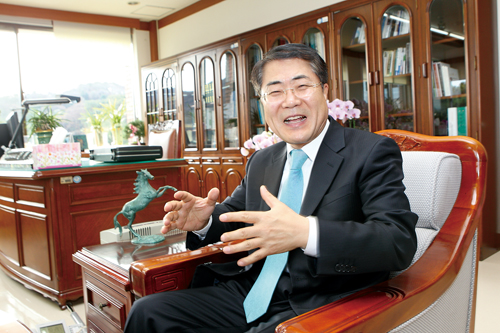 Chairman Chang Tae-pyong of the Korea Racing Authority.(photo courtesy of KRA)
"Emotionally moving customers, ethical management, performance results centered, and responsible effectiveness" were the Korean Racing Authority's (KRA) management strategies to lead the horse breeding industry. The company has been called on to play a leading role in the new government's securing of 100 trillion won in welfare funds, which is one of its largest policy issues.
The KRA's annual tax payment was the third in the nation after Samsung Electronics and Hyundai Motor in 2012 at 1.465 trillion won. Such a large tax payment was due to pre-tax payments on tickets for horse races, which is in addition to what the KRA pays in taxes annually including a 10 percent leisure tax, a 4 percent local education tax, and a 2 percent special agricultural tax.
But the KRA's ability to handle such a large tax burden is due to its sales revenues. The annual sales of Samsung Electronics and Hyundai Motor for 2012 were 201 trillion won and 84 trillion won, respectively, while the KRA's amounted to 7.8 trillion won -- 1/25 of Samsung Electronics and 1/10 of Hyundai Motor. Yet, KRA's tax versus its sales revenue was 19 percent -- the largest in the country.
KRA engaged in a painful campaign to change its public image last year in order to overcome its biological limits, which was designed to expand its business territory, currently limited to horse racing, to a business firm leading in horse breeding.
Flourishing horseback riding will lead to the exports of horses for riding, an expansion in horse breeding, the manufacture of horse oil, in addition to theme and exhibition parks surrounding horse racing tracks, convention businesses, and horse character commodities, as an integrated horse leisure company. The company has also been considering turning race tracks into theme parks.
Chairman Chang Tae-pyong is at the center of the KRA's moves to change its business territory. Chang is a career public servant with vast experiences in such matters as government budget and taxes, which he obtained while working for the economic planning and finance ministries. In his first year at the helm of the KRA, he has been vigorously pushing the changes in the KRA's future fields of endeavor, learning its operations inside and out, taking advantage of his vast experience and his academic background -- a master's degree in economics and a doctorate in tax matters.
He has also been paying a keen attention to the KRA's social contribution.
Chairman Chang's focus has been on creating social impact. Chang has decided to provide support to youths, farmers and fishery people, and the handicapped.
The horse healing center that he initiated and is run by the KRA has been reported throughout the world by Reuters and is greatly admired. The center also provides consultations for youths with game addictions, those who have trouble concentrating, suffering from depression, and others. Healing centers Nos. 1 and 2, located in Siheung, Gyeonggi Province, has a been drawing around 2,000 patients annually due to its low fees and correct diagnoses, and the treatments which are centered around horseback riding. The KRA plans to set up 30 of them around the country by 2020 with a total investment of 100 billion won after opening two more centers this year.
Finding jobs for handicapped youths under the project "Job go" has been getting good publicity, as it provides special training for jobs such as barristers and finds them jobs. Last November, the Eco Green Palm, a social business-type organization was launched. The company manufactures fertilizer from horse droppings and sells them, with 30 percent of its workers coming from an economically poor background. It is based on a new idea targeted both at a clean environment and creating jobs.
The KRA has been running the "Love Horse" campaign for the past five years to make horseback riding a national sport by providing inexpensive riding experiences to the people. The move is aimed at teaching the people not only to ride horses but to exchange feelings and breath with them. This year, the Love Horse Campaign will select its participants through the internet (horsepia.com) under the Love Horse Riding Class.
This year, the "Love Horse Riding Fan" and the "Managi Dream Horse Riding Class" for the economically desolate people are scheduled to open.
The Love Horse Riding Class will have 3,150 participants divided into a number of classes including a class for students and classes for adults divided into beginners and couples, with the students admitted on a first-come, first-served basis. The classes will be held for 50 minutes for 10 times and students will only have to pay from 90,000 won to 150,000 won of the 300,000 won admission fees and the rest will be picked up by the KRA.