Korea Transportation Safety Authority and National Road and Transport Research Institute in Sweden sign MOU for joint research and cooperation on transportation safety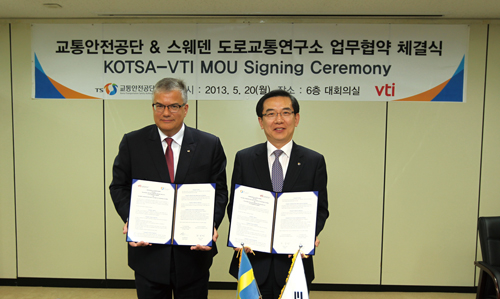 President Chung Il-young of TS and President Jonas Bjelfvenstam of the National Road and
Transport Research Institute of Sweden, hold copies of an MOU on transportation safety research and
cooperation signed on May 20 at the TS headquarters in Ansan, Gyeonggi Province.(photo courtesy of TS)
The Korea Transportation Safety Authority (TS) signed an MOU with the National Road and Transport Research Institute of Sweden on transportation safety research, cooperation, and exchange between the two institutions on May 20 at the TS headquarters in Ansan, Gyeonggi Province, TS said recently.
Chairman Chung Il-young thanked President Jonas Bjelfvenstam and Swedish Ambassador to Seoul Lars Danielsson for the steadfast friendship between the two organizations, pledging that TS will make efforts to come up with creative transport safety policies through exchange and cooperation with related organizations both at home and abroad in the future.
The signing took place between TS Chairman Chung and President Bjelfven-stam signing for the Swedish transport safety institute at the Grand Conference Room of TS headquarters with some 20 from both sides attending.
The MOU facilitates the development of joint research projects and lectures, conferences, seminars, academic activities, and symposiums related to transport safety in the two countries. It also provides for the exchange of research personnel, information, and material on transport safety, policies on transport safety, transport statistics, vehicle safety, and sustainable transport information and knowledge, among others.
The signing ceremony kicked off at 11 a.m. with the introduction of personnel including Chairman Bjelfvenstam, Ambassador Danielsson, and Chairman Chung, playing the role of the host with a welcoming speech. President Bjelfvenstram also made a speech in reply.
There also were reports on how the two organizations agreed to sign the MOU, along with the presentation of a video on activities of the two organizations. The ceremony was finished at 11:30 a.m.
The following are an explanation of the activities of TS to promote transport safety in Korea:
"TS will open a happy future without traffic accidents."
TS operates and manages various transportation safety projects to protect lives and properties in all areas including land, aviation, and railroad.
Vehicle Inspection Service
- Regular and new inspections for vehicles; Inspections on structure change of vehicle.
- Performance check of used cars and precision tests on vehicle inspection devices.
- Contact by e-mail: yjlee80@ts2020.kr
Railroad and aviation transportation safety business
- Train operator's license test and comprehensive railway safety audit.
- Aviation worker's qualification test and Ultra-light plane safety work.
- Aviation safety hindrance reporting system: http://www.airsafety.or.kr
- Railway safety information portal: http://www.railsafety.or.kr
Precision inspection of exhaust gas of commercial vehicles
- Precision inspection on exhaust gas of vehicles to prevent air pollution.
Guidance and promotion of tran-sportation safety
- Guidance and promotion activities to prevent traffic accidents.
Support for families of traffic accidents victims
- Support is provided to the family of victims who died from car accidents or suffered from serious aftereffects and are experiencing economic difficulties as a result.
Research on Automobile Performance
- Examination on manufacturing defect of vehicle (Recall); evaluation of safety of vehicle and road safety facilities.
- Contact by e-mail: recall@ts2020.kr
Driving Aptitude Test for Commercial Drivers
- Examination of driving aptitude for drivers of commercial vehicles.
- Contact by e-mail: bluewine@ts2020.kr
Research and Investigation on Transportation Safety
- Traffic safety education; survey and research work for traffic safety.