How to Pursue Shared Growth Between Large Cos. and SMEs
Rep. Lee of the Saenuri Party hosts a seminar titled 'Co-prosperity and ways of putting the so-called economic democratization into action from the perspective of SMEs'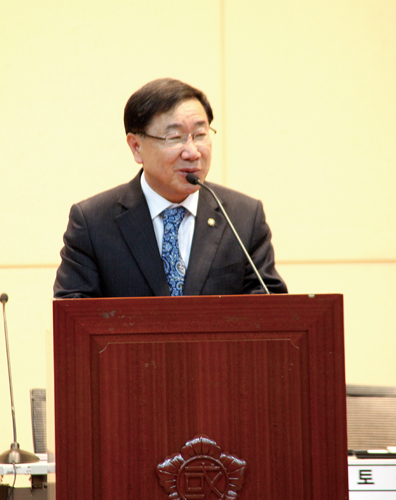 hosted by Rep. Lee Kang-hoo. Rep. Lee speaks at the
event at the National Assembly on Feb. 18.
How to pursue shared growth between large- and small-sized firms and protect small and medium enterprises' (SMEs) interests from unfair practices perpetrated by family-owned conglomerates may be one of the top policy agendas on the minds of the policymakers of the President-elect Park Geun-hye government, to be inaugurated on Feb. 25.
Hosted by Rep. Lee Kang-hoo, of the Saenuri Party, organized by the Convergence Federation of Small & Medium Business and supported by the Small and Medium Business Administration (SMBA), a policy seminar titled "Co-prosperity and ways of putting the so-called economic democratization into action from the perspective of SMEs" took place at the National Assembly Memorial Hall Grand Auditorium on Feb. 18.
Rep. Lee Kang-woo and other speakers from public entities, academia, and the private sector had in-depth discussions on the latest hot-button issue of economic democratization. The symposium gave an insight into shared growth and policies toward SMEs from the perspective of SMEs as well as the new government's ways of translating economic democratization into action.
Rep. Lee Hahn-koo, the floor leader of the Saenuri Party, said SMEs account for 99 percent of the nation's total businesses and SME employees take up an 87 percent share, serving as a driving force behind the Korean economy. Lee noted that the soon-to-be Park Geun-hye government has a strong willingness to solve the difficulties SMEs and experience, since she made public pledges on economic democratization.
Prof. Lee Jang-woo of Kyungpook National University Business Administra-tion Department, a key-note speaker, touched on the need for creating common values through the convergence of corporations and society by pushing economic democratization beyond the past government's policies on co-prosperity and shared growth, such as realizing new models of collaboration between large- and small-sized companies to ensure economic democratization and raise national competitiveness.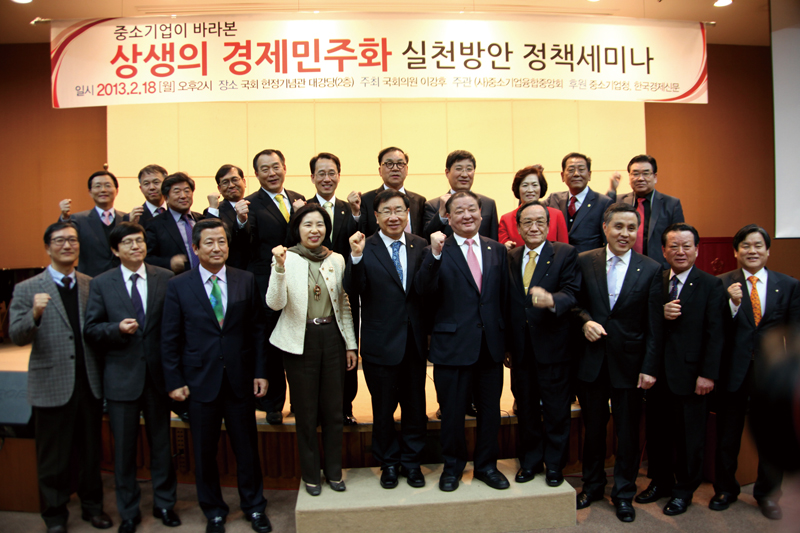 (left) Participants of a seminar on shared growth between large- and small-sized companies and economic democratization
Rep. Lee stressed that an issue concerning structural imbalance between large companies and SMEs needs to be revamped dramatically, and now is the time when convergence in the interests of SMEs under the cause of economic democratization is required.
Kim Un-ho, chairman of the Convergence Federation of Small & Medium Business, said, "It is essential for large companies and SMEs to make markets fair and transparent." Nah Do-sung, president of the Knowledge Service & Consulting Research Institute at Hansung University; Kim Se-jong, senior researcher at the Korea Small Business Institute; Prof. Lee Hong of Kwangwoon University Business Administration Department; and Kang Seung-gu, president of K-Won Electronics, also spoke at the seminar.
Rep. Lee, the host of the seminar, has been credited with his contribution to the development of his constituency of Wonju.
Rep. Lee has been noted for his push for advancing a project to develop Wonju into an innovative city in order to revitalize the economy of the city. He is well known for his leading roles in Wonju's key infrastructure mega-projects such as the Seongnam-Yeoju electrified railroad, scheduled to open to public traffic in 2015, and the construction of a double-track railroad linking Wonju and Gangneung.