Chairman Chung Eui-sun of Hyundai Motor Group, Jack Kemp, Governor of Georgia, and José Muñoz, president and chief executive officer, Hyundai Motor North America, pose at the Hyundai Motor Group Metaplant America Groundbreaking Ceremony in Savannah, Georgia, on Oct. 25. (Photo: Hyundai Motor Group)
Hyundai Motor posted its best-ever sales in the third quarter of this year, establishing an improved financial footing.
If the quality costs related to the Theta II GDI engine are excluded, the automaker also saw Q3 operating profit approach the best-ever. Hyundai Motor is evaluated to have achieved quantitative and qualitative growth.
In a conference call held on Oct. 24, Hyundai Motor announced that the automaker logged 37,705.4 billion won in Q3 sales and 1,551.8 billion won in Q3 operating profit.
The Q3 sales renewed 35,999.9 billion won, the best-ever, recorded by the automaker in the previous quarter.
The Q3 sales represent a 30.6 percent year-on-year surge over 28,867.2 billion won in the same period of the previous year.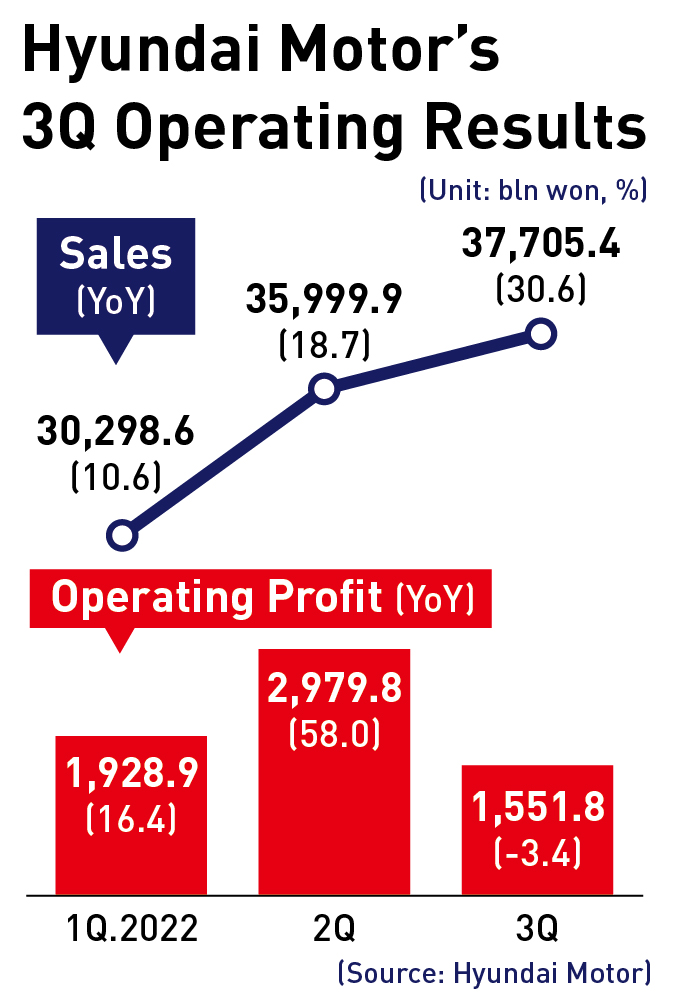 As chip supply conditions improved, Hyundai Motor saw Q3 sales rise over the same period of last year and the size of calculation in won on the back of the high currency exchange rate increase.
But Hyundai saw Q3 operating profit decline over the same period of last year. If 1,360.2 billion won in quality costs related to the Theta II GDI engine are excluded, Hyundai Motor would have seen Q3 operating profit amount to 2,912 billion won, similar to 2,979.8 billion won in Q2 operating profit.
The achievement is owed to the automaker prioritizing high-profit making cars, such as Genesis and sport utility vehicles, and lowering global promotion costs to the lowest-ever levels.
That means big-ticket Hyundai Motors cars fared well although less promotion costs were used.
Hyundai Motor's latest business performance included a revision of the 2022 business performance guidance, which reflected management condition changes compared to those in early 2022.
Hyundai Motor revised downward wholesale sales goad for this year to 4.01 million units, an about 7 percent decline from 4.32 million units.
The drop is attributable to ramifications of Russia-Ukraine war and prolonged supply chain glitches.
Sales increase rate has shoot up from 13-14 percent to 19-20 percent while operating margin goal goes up from 5.5-6.5 percent to 6.5-7.5 percent. The reason is that the average selling price is on the rise.
Hyundai Motor is on a roll on the global stage, but there are lots of worries. The immediate issue involves the Inflation Reduction Act of the United States.
In accordance with the IRA, subsidizing $7,500 to each of the EV cars produced in North America, Hyundai Motor is in a position of losing a price competitiveness until 2025 when its new plant in Georgia rolls out EV units.
Despite price hikes of all brands, Hyundai Motor Group has intensified countermeasures, such as lowering the highest model of Niro EV by $200.
Senior Executive Vice President Suh Kang-hyun, head of Hyundai Motor's Planning and Finance Division, said, "The United States is an important market, which will account for 28 percent of 2030 EV sales goal of selling 1.87 million units." Hyundai Motor will establish elastic price policies, he added.
Hyundai Motor Group Chairman Chung Eui-sun left for the United States for a business trip on the same day. He was revisiting the United States only two months after making a trip on Sept. 3.
Chairman Chung is to meet with U.S. officials to discuss countermeasures against the IRA after participating in a ground-breaking ceremony for the new plant in Georgia.