Samsung Electronics Chairman Lee Jay-yong.


Samsung Electronics Vice Chairman Lee Jay-yong, who was recently promoted to chairman, is expected to help the global tech company make a leap forward by making the most of his networking with international corporate leaders.
Samsung Electronics held a board of directors' meeting on Dec. 27 and approved Vice Chairman Lee's appointment as chairman.
The board said it approved the promotion "since it is badly needed to ramp up responsibility management, raise the stability of management and make a fast and drastic decision-making amid the worsening global outside conditions."
Lee's promotion may be construed as Samsung's urgent need to expand its global business and ramp up competitiveness, leveraging Lee's international networking amid a worsening external and internal conditions.
In a CEO meeting to mark the second anniversary of the death of the late Chairman Lee Kun-hee, earlier on Dec. 25, he said, "It is my mission of inheriting and evolving the forefathers' achievements and legacies."
In a message posted to the company's bulletin board, Chairman Lee said, "Regrettably, we've failed to move forward in the past few years, not having led new areas and being challenged greatly by followers in the conventional markets."
In the statement, Lee called for creating a creative corporate culture and nurturing talented manpower on top of being committed to fulling its social responsibilities.
Lee, who made a business trip to Europe in June, stressed the importance of technology and manpower. Chairman Lee is soon expected to declare the "2nd New Samsung Legacy."
His father and the late Chairman Lee Kun-hee came up with the declaration of "Samsung New Management" in Frankfurt, Germany, in 1993.
At that time, Lee Sr. urged his CEOs to "change all things except their wives." The declaration had served as an opportunity to build a foundation for what the global tech company of semiconductors, smartphones and TVs is now.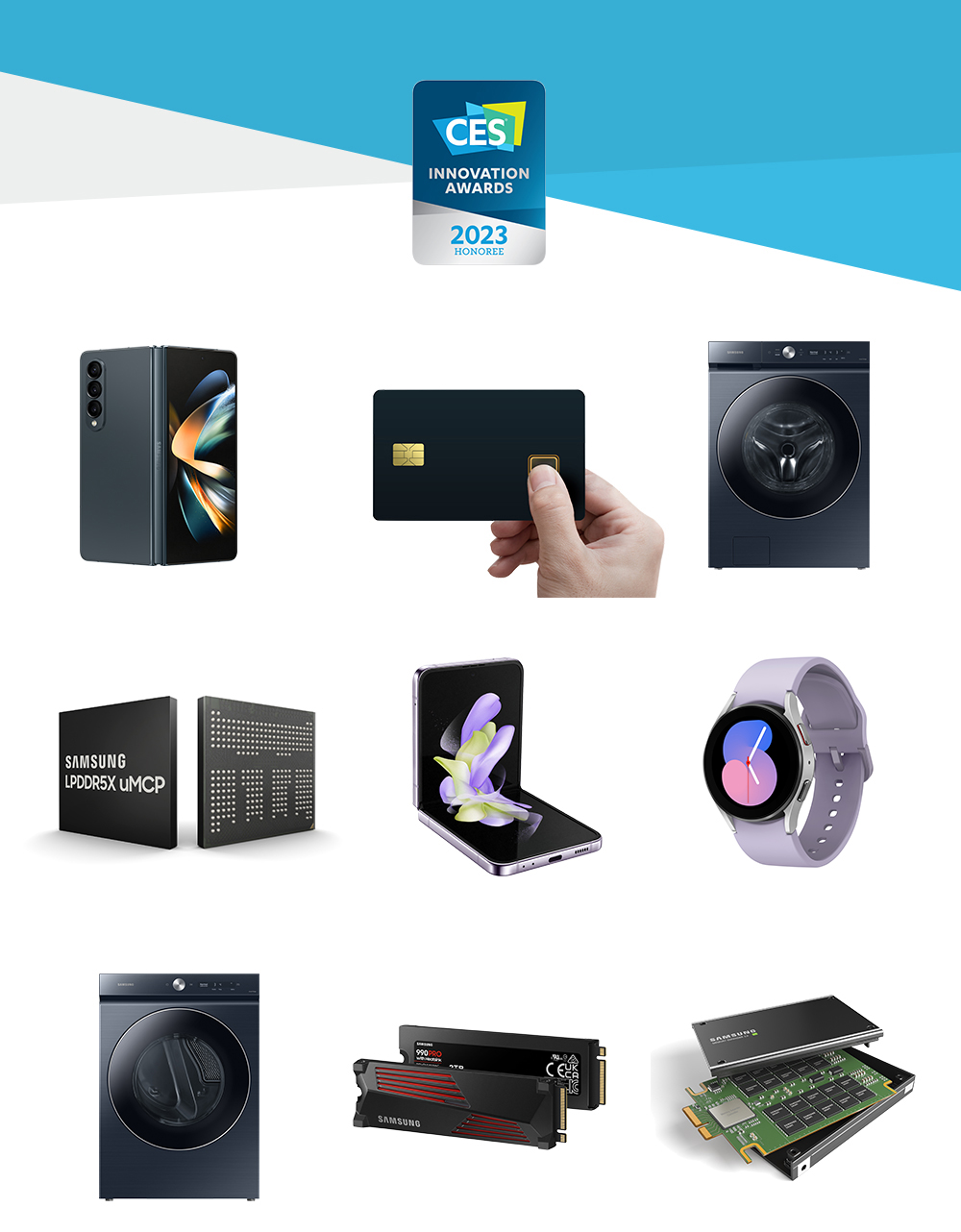 Samsung Electronics announced on Nov. 17 that 46 of its new products and service innovations have received CES 2023 Innovation Award honors, including three Best of Innovation Honorees from the Consumer Technology Association prior to CES 2023, to be Las Vegas, the United States next January. (Photos: Samsung Electronics)
Chairman Lee is hitting the gas to nurture the chip, battery and bio sectors, also known as "BBC," which will be the backbone of the so-called 2nd New Samsung Legacy. Under the stewardship of Chairman Lee, Samsung Group is mostly likely to reveal related investment and management plans soon.
The value of investments Samsung Electronics has invested or will invest during the period between July and upcoming December, is estimated to amount to about 100 trillion won.
In the semiconductor sector, under the stewardship of Chairman Lee, Samsung Electronics will accelerate efforts to become the global No. 1 system semiconductor maker on top of ranking first in the global the DRAM market.
Chairman Lee, who had been the de facto leader of Samsung Group since 2014, announced in 2018 that Samsung would invest 180 trillion won and hire 40,000 people, and declared the "Semiconductor Vision 2030" in 2019.
Chairman Lee is now expected to accelerate efforts to realize his vision in the semiconductor sector.
Samsung Chairman Lee Meets with Saudi Crown Prince bin Salman
Samsung Electronics Chairman Lee was among the Korean conglomerate leaders who met with Saudi Crown Prince Mohammed bin Salman, who made a one-day visit to Korea on Nov. 17.
Chairman Lee was seen to have discussed cooperation in advanced areas, such as 5G and AI, on top of the "Neom City" project.
Samsung Engineering is now implementing a 1.4 trillion won shale gas treatment facility project in Jafurah, Saudi Arabia, while Samsung C&T is involving in a subway project in Riyadh.
Samsung C&T has won a tunnel project related to the railway line "The Line" of Neom City in cooperation with Hyundai E&C.