Ex-KAI Senior Exec. VP Ha takes helm at the Korean aerospace company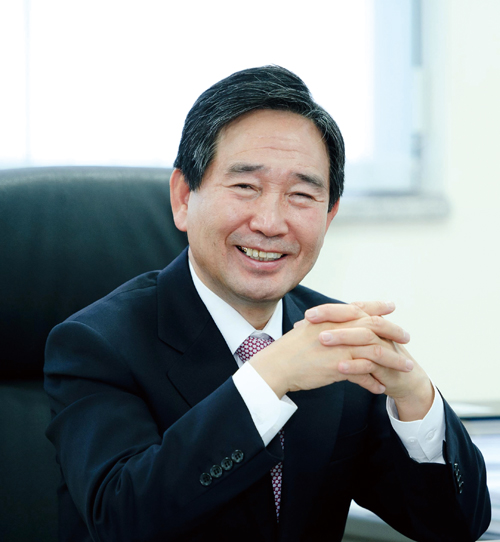 Korea Aerospace Industries (KAI) President Ha Sung-yong
Former Korea Aerospace Industries (KAI) Senior Executive Vice President Ha Sung-yong has become the first KAI president & CEO to rise up the hierarchy and take the helm at the aerospace company in its 14-year corporate history, unlike his predecessors, mostly cases of "parachute appointments" involving ex-government officials.
Ha said upon his inauguration at the company's headquarters in Sacheon, Gyeon-gsangnam-do, on June 21, "As KAI is charged with the Korean aerospace industry, one of the nation's growth engines, I will devote myself to making my executives and staff members meet their responsibilities with a master's mind and a sense of mission."
In reality, the new KAI president returned two years after quitting KAI and taking over as president & CEO of Sungdong Shipbuilding & Marine Engineering in August 2011. Ha, a holder of an M.A. in law at Korea University, began his career at the now-defunct Daewoo Group in 1978. He has served in major positions including at KAI and Daewoo Heavy Industries & Machinery, the predecessor of KAI. He worked as the director in charge of financing and the director of management support while at Daewoo Heavy Industries & Machinery. While at KAI he served as the director in charge of financing, vice president in financing, and executive vice president in management support before being promoted to KAI senior executive vice president in 2010.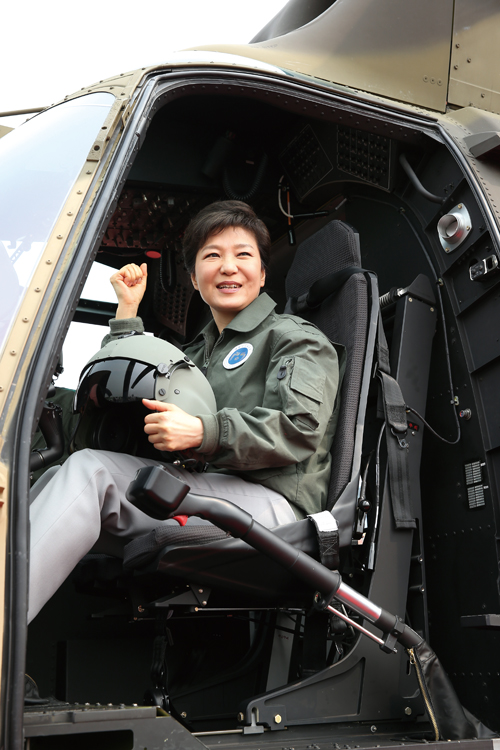 President Park Geun-hye gestures aboard the Korean Utility
Helicopter (KUH-1), aka the Surion, at a ceremony to mark the
deployment of the homegrown copter at the Army Aviation School in
Nonsan, Chungcheongnam-do, on May 22. [Photos on courtesy of MCST, KAI]
President Ha said, "KAI has entered a balanced development stage in which the percentage of military business portfolios has declined to between 55 percent and 60 percent from a range of 85 percent and 90 percent shortly after its establishment."
He stressed that the aerospace industry is to be bigger than the shipbuilding and semiconductor industries, and since the former is a core industry, combined with IT and advanced technologies, which has greater job creating effects, so the Korean aerospace industry needs to be aggressively nurtured to help build the "creative economy."
President Ha is upbeat about KAI's prospects. "The Korean aerospace industry, which now accounts for a meager 0.5 percent share in the global market in terms of sales, will likely see its global presence rise to 4 percent to 5 percent and its global ranking increase to the global top eight from the current 15th place."
Shortly after his inauguration ceremony, he looked into the delivery of T-50s, the home-grown supersonic advanced trainer, to Indonesia from the Sacheon plant.
"KAI plans to expand the exporting of FA-50s, which are to be exported to the Philippines and Iraq, on top of the T-50 and the Surion," he said. He added that KAI is striving to realize the goal of its participation in the U.S. Air Force's TX advanced trainer replacement program.
Ha would not comment on the sale of KAI by Korea Finance Corp.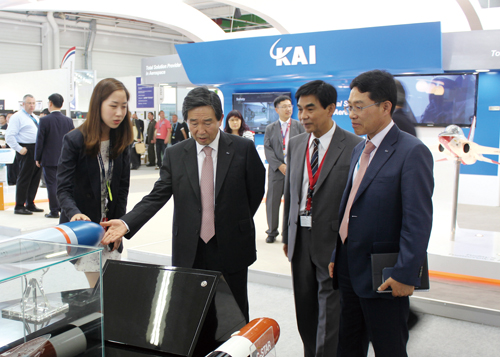 KAI President Ha Sung-yong takes a look at the exibits on
display at the KAI pavilion at the Paris Air Show recently.
While serving as director in charge of management support at KAI, Ha has been credited with his leading roles in normalizing KAI's operations by lowering its debt ratio to a range of 100 percent from 1,000 percent in 2006. He earned a reputation for his role in restructuring Sungdong Shipbuilding and Marine Engineering, which went into a financial workout program.
The basic KT-1 trainer, indigenously developed for the first time in Korea, and the home-grown T-50 have been verified in terms of the excellence and effects of their performances through their practical operation by the Korean Air Force. With the successful exports of the KT-1 to Indonesia in 2001 and Turkey in 2007 as well as exports of the T-50 in 2011, KAI has earned acclaim from overseas customers for their advanced technologies. KAI is stepping on the gas to expand its overseas markets to Central and South America with its latest success in exporting KT-1's to Peru.
Further, KAI has succeeded in the development of the Korea Utility Helicopter (Surion) project, Korea's first homegrown helicopter, and started mass producing them in 2012. In addition, KAI successfully won orders for the helicopters from the Korea National Police Agency as a follow-up project and expanded its business scope to the public helicopter market while conducting its brisk export activities at the same time. With the strategizing of the KT-1, T-50, and UVA, and the set-up and expansion of infrastructure for the support for parts and refurbishment projects, the export derivative projects, KAI is devoting itself to becoming a total solution firm for the aerospace industry.
In the civil aircraft field, KAI aggressively participates in the international development of A350s and B787s, ultra high-tech aircraft, and solidifies further strategic partnerships with the world's leading aircraft makers, Boeing and Airbus. KAI continues to challenge itself to take a striking position as a world-class leader in the global aerospace industry via the balanced development of the military and civilian sectors.
KAI is successfully conducting next-generation corps-level UAV, KFX (Korea Fighter Experimental), and multi-purpose satellite programs through ensuring R&D and advanced technologies at the right time frame to be competitive in the future aerospace market.
11th helicopter maker in the world
Ten Korean Utility Helicopters (KUH-1) were deployed with fanfare to the Army Aviation School in Nonsan, Chungcheon-gnam-do, in a ceremony on May 22 in which President Park Geun-hye and Defense Minister Kim Kwan-jin were on hand.
Korea became the world's 11th nation in the world to mass produce homegrown helicopters. The Surion, developed by KAI jointly with European Aeronautic Defense and Space Company (EADS) Eurocopter, is designed for operations at night and in all weather conditions. The completion of the helicopter is likely to have economic effects worth 12 trillion won, industry circles said.
Korea has a fleet of some 800 helicopters, including 602 in military use, to rank seventh in the world in terms of helicopters in operation. The nation has so far depended on foreign countries for helicopters.
KAI President Ha said the global demand for helicopters is estimated at 1,000, and Korea is likely to export some 300 helicopters, accounting for some 30 percent of the total demand.