2013 Construction Day Ceremony an Occasion for Resurgence of Construction Industry
FCA Chmn. Choi urges overseas exploration for projects and to create new demand through fusion with IT and BT cultures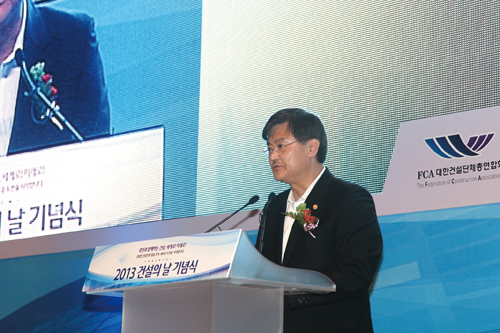 Minister Suh Seoung-hwan of the Ministry of Land, Infrastructure, and
Transport delivers his congratulatory speech at the 2013 Construction Day ceremony held at the
Construction Hall in Seoul June 18. (photo courtesy of MLIT)
The Federation of Construction Associations (FCA) held a ceremony for Construction Day 2013 on June 18 with some 1,000 dignitaries in attendance from the construction industry, government, and related industries led by Prime Minister Chung Hong-won; Rep. Choo Seung-yong, chairman of the Land, Infrastructure, and Transport Committee of the National Assembly; Minister Suh Seoung-hwan of the Ministry of Land, Infrastructure and Transport; and Chairman Choi Sam-kyu of the FCA.
Chairman Choi said in his congratulatory speech that the construction industry is going through a very tough time at home and abroad due to reductions in construction projects, cuts in profit levels, and the lack of funds. It is so bad that 21 out of 100 large construction companies are in court-managed work-out programs, he said.
"Accordingly, in order to overcome the crisis for the construction industry and to open the new age of national happiness proclaimed by the new government, we ought to collect our ideas and power to do our part to help the government achieve its policy objectives," the chairman urged.
Project owners when issuing project orders should consider profit margins in project costs and accept a mutual survival leeway in production activities, while project winners also should guarantee appropriate profits when giving subcontractors part of the projects they have won, he said.
"All parties involved in a project's undertaking should join together to create a mutual survival system so they can prosper together," Choi reiterated.
The chairman called on the government to provide support to the construction industry so it can grow as a major player in the government's Creative Economy development drive by allocating more budget funds for SOC projects, which is similar to increasing welfare funds for the people. He said it is hard to have a boom in the construction industry like those in the past when there were more large government construction projects. "We ought to create our own new demand for construction projects like those in fusion with the IT and BT industries. We have to go overseas to find new construction projects and diversify our portfolios to get away from the saturated domestic construction market," the chairman said.
Only construction firms with specialized construction technologies can survive regardless of scale. Profitability should be an overriding concern in winning projects, not just winning projects just for the sake of winning them, Choi said.
A total of 27 construction industry leaders won government citations and medals for their contributions to the development of the construction industry in Korea.
Gold Tower winners were President Choi Sang-joon of Namhwa Construction and President Chung Hae-don of Sungya Tech. President Park Sang-hi of Taejo Construction and President Kim Jae-jin of Kyungdong Construction both won the Silver Tower.
President Choi, who has served for a half a century in the construction industry, won the Gold Tower medal for his concern for the quality of construction work throughout his entire career, boosting the reputation of the people in the industry, the letter of citation said. He entered Namhwa Construction and stayed with the company for 48 years working on various tough projects for the company, such as projects for the U.S. military in Korea, harbor construction projects, and private and religious organization projects. Namhwa Construction became the first construction firm from the Honam region to be listed publicly on the Kosdaq stock market of the Korea Exchange in Korea.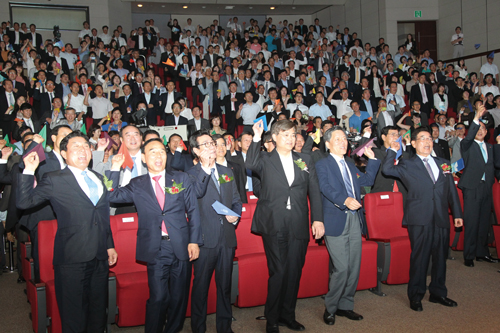 Chairman Choi Sam-kyu, Rep. Park Dok-hum, and representatives of construction firms
who are participating in the 2013 Construction Day ceremony are doing a
performance in hope for a better future of the construction industry.