The official K-Community Challenge poster. (Photos: KOCIS)
The Korean Culture and Information Service (KOCIS) announced that it will hold the "K-Community Challenge" with Korean cultural wave clubs from Aug. 8 to Sept. 12 with the Ministry of Culture, Sports and Tourism.
This event targets clubs and people who enjoy Korean culture. The KOCIS will hold an online contest in four traditional cultural categories to select winning teams. Winning teams will be provided with an opportunity to perform in Korea.
Since 2019, the KOCIS has supported overseas Korean cultural wave clubs, so they can learn and watch videos of Korean traditional culture classes with K-pop singers
, and share videos of their finished works, so that they will be able to grow into leaders who promote Korean culture.
Last year, 128 Korean cultural clubs from 43 countries participated in the fields of calligraphy, folk songs, small Korean drum dance and Hallyangmu (prodigal man dance).
A video about a K-Community Festival event, which offers prizes to winning teams who record over 300,000 views, contributes to expanding the interest of overseas Korean Wave fans.
This year, the contest will be held in four categories: folk songs, Taekwondo, traditional Korea fan dance and Korean Hanbok dresses.
Any foreign Korean cultural wave club in and out of Korea can participate through the event's official website, where details of the event are available, such as how to participate and the event schedule.
In order to attract many Korean cultural wave fans, the KOCIS will provide video lectures on traditional Korean culture. Experts in each field and popular K-pop singers will appear in the video lectures.
Overseas Korean cultural wave fans can learn about Korea's beautiful traditional culture by watching video lectures taken in Korea's hot spots that encompass both traditions and modernity, such as Namsangol Hanok Village, Dongdaemun Design Plaza and Uam Historical Park.
This year, the KOCIS added Korean Hanbok dresses as a non-performance category.
Through this event, K-pop singers will communicate with Korean cultural weave club members around the world, helping them better understand Korean traditional culture.
In addition, the winning team in each category will be invited to Korea to perform directly at the K-Community Festival. The KOCIS will live-stream the winning teams' performances on the internet on Nov. 20.
In the meantime, the KOCIS announced on Aug. 7 that it will start an Indonesian language service on Korea.net, a
representative multilingual portal of the Korean government on Aug. 8 to promote the Korean cultural wave centering on Indonesia, which the Korean cultural wave fever has gripped.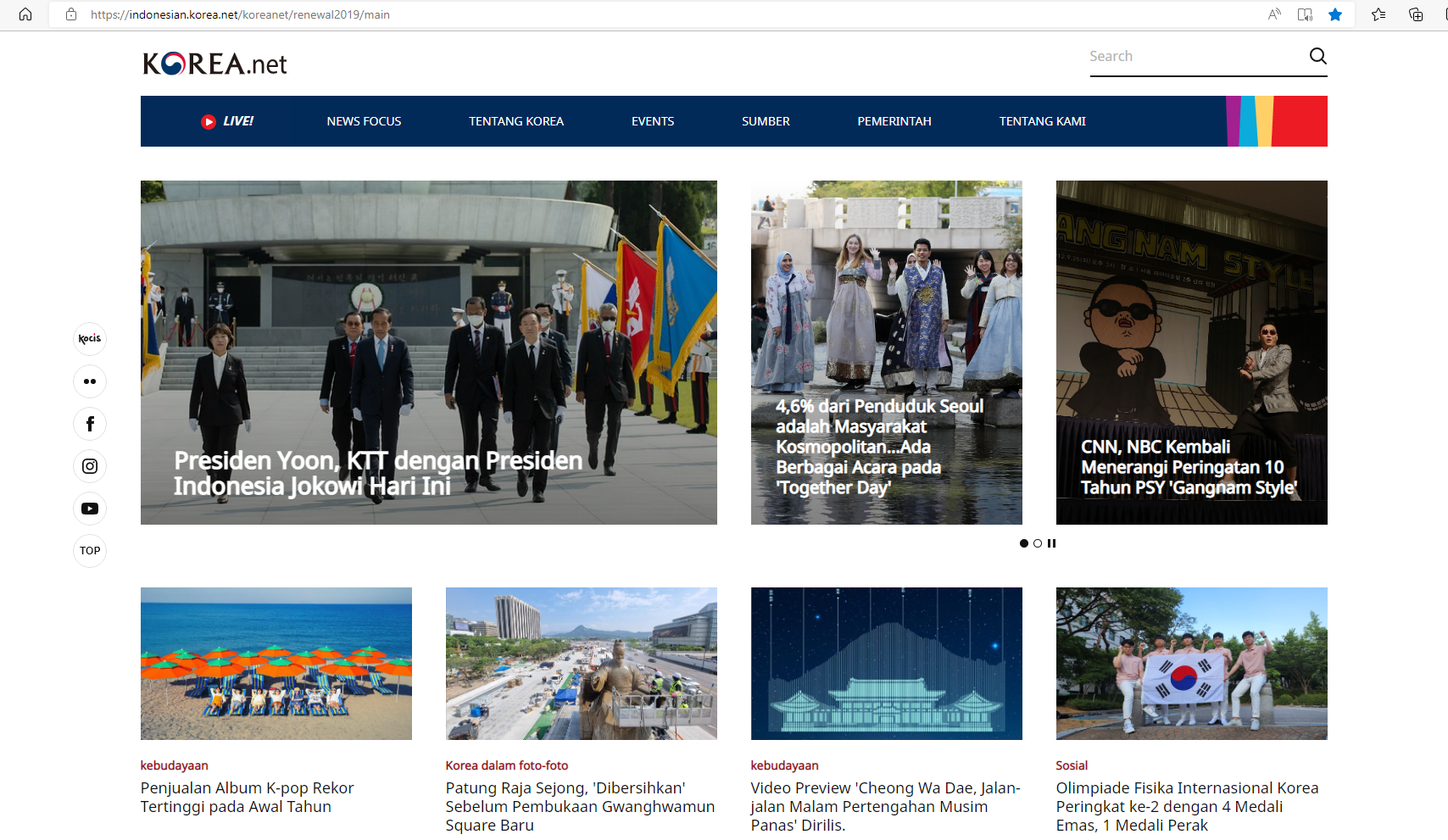 Main screen shots of Korea.net's Indonesian site.
According to the KOCIS, it took two years to prepare the Indonesian language service on Korea.net.
The addition of the Indonesian language service will push up the number of languages provided by KOCIS to ten from nine.
The ten are English, Chinese, Spanish, Arabic, Japanese, German, French, Russian, Vietnamese and Indonesian.
The Korea.net Indonesian page consists not only news about Korea but "News Focus" with news from Korea.net honorary correspondents, "About Korea" which informs people of Korean history, culture, art and tourist attractions, "Events at Overseas Korean Cultural Centers" and "the Korean Government" about the Korean President's activities and major policies.
Indonesia comprises 41 percent of the combined populations of member states of the Association of Southeast Asian Nations (ASEAN) and 34 percent of the region's GDP. The Korean cultural wave's popularity spread rapidly in the country.
The country had the second-highest consumption rate of Korean cultural contents (23.17 percent) in Southeast Asia after Thailand (26.71 percent) according to a report released in by the Korean Foundation for International Cultural Exchange on the ripple effects of the Korean cultural wave in 18 countries in 2021.
Among 4,834 Korea.net honorary reporters selected this year, Indonesia has 403, the third most, after Egypt (640) and Mexico (422), proving the nation's big interest in the Korean cultural wave.
Korea and Indonesia will celebrate their 50th anniversary of bilateral ties in 2023. Indonesia is the only ASEAN country to have a special strategic partnership with Korea.