Kim Sang-cheol Director General of the Tourism Bureau, North Gyeongsang Province announced that it will promote the 2022 Grand Sale for North Gyeongsang Province Tourism via a budget of 2 billion won.
As demand for domestic travel has exploded due to lifting social distancing guidelines, plus a recovery for ordinary people, provincial government officials are revving up the local tourism industry, stabilizing the local economy and promoting safe and healthy travel.
According to Gyeongbuk-do tourist statistics at the end of June, 17.27 million people visited 334 major tourist spots in North Gyeongsang Province, a 32 percent increase from the same period of last year.
A data analysis of KT big data showed that the number of visitors to North Gyeongsang Province amounted to 80.74 million, a seven-percent increase from the same period last year.
The North Gyeongsang Provincial Government will promote eco-friendly train travel in cooperation with Korea Railroad Corporation.
By taking advantage of the improved accessibility to North Gyeongsang Province from the metropolitan area with the opening of KTX last year, travelers visiting the area will receive discounts on their train fares when using the Jungang Line (Andong, Yeongju and Punggi Stations) and the Gyeongbu Line (Pohang, Singyeongju, Gimcheon, Gumi and Dongdaegu Stations) of Korea's high-speed KTX train services.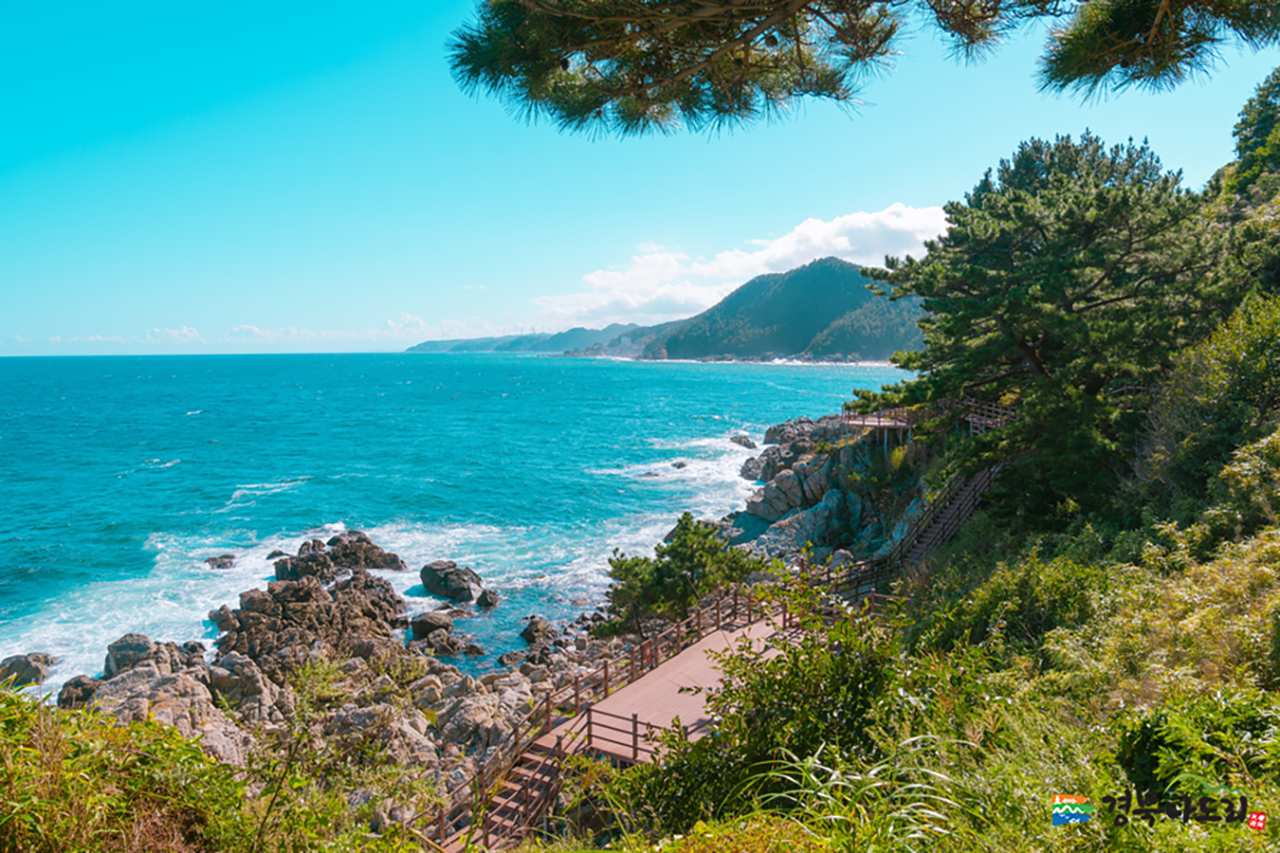 Yeongdeok's "Blue Road Trekking Course," fascinated with cool wave sounds and fresh wind. (Photos: Gyeongbuk)
In connection with eco-friendly train travel, North Gyeongsang Province will also promote a shared vehicle service support project to revitalize tourism in its northern and midwestern regions.
Travelers will be able to enjoy an 80 percent cut to the cost of car sharing services in "Socar Zones" near KTX stations. Socar Zones will provide a total of 165 vehicles.
The provincial government plans to gradually expand car sharing service areas in the region according to trends in the use of car sharing services.
During the summer vacation season, North Gyeongsang Province will provide vacation expenses for workers of small and medium-sized enterprises (SMEs) across the country.
If they purchase Gyeongbuk travel packages at its partner online malls (SK Benepia), they will receive a discount of up to 50 percent or up to 100,000 won and a discount of up to 150,000 won for buying a package for travel to Uljin, an area which suffered large-scale forest fires earlier this year.
In addition, if you enjoy activities including a zip line, paragliding, sailing, surfing and more and perform one or more selfie missions during the activities, you will be given a chance to win a prize - a gift card worth 10,000 won - through a lottery.
North Gyeongsang Province will implement a traditional liquor promotion through which travelers to the region will be able to experience a local drink culture such as making traditional liquor which has emerged as a hot travel product receiving a lot of attention from the young MZ generation.
Around the month of November, the 2022 Gyeongbuk Accommodation Fall Festival will be held to attract tourists during the tourism off-season.
Recently, as interest in meditation, safety, and healing has been on the uptick, wellness-oriented tourism has become a hot new topic of tourism. Wellness tourism products will be sold with significant discounts to those who will travel the region.
North Gyeongsang Province will promote wellness-oriented tourism by developing specialized programs and discovering related tourism products, centering on tourist attractions in five areas — Yeongju, Yeongyang, Yeongdeok, Bonghwa and Uljin.
The five areas belong to a wellness tourism cluster by the Korean Ministry of Culture, Sports and Tourism in March.
In connection with the Charm Wellness Festival to be held in October, North Gyeongsang Province will actively promote healing its tourism products and intensively publicize the province as the No. 1 wellness tourism destination in Korea through various discount events.
As more festivals will be held in person this year, officials of North Gyeongsang Provincial Government expect group tourists will continue to visit in the fall season, when many interesting festivals occur.