President Park Sung-ho of Hana Bank. (Photos: Hana Bank)
Hana Bank announced on Aug. 8 that it will launch the Small Business Support Project to give a helping hand to small business owners going through economic difficulties due to the prolonged COVID-19 situation and rev up local economies.
This project was implemented as part of the "Hana Power on Store" Campaign that Hana Financial Group has been running since last April to support small business owners.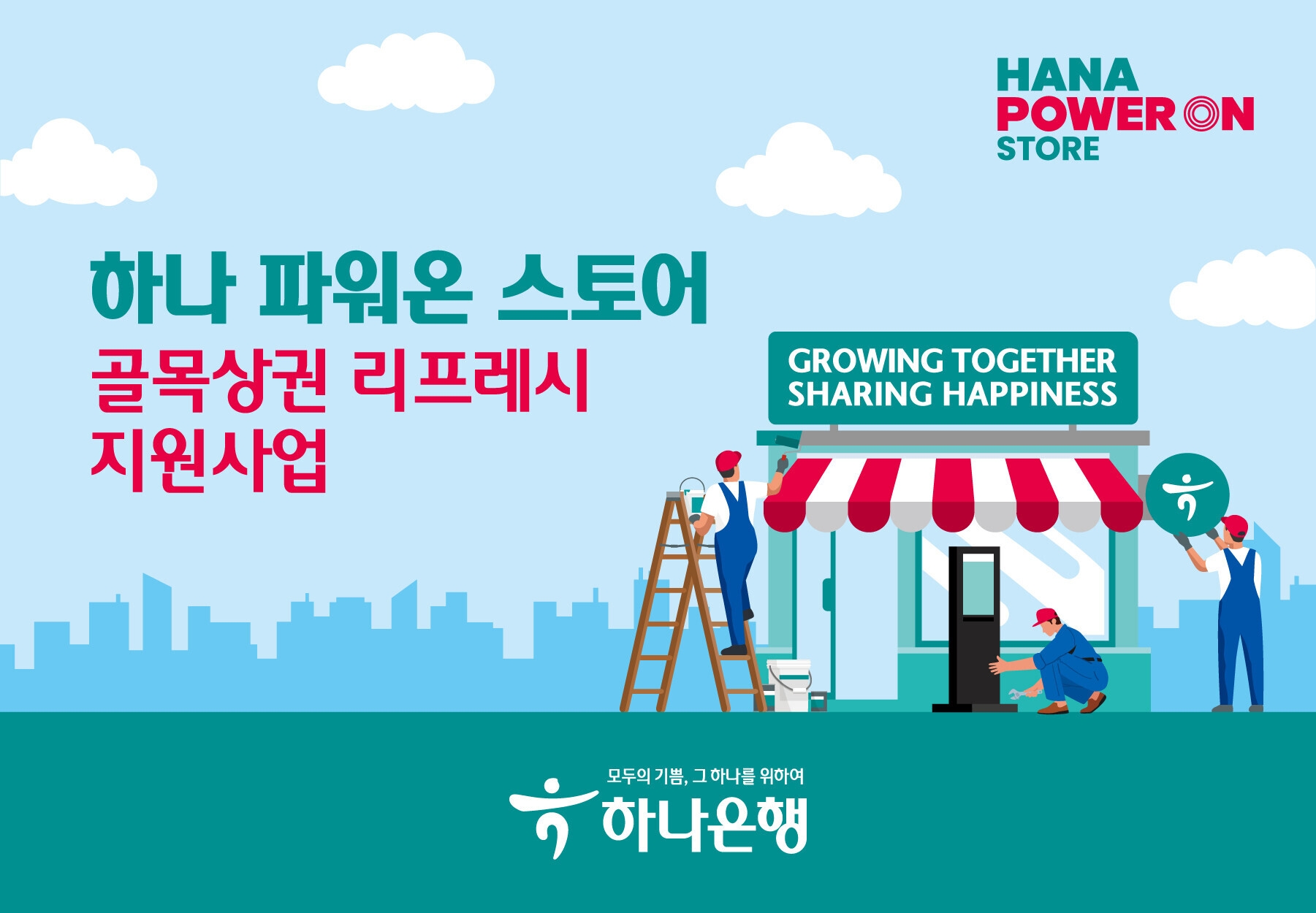 Hana Bank announces the Small Business Support Project to give a helping hand to small business owners going through economic difficulties due to the prolonged COVID-19 situation and rev up local economies on Aug. 8.
The Community Chest of Korea and the Federation of Small Businesses will join the project to improve entrepreneurs' respective business environments.
They will carry out activities to help small business owners boost their competitiveness and get on their feet through various education and consulting programs.
To this end, Hana Bank selected 100 small stores across the country and give them up to 1.5 million won each to help replace outdoor signage, improve their interior, repair and improve facilities including firefighting facilities, ensure workplace quarantine and install unmanned payment kiosks.
Hana Bank will also provide advisory services to enhance small business owners' business capabilities.
The bank will invite a total of 450 small business owners from 15 commercial districts across the country so they will receive customized education and consulting courses from experts in various fields such as labor and taxation for business.
Hana Mobile Branch on WeChat
Hana Bank opened its mobile branch on WeChat, the largest mobile messenger in China. Customers can sign up for various deposit products online without having to visit a local branch in person.
Hana Bank China announced on Aug. 3 that it has opened the Hana WeChat Mobile Branch on WeChat. WeChat is a Chinese instant messaging, social media, and mobile payment app developed by Tencent.
First released in 2011, it became the world's largest standalone mobile app in 2018 with over one billion monthly active users.
Hana WeChat Mobile Branch is available in an in-app mini-program in which Tencent has built an ecosystem with various fields such as shopping, games, ordering, and transportation to expand WeChat mobile services.
The Korean bank explained that the mobile branch opened as part of digital financial innovation, one of the three strategies proposed by Hana Financial Group Chairman Ham Young-joo to become the best financial player in Asia in March of this year.
In the meantime, Hana Bank China launched non-face-to-face small mobile loans in partnership with large Chinese ICT platforms such as Alibaba and Baidu and reached personal loans of 10 billion yuan in April.
Invitation of Underprivileged Children to Seoul E-PRIX
Hana Bank invited children of the marginalized in the 2022 Hana Bank Seoul E-PRIX, the final race of the Formula E 2021-2022 Season, at Jamsil Sports Complex in Seoul from Aug. 13 to 14.
Hana Bank, one of the official sponsors of the first eco-friendly global electric car race held in Korea, held the invitation event to give the invited children an opportunity to feel and practice the importance of environmental protection through environment-friendly sports culture experiences, Hana Bank said on Aug. 15.
The children invited this time are from child welfare facilities, single-parent families, and multicultural families that Hana Bank continues to support through its employee volunteer corps.
Also among them were children from single mothers who are receiving support through Hana Power on Care, a main support project for the underprivileged by Hana Financial Group, and children who suffered abuse. All of them had fun and a meaningful time.
The invited children watched the Formula E race from the grandstand inside Jamsil Sports Complex in Seoul.
Ten employee influencers active on 'Hana TV', the official YouTube channel of Hana Financial Group, also participated to take care of them and play with them. They enjoyed various do-it-yourself programs at Hana Park in the stadium.