Chairman Sohn Tae-seung of Woori Financial Group. (Photos: Woori Financial Group)
Woori Financial Group announced on Aug. 22 that it posted 1,761.4 billion won in net income in the first half of 2022.
This is attributable to the financial group's strong soundness and cost management efforts, and high profit-generating power, despite the expansion of financial market volatility due to domestic and overseas economic slump risks.
Second quarter net profit stood at 922.2 billion won. Woori Financial Group's net operating income amounted to 4.886.1 billion won in the first half of the year, up 20.8 percent from the same period of 2021 thanks to the diversification of its profit base.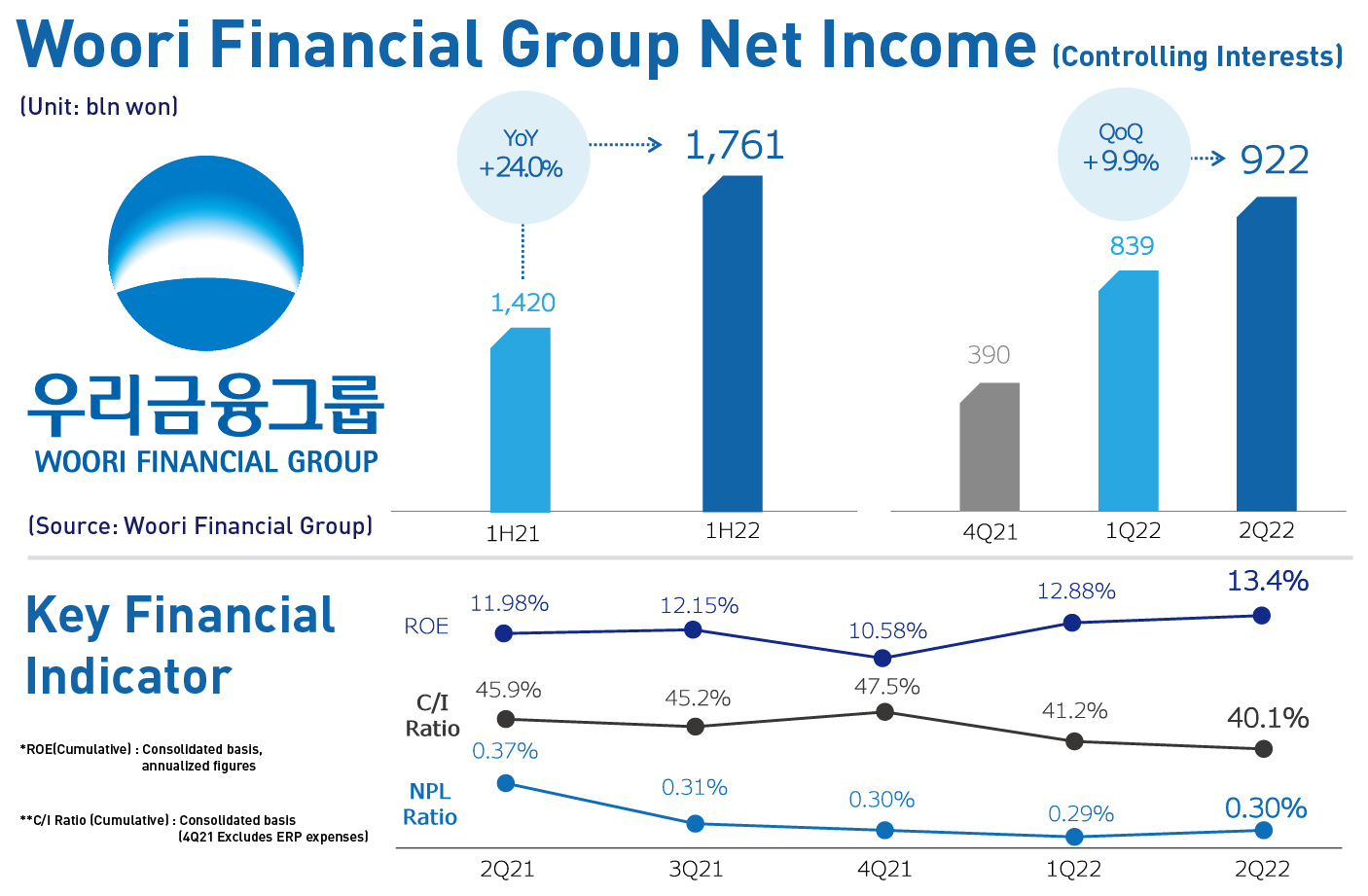 Its net income surged through the even growth of interest income and non-interest income, such as asset growth centered on corporate loans and the expansion of IB profit thanks to strengthening CIB capabilities. Its C/I ratio sat at 40.1 percent.
The proportion of the non-banking division's revenue in its total revenue rose from 10 percent at the time of its foundation to 20 percent in the first half of 2022 thanks to an upgrade of the non-banking division's profit-generating power, leading to a rise in its net operating income.
In the asset quality sector, despite concerns over an economic slowdown, the NPL ratio stood at 0.30 percent and the delinquency rate 0.21 percent, maintaining a stable level following the previous quarter. Its NPL coverage ratio hit 210.3 percent.
This verified the effectiveness of a strong risk management-oriented sales culture that was continuously promoted by the financial group.
In particular, in order to prepare for future uncertainties, Woori Financial Group expanded its loss absorption capacity through additionally accumulating provisions in this quarter to secure sufficient response ability.
Woori Financial Chairman Sohn Tae-seung participated in an earnings conference call following the earnings release.
"We were able to once again confirm the solid fundamentals of Woori Financial Group through the results of the first half of this year," Chairman Sohn said.
"We will continue to achieve stable growth through active risk management in preparation for a complex economic crisis."
"We will continue to promote win-win management activities with stakeholders including payment of an interim dividend (150 won per share) and various shareholder return activities to enhance shareholder value," Chairman Sohn added.
"These days, financial companies' social roles and responsibilities are growing in importance," a Woori Financial Group official said.
"Woori Financial Group is actively carrying out professional and multifaceted social contribution activities for the marginalized. We will also expand our financial support for the ESG movement to serve as a priming water for the sustainable growth of our society."
A view of the Woori Financial Group's headquarters in Jung-gu, Seoul.