Chairman Yoon Jong-kyu of KB Financial Group. (Photos: KB Financial Group)
KB Financial Group announced its business results for the first half of 2022 through internet and mobile live broadcasting on July 21.
KB Financial Group posted 2,756.6 billion won in net profit in the first half of the year. The figure represented a jump of 11.4 percent, or 282.3 billion won, compared to the same period of 2021.
This is attributable to solid net interest income growth and thorough cost management via the expansion of its NIM and credit growth.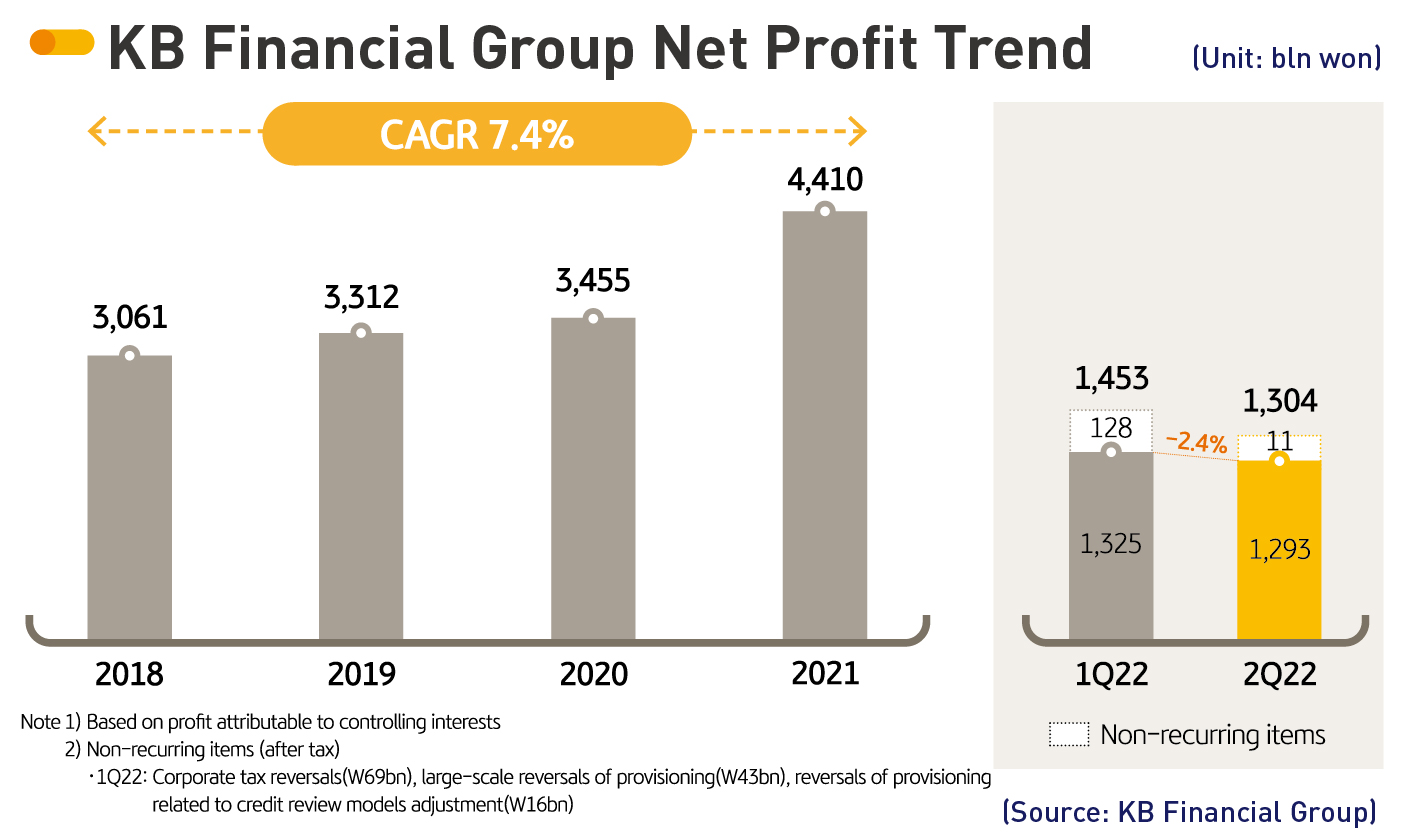 Net income in the second quarter stood at 1,303.5 billion won, a 10.3 percent decrease from the previous quarter.
This is despite a solid increase in net interest income, a rise in market interest rates and foreign exchange rates and a decline in the stock index incurred other operating losses and additional provisions reflecting a conservative future economic scenario. Excluding these one-off factors, its ordinary net profit shrank by 2.4 percent on quarter.
"Despite a tough business environment where macro uncertainties increased, an increase in core profits and the fruits of cost management showed KB Financial Group's stable profit-generating ability," a KB Financial Group said.
"The financial group's commission income was somewhat sluggish due to reduced product sales, but its ability to generate commission income took off by one level compared to the past thanks to business diversification and efforts to sharpen competitiveness."
In addition, KB Financial Group emphasized that as a leading financial group that fulfills its social responsibilities based on strong profit-making capabilities, it has been providing various financial support for the low-income and vulnerable groups who have difficulties due to an economic slowdown and rising interest rates.
"In order to reduce the financial burden of vulnerable borrowers, we are sequentially implementing lower interest rates on loans to low-income families, preferential interest rates on housing-related loans for the socially marginalized and helping those who have to pay fees for Jeonse deposit return guarantees," the official said.
"In order to support small business owners, the long-term installment conversion program for those who suffered financial difficulties due to the spread of COVID-19 has been running since last May.
The program allows them to repay loans in installments for up to 10 years if they have difficulties in repayment. In addition, to individual business owners who are using high-interest loans, we are helping them by providing preferential interest rates for them when the terms are extended."
"In order to respond to growing macro uncertainties, KB Financial Group is focusing on quality-oriented business and preemptive risk management," the official said, regarding stagflation concerns and concerns about deterioration in profitability and asset quality in the banking industry due to high interest rates, high inflation, and a high exchange rate in the Korean economy.
"As a result of continuing this conservative provisioning policy, KB Financial Group logged an NPL coverage ratio of 222.4 percent at the industry's highest level, further enhancing its ability to absorb losses against future uncertainties."
A view of the KB Financial Group's headquarters in Yeouido, Seoul.