Nonghyup Bank announces on July 18 that it will hold the Rural Experience Tour Farmily (Farm+ Family) SNS Event. (Photos: Nonghyup Bank)
NongHyup Bank announced on July 18 that it will hold the Farmily (Farm+Family) SNS Event, a rural experience tour where people can experience the countryside through experiential activities such as harvesting corn, making Korean rice cake and playing in streams.
This event is designed to increase farm household income and spread bonding between those in urban and rural areas.
It will run until July 20 through the official SNS channel of NongHyup Bank. Forty winners will be chosen among those who write stories about why they want to participate in the event with their families on the bank's the SNS channel.
The winners will have a summer retreat to escape summer heat and enjoy rural activities at Yeomulli Village in Yangpyeong on August 13. About 200 people will be offered a nationwide crop harvesting and regional experience program once a month from August to December.
"I hope this event will be a good time to inform urban children of the countryside and make precious memories with their families," said Kwon Joon-hak, president of NongHyup Bank.
"NongHyup Bank will do its best to contribute to publicizing agricultural products and revving up the economy of rural areas."
On the other hand, NongHyup Bank announced on July 19 that it would hold a summer vacation "special lecture" at 15 youth financial education centers across the country during the summer vacation.
The special lecture will be held from July to August with various topics on finance, such as making wise investments. In particular, NongHyup Bank will also offer career experiences such as financial education based on fintech and one-day banker experience.
"I hope this special lecture for the summer vacation will be a useful time for young people," a NongHyup Bank official said. "We will continue to take the lead in sustainable financial education for youths and children."
Donation of Cool Summer Goods for Senior Citizens
NongHyup Bank held a sharing event "for a healthy and cool summer" for elderly people in Mokpo on July 14 ahead of Chobok.
NongHyup Bank's Jeonnam Sales Headquarters donated goods worth 30 million won to the Mokpo City Government.
The goods included 200 electric fans, 1,200 bags of rice, and 200 boxes of NongHyup kimchi to help them stay healthy during hot summer days. These items will be delivered to about 200 senior citizen centers in the Mokpo area.
"I wish senior citizens who worked hard for the development of their local communities a happy and healthy summer," a NongHyup official said.
Meanwhile, NongHyup Bank's Jeonnam Sales Headquarters has been carrying out love-sharing donation activities throughout the year to strengthen the implementation of environmental, social, and governance (ESG) management and promote win-win growth with its local communities.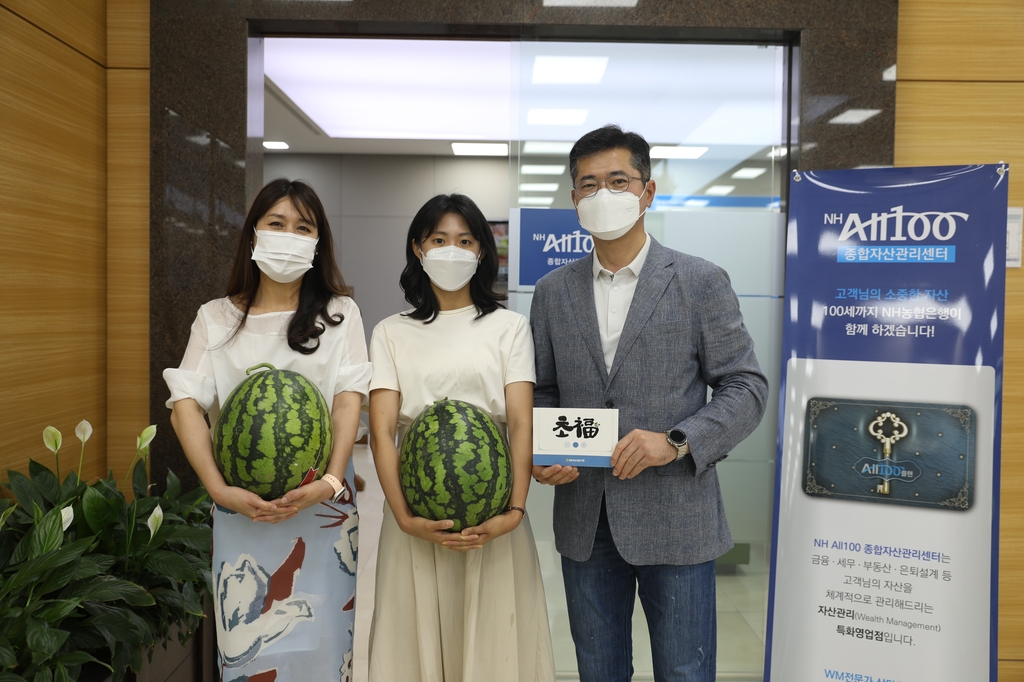 NongHyup Bank's Gyeongnam Headquarters delivered water melon produced from Hamyan to its exemplary clients and cooperative institutions on the occasion of chobok, the first day of the hottest summer.
Sharing Watermelons with Excellent Customers
NongHyup Bank's Gyeongnam Sales Headquarters delivered watermelons produced in the Gyeongnam region in the hope of a healthy summer for regular customers and corporate customers on Chobok Day.
NongHyup Bank Gyeongnam Sales Headquarters which celebrates its 10th anniversary this year held a ceremony to publish a book about the 10-year history of NongHyup Bank in Gyeongnam.
It also declared its vision on July 1 and pledged to leap forward as a customer-oriented, ultra-innovative digital bank. To convey its gratitude, the sales headquarters recently held a watermelon sharing event for Chobok Day.
In particular, the watermelons delivered this time have the highest quality. They were produced in Haman-gun. NongHyup Bank showed its will to coexist with local rural areas by buying the watermelons from local farmers.
"NongHyup Bank, the only homegrown bank in Korea delivered high-quality watermelons grown in Gyeongnam with a strong sense of gratitude to its customers," a NongHyup Bank official said.
"NongHyup Bank will take care of its neighbors having hard time due to hot summer weather and will spare no effort to provide various support for them so that they will be able to spend summer healthy."