Kil Ki-yon, President & CEO of the Seoul Tourism Organization. (Photos: STO)
Seoul Tourism Organization (STO) is slated to hold the Seoul Festa 2022 from August 10th to the 14th, in cooperation with the Seoul Metropolitan Government, to help the Seoul tourism industry recuperate following the pandemic.
The event will include the E-Prix, a new genre of auto-racing never before seen in South Korea. The E-Prix is expected to attract about 2,000 athletes and officials, who will participate in the event, and it is expected to attract about 40,000 tourists.
The following are excerpts of a written interview with NewsWorld in which Kil Ki- yon, President & CEO of the Seoul Tourism Organization, spoke of the current status of Seoul's tourism sector and future plans to promote the industry.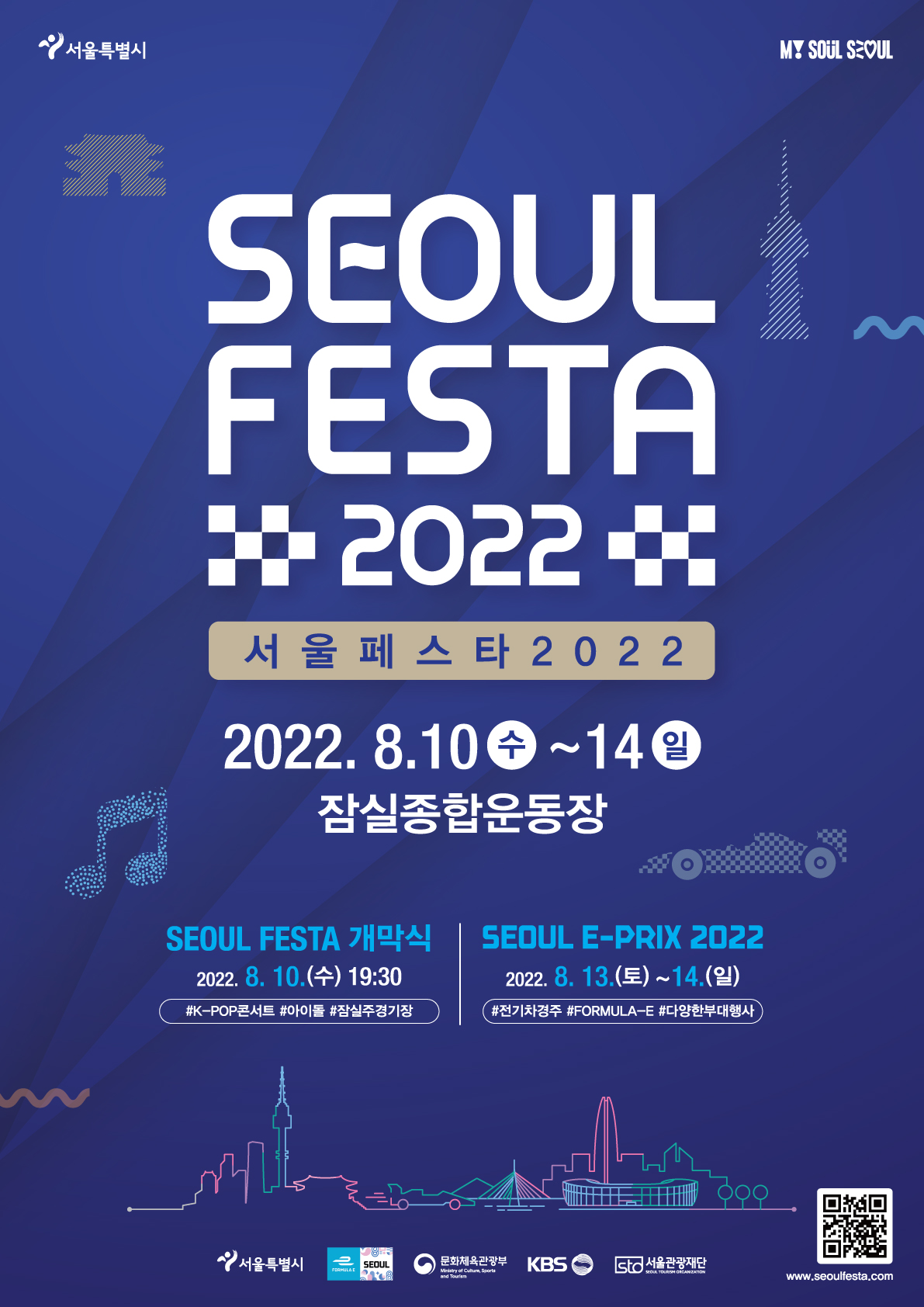 A poster to promote Seoul Festa 2022.
Question: Would you tell our readers about the current status of Seoul's tourism industry, and the strategies STO will implement in the post-COVID era?
Answer: The tourism industry suffered an unprecedented setback in 2021 due to the COVID-19 pandemic, following its initial outbreak in 2020.
The ecosystem of the tourism industry crumbled due to the pandemic, and a need for overall support of the industry emerged.
The tourism industry is anticipated to start making its return to normalcy by the third quarter of this year, marking the beginning of the post-COVID era.
The industry is coming back to life fast, to the extent that inquiries on visiting the nation and group bookings are on the rise, and the industry needs to be staffed with more people.
It is predicted that the industry will regain about 50 percent of the previous years' levels by year-end and perhaps return to normal sometime within the next year.
We see signs of tourists from abroad increasing in number as preventive measures in place during the pandemic are gradually easing more and more, allowing for a rapid antigen test prior to arrival.
Figures released by the Seoul Tourism Information Center, run by STO, showed that the number of tourists stood at 763,243 in the first half of this year, a 69 percent surge year-on-year over last year. In particular, overseas tourists surged 180 percent.
In order to cope with the pandemic, the government suggested the restoration of travelers' trust, promoting domestic tourism and supporting the safe return of inbound tourists.
The government also wants to ramp up cooperation nationwide and multilaterally among other countries, while building a flexible and sustainable tourism industry.
STO strives to create and quality city content and promote tourism based on the principles of green practice and fairness.
STO, prioritizing diversity, equality, and inclusion, key elements in ESG management, is implementing accessible tourism under the name of Danurim (lit. "everyone enjoys"), and a variety of social contribution projects.
The Seoul Tourism Plaza, which couldn't operate actively due to social-distancing guidelines, will be normalized to ramp up cooperation among tourists, local community residents, and companies as Seoul's tourism control tower.
The move is designed to create new tourism opportunities and build foundation to attract tourists.
New tourist spots need to be explored on top of the existing tourism resources.
For instance, our organization is currently working to build upon our Hiking Tourism brand, so as to create new tourism content for everyone to enjoy, especially newcomers to the city.
From Bukhansan Mountain to Dobongsan Mountain and more, the Hiking Tourism program is looking to expand in the future so as to meet tourism needs.
Each year, the Seoul Lantern Festival is operated as Seoul's signature winter festival. The upcoming festival for this year will have an exhibition space expanding to the Gwanghwamun Square, beyond the conventional venue of Cheonggaecheon Plaza, with diverse lights and sculptures on decorative display.
The festival is expected to serve as a magnet to attract domestic and inbound tourists.
A whole view of the 2021 Seoul Lantern Festival.
Q: What do you think of the current status of Seoul compared to global cities in terms of tourism, and what tasks lay ahead?
A: Seoul is primarily recognized as the capital of South Korea and an economic hub, not a tourism city.
Seoul lacks tourism resources compared to neighboring cities, like Tokyo and Beijing, and is a far cry from Paris, Barcelona, and other big-name European tourism destinations.
Japan saw fewer inbound tourists than Korea until 2014, when the situation reversed itself.
At the time, former Prime Minister, Shinzo Abe, inaugurated a cabinet meeting on attracting inbound tourists, presided over by himself, and launched his vision for the 2015 tourism industry.
Thanks to aggressive investments and interest, Japan saw inbound tourists jump to 30 million in 2018, a three-fold surge from about 10 million in 2013.
Seoul needs some groundbreaking tourism policies and projects in order to stand out among its competitors.
About 80 percent of inbound tourists visit Seoul. Seoul serves as the first gate of inbound tourists, as South Korea is connected by air, railway, and road networks, with Seoul as its center.
The more Seoul grows, the more provinces grow, and the more they attract inbound tourists.
The government, recognizing Seoul as the main entryway into the country, needs to increase support and investments in the tourism industry, and include that in mid- to long-term city development goals.
A master plan for the future of Seoul's tourism, such as the exploration of quality content and the development of a sustainable tourism industry, must be implemented as soon as possible. Investments also need to be made to achieve it.
The provincial government sets aside only one percent of its budget for the tourism industry. But with more aggressive investments and nurturing of the tourism industry, we could potentially develop it into a future growth engine.
Seoul's tourism sector has limited tourism resources, such as historical palaces and traditional Korean markets. Investing and developing the hardware and software of Seoul's tourism industry are required to make Seoul favored by Koreans and non-Koreans alike.
New tourism symbols need to be created on top of Gyeongbokgung Palace, Namsan Seoul Tower, and other existing landmarks.
The software sector for Seoul tourism needs to be planned with a long-term strategy in mind. A master plan, if you will, for the future of Seoul tourism is required and investments must be made to achieve it.
Foreigners experience a contest, named after Squid Game, a famous Korean drama series, at Seoul's pavilion during IMEX Frankfurt 2022.
Q: What strategies is STO implementing to make Seoul a global tourism city?
A: STO aims to make Seoul a global top five tourism city with a goal of attracting 28 million inbound tourists.
STO is promoting Seoul as a tourist destination to the entire world. The organization is conducting global marketing activities in the second half of the year in earnest to restore Seoul tourism activity.
A promotional video for the Seoul tourism brand, My Soul Seoul, was unveiled to spread the inaugural message of the global tourism industry in June.
Starting with Seoul tourism promotion, to be held in Hoh Chi Minh City, Vietnam, in August, STO will conduct significant face-to-face marketing activities in southeast Asia, northeast Asia, North and South America, as well as Europe.
BTS, who has served as an honorary ambassador to promote Seoul tourism since 2017, is joining forces in making Seoul known to the world.
STO has been promoting Seoul by holding overseas presentation sessions and exhibitions, while drawing in a number of MICE events.
The institution explores various content, coupled with hallyu-related content, and promotes Korean style cuisine and culture on the global stage.
STO aims to make Seoul a tourism city beloved by overseas tourists and Korean citizens across the nation.
The institution strives to explore hidden tourism spots and support each district's nurturing of local festivals and the development of tourism courses.
STO endeavors to promote shared growth with tourism businesses.
The institution offered a combined 36.5 billion won to 12,000 firms on seven occasions over the last two years since 2020 to help the tourism industry overcome the effects of the pandemic.
The Seoul Tourism Plaza serves as a governance center of the tourism industry's business discussions and startup operations. The plaza functions as a sort of bridge that connects industry members and business supporters.
For Seoul, which once ranked second in the world in terms of drawing in MICE event operations from abroad, the MICE industry has emerged as an important part of the tourism industry.
STO makes strenuous efforts to attract international conventions by implementing support projects while holding off-line explanation sessions.
STO and its business divisions are shifting to an ESG management scheme, as the organization is pursing structural innovation to ensure integrity, safety, and communication.
Q: Would you elaborate on Seoul Festa 2022, slated for this summer?
A: STO will hold Seoul Festa 2022 as a festival to mark the beginning of the post-COVID era and a fresh start for the Seoul tourism industry in cooperation with the Seoul Metropolitan Government.
The Seoul Festa 2022 will be held for five days from August 10th to the 14th, mainly based in the Jamsil Sports Complex, plus all other parts of Seoul.
In particular, the E-Prix (FIA Formula E Championship), a new genre of auto-racing never before seen in South Korea, is making its debut here.
Starting with the Beijing E-Prix in 2014, major cities, such as New York, London and Paris, hold E-Prix races. The event is expected to attract about 2,000 athletes and officials and welcome as many as 40,000 tourists or so.
The festa will also coincide with Seoul's integrated events, such as the 2022 Seoul Shopping Festa, 2022 Hangang Festival, and the reopening of the Seoul Bamdokebi Market. K-pop, shopping, and other diverse events are combined to bring joy and excitement for Koreans and non-Koreans visiting Seoul.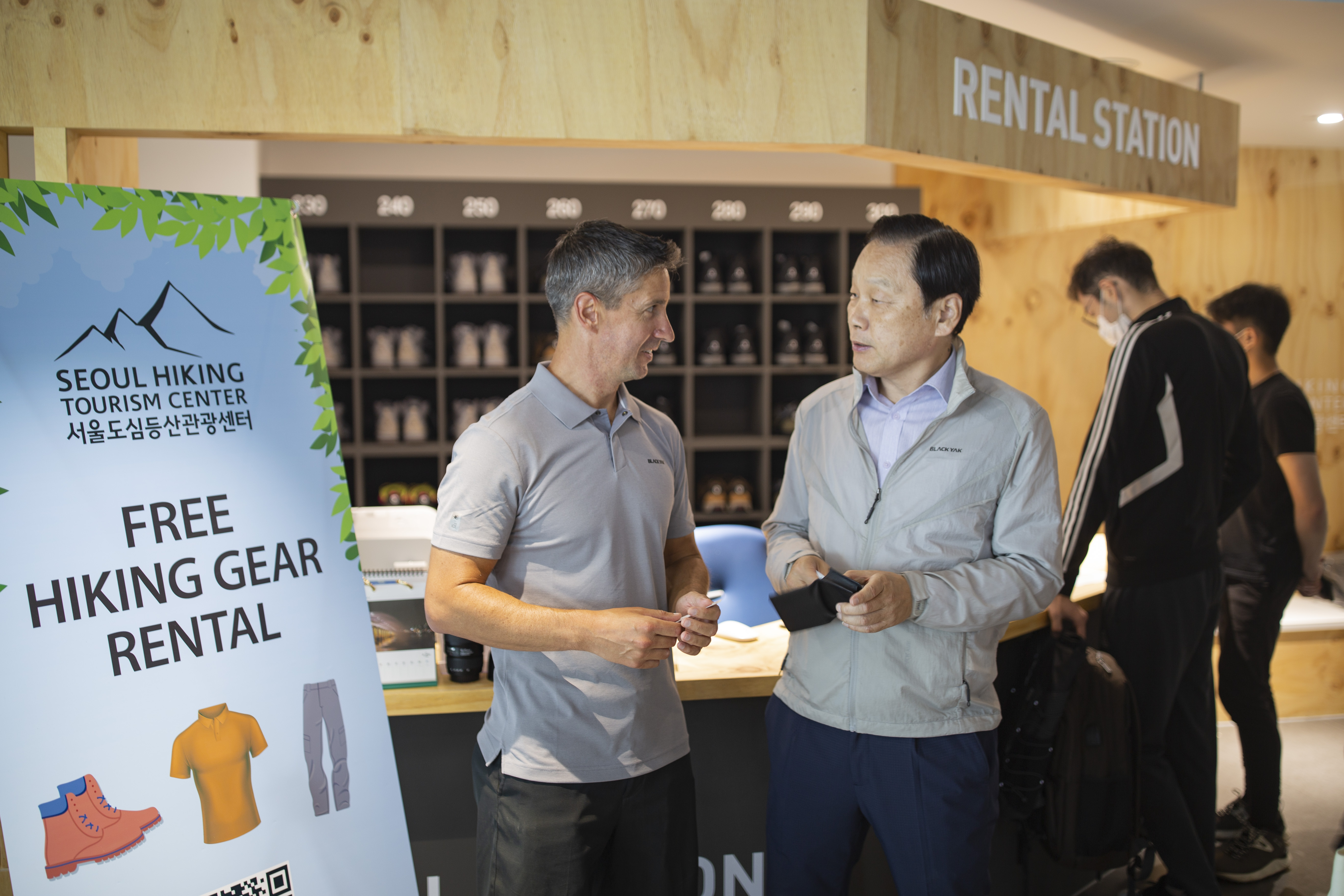 An inside view of the Seoul Hiking Tourism Center, being operated in a pilot project.
Q: Would you touch upon the Seoul Hiking Tourism Center, STO's core project for this year?
A: Seoul is a rare city in its proximity to mountains, which are easily accessible by public transportation. In some major foreign cities, it takes up to four hours to reach the mountains by car.
The Seoul metropolitan area, with a population of 20 million people, is a megacity with a national park at its center.
In the wake of the COVID pandemic, a rising number of young people in their 20s and 30s took on the hobby of hiking, which has become a kind of leisure culture.
A survey of 1,092 foreigners, conducted by STO's Tourism Research Team, showed that 82 percent of respondents indicated their willingness to go hiking and trekking in Seoul.
The Seoul Hiking Tourism Center is in place to meet the demand. Seoul's beautiful mountains are considered as the hidden gem of tourism content showing great potential, marking a departure from the existing tourism course of palaces and shopping centers.
STO has begun to operate the center in a pilot project. The center, located in Ui-dong of Seoul's Gangbuk-gu District, is easily accessible from Bukhansan Ui Station.
The center offers hiking tourism information in four languages — Korean, English, Chinese, and Japanese, and it provides services tailored to meet tourists' needs.
The center provides free rental services specifically geared toward overseas tourists so they may have access to climbing wear and hiking boots.
The center also has a lounge in which visitors can rest and enjoy the photo zone where visitors can take pictures, working with Bukhansan Mountain as the backdrop.
STO plans to actively explore tour courses and content centered around Bukhansan Mountain, coupled with the opening of the former presidential office, Cheong Wa Dae, to the public, and Inwangsan Mountain.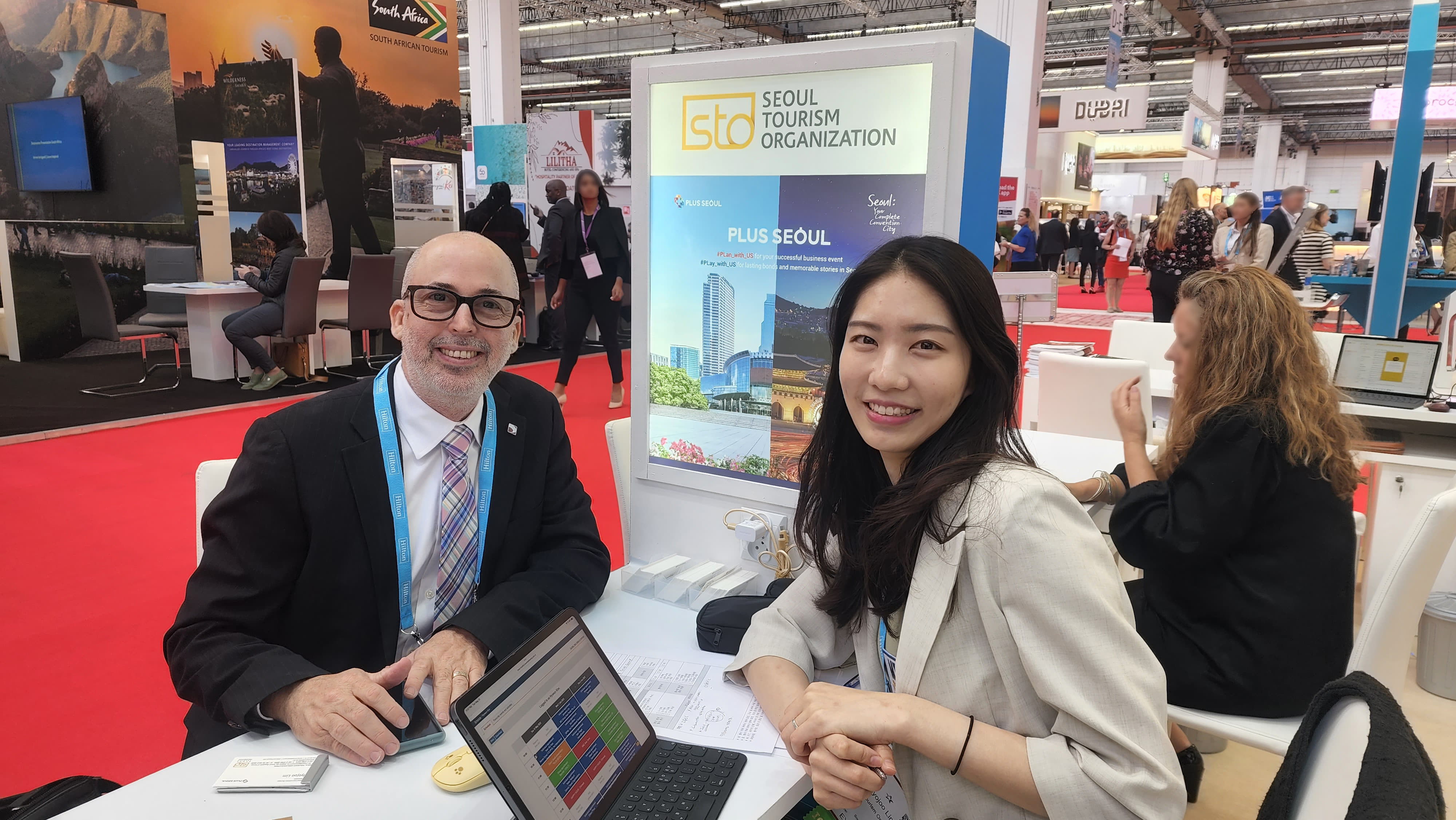 Q: Would you explain Seoul's efforts to attract MICE events and promote Seoul?
A: Seoul achieved an annual growth rate of 115 percent for its attraction of international conventions and events. Last year, Seoul saw as many as 250 international conventions in operation, with a total of 428,296 people in attendance.
In 2021, Seoul was also able to successfully attract major international events, including the 2025 World Congress of Neurology and the 2026 World Congress of Audiology, while landing a home for the 2023 World Congress of Ultrasound in Obstetrics and Gynecology in 2020.
As the COVID pandemic has been downgraded to a endemic, STO has been conducting offline publicity activities to promote Seoul by participating in overseas exhibitions since May of this year.
STO recorded the greatest achievement by participating in IMEX Frankfurt 2022, which took place from May 31 to June 2, while setting up a pavilion to promote the city of Seoul.
One-on-one negotiations with buyers resulted in exploring eight international conventions whose participants expected to stand at around 11,000, including the 2028 International Immunization Society.
STO, travel agencies, and MICE-affiliated companies also have plans in the works to tour Singapore and the United States in the name promoting Seoul as a tourism city.