New market will likely see 50 listed companies and its market value is anticipated to be between 1 trillion won and 1.5 trillion won by the end of this year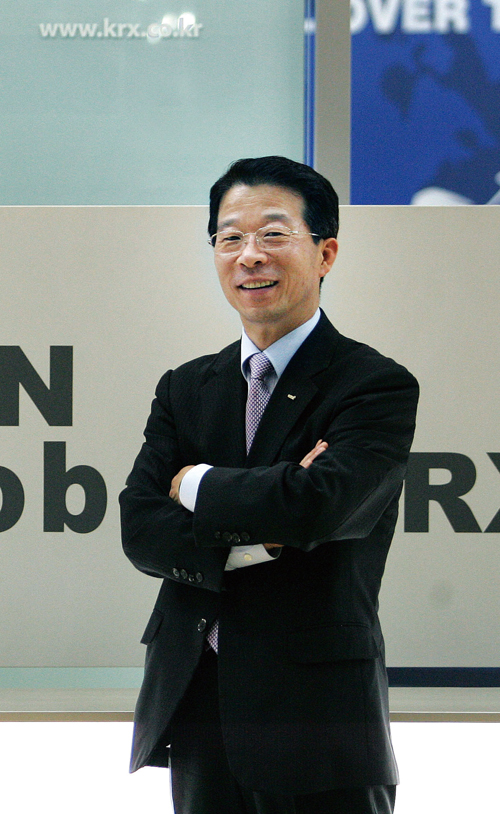 Choi Hong-sik, President & COO of KOSDAQ Market
Division, the Korea Exchange (KRX).
"The Korea New Exchange (KONEX) will be committed to giving a helping hand to innovative companies that are financially strapped," said Choi Hong-sik, President & COO of KOSDAQ Market Division, the Korea Exchange (KRX).
Choi, the architect of the newly emerging market for SMEs, said KRX will do its utmost to ensure the successful launching of KONEX Market.
KONEX is to make its debut with around 20 listed companies. As of June 7, 21 companies submitted the applications for listing on the new market. Nearly half of the applicants specialize in the bio and semiconductor equipment sectors. The average capital size of companies stands at 10.3 billion won, about 42.5 percent of the average size of companies on the KOSDAQ.
KRX expects that KONEX will likely see the number of listed companies increase to about 50 and its capitalization surge to between 1 trillion won and 1.5 trillion won by the end of this year. The new market is also predicted to see the number of listed companies soar to between 700 and 1,000 and capitalization jump to between 14 trillion won and 21 trillion won in the mature stage.
Choi stressed that if KONEX settles down, it will build a virtuous cycle of KONEX, KOSDAQ and KOSPI. "Companies that demonstrate prudent management, outstanding earning records and trading records will be able to transfer to KOSDAQ or KOSPI Market by lenient listing requirements to such KONEX-listed companies. And with the opening of KONEX, firms will be in a structure of complementation in which they can secure funds, depending on which growth stage they are in," he said.
If KONEX smoothes out venture capitals' returns on investment, the new market will have far-reaching downstream and upstream effects on the startup fund market, KOSDAQ and KOSPI Market, Choi said.
He brushed aside some concern that KONEX might fizzle out like the over-the-counter free board market, touted as the 3rd Market. He drew the line between KONEX and the free board market, saying that the former places priority on the company's growth potential. The main reason the free board market has withered is that companies' high insolvency leads to a drop in trustworthiness and to a lack of liquidity. Companies delisted from KOSPI and KOSDAQ Market cannot be listed on KONEX Market, he noted.
KRX came up with bountiful incentives such as tax credits and the relaxed listing requirements to invigorate the KONEX. KRX now considers taking supplementary steps, from cutting corporate tax for KONEX-listed companies to the reduction in listing-upkeep costs, while discussing ways to develop investment products, including SME venture funds for the general public's participation.
Easing Regulations on KONEX
In regard to the recent progress, the cabinet approved a revision of implementation degrees of the Capital Markets Act on June 16, exempting KONEX-listed companies from a requirement of submitting an application for issuing securities to more than 50 investors. The amendment also eased some regulations on merging KONEX firms.
Meanwhile, five securities organizations, including KRX, Korea Securities Depository, Korea Securities Finance Corp., and Koscom, have decided to raise a 150-billion-won fund for investing into KONEX-listed companies.
Photos on courtesy of KRX