LS-Nikko Copper Chmn. Koo Named Copper Man of the Year
Said to be 'more active and aggressive in terms of global management than any other businessperson'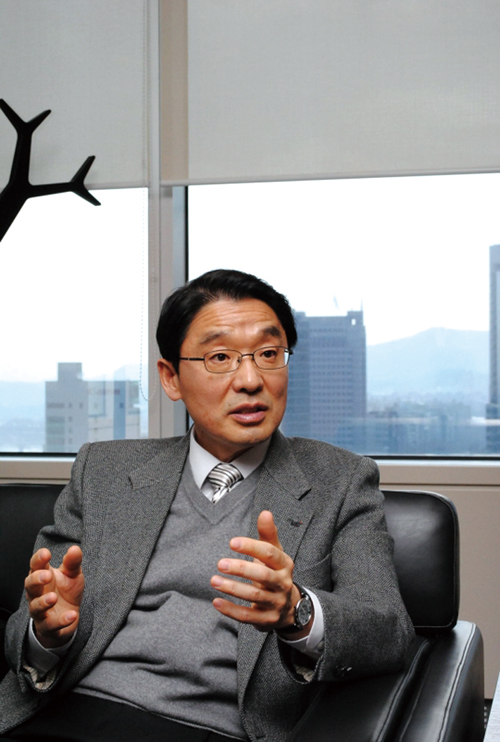 LS-Nikko Copper Chairman Koo Cha-myung is
the first Korean and third Asian winner of the prestigious
Ankh Award. [Photos on courtesy of LS-Nikko Copper]
LS-Nikko Copper Chairman Koo Cha-myung was given the Copper Club's Ankh Award in recognition of his contribution to the development of the global copper industry.
He is the first Korean and third Asian winner of the prestigious Ankh Award, which is also known as the Copper Man of the Year award. Every year, the Copper Club awards the Ankh Award to honor outstanding individual achievements and contributions to the copper industry.
LS-Nikko Copper, which suffered losses, has now changed its course and posted 200 billion won in annual operating profit. The turnaround is owed to securing raw materials at cheaper prices through its overseas network, Chairman Koo said.
Chairman Koo has spearheaded continued innovative management since he took office as vice chairman of LS-Nikko Copper. He saw his company's sales surge to 9.5 trillion won in 2012 from 2.2 trillion won before his inauguration, a nearly five-fold jump. The company has grown into an innovative global player by expanding its business portfolios to include urban mining and overseas resources exploration beyond metals smelting.
A graduate of Seoul National University Politics Department, Chairman Koo earned a master's degree in public administration from George Washington University. He began his career as a freshman employee at Chevron Corp. He has also been with GS Caltex and Yesco before taking the helm at LS-Nikko Copper. He is the third son of LS Cable & System honorary chairman Koo Tae-hoe.
Chairman Koo has delegated his company's operations to LS-Nikko Copper President Kang Sung-won, a professional manager who graduated from Seoul National University Engineering College. Chairman Koo himself has been in charge of handling pending issues such as overseas resources exploration projects as well as the presentation of his company's vision and other things from a big-picture perspective.
Koo has been keeping a low profile in outside activities, yet has been more active and aggressive in terms of global management than any other businesspeople. He has been devoting himself to raising his company's overseas standing. The chairman said, "I've thought it is essential for LS-Nikko Copper to expand external activities so that it can grow into an influential player in the global metal industry."
Koo was a keynote speaker at the International Wrought Copper Council Annual Meeting in Australia in 2007, and he introduced himself by his initials "CMK," which are also the initials of "Copper Man of Korea," to imprint his name on their mind. In 2006, Koo was elected to a director position with the International Copper Association. He invited global copper industry leaders to Korea to introduce them to LS-Nikko Copper in a ceremony to mark the 70th anniversary of its establishment. He also served as the chairman of the Korea Nonferrous Metals Association for three years from 2006, contributing to the development of the Korean nonferrous metals industry and raising its global standing.
When he took the helm at LS-Nikko Copper in 2005, the company was undergoing hard times financially after handing over a 49.9 percent share in JKJS, a joint venture with Japan, in the wake of the 1999 Asian financial crisis. One year later, Chairman Koo himself rushed to New York to join the ICA.