Rep. Yoo of the Saenuri Party says 'essential for securing finances for sustainability of the national economy'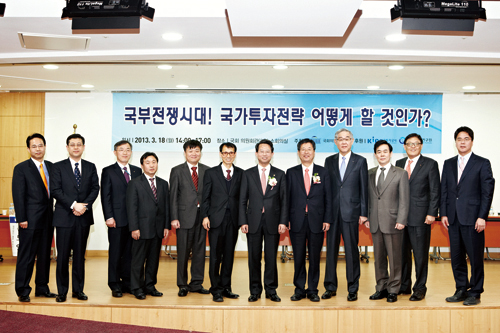 Rep. Yoo Sung-kull, Korea Investment Corp. President Choi Jong-seok
and other speakers pose at a seminar on investment strategies on
sovereign national funds, organized by Rep. Yoo at the National
Assembly Parliamentarians' Hall on March 18.
How efficiently domestic money can be utilized for overseas investments in a war of global competition for national wealth? Rep. Yoo Sung-kull, of the ruling Saenuri Party, organized a seminar on the topic at the National Assembly Parliamen-tarians' Hall on March 18.
Rep. Yoo, who served as chief of the 1st subcommittee of the Presidential Transition Committee, said in an opening speech, "Not only preserving national assets through the efficient overseas investing of domestic money, but also creating profits are in the interests of present and future generations and essential for securing finances for sustainability of the national economy."
He urged Korean financial institutions to establish mid- and long-term plans to create sustainable profits from investments in the long-term perspective in a new investment environment of low growth and low interest rate.
Emceed by Korea Capital Market Institute President Kim Hyoung-tae, the seminar attracted such speakers as Yulchon LLC lawyer Sohn Do-il, who spoke about national investment strategies in a global war of national wealth,; Chung Tae-young, president of global investment at KDB Daewoo Securities Co., who lectured on Korean financial institutions' overseas entries,; and Shin Hoo-shik, director of the National Assembly Budget Office, who spoke about Japan' s overseas investment cases.
Saenuri Party Chairman Hwang Woo-yea said in his commemorative speech, "Korea needs to set up new national investment strategies focusing on its national wealth as such nations with vast foreign currency reserves as China and Japan are scrambling for creating sovereign national funds."
At an initial stage, sovereign national funds had been invested into safe assets such as government bonds, but these days, the scope of portfolios has been widened with investments in energy, port, communications and other infrastructure sectors, citing sovereignty of the national financial economy, Hwang said.
The Saenuri Party leader noted that stats showed that sovereign national funds yielded a whopping 11.83 percent rate of return on investments as of 2012, it is a point that cannot be overemphasized that the current value of sovereign national funds stood at $56.6 billion as of the end of last year, rising from the reaping of $6.6 billion in profits by investing $50 billion.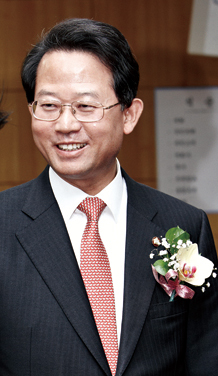 Rep. Yoo Sung-kull, of the ruling Saenuri Party
Vice Speaker Lee Byung-suk said in his commemorative speech, "The nation needs to put its own business ethics into national funds and boost its insight into the future, so gifted manpower capable of put people' s will into practice should be nurtured, and investments have to be made toward coexistence and coprosperity with global citizens, not simply for gaining profits, in order to make Korea an advanced financial powerhouse."
Rep. Chang Yoon-seok, chairman of the National Assembly Special Committee on Budget & Accounts, said in his commemorative speech, "We have to establish investment strategies tailored to meet the nation' s needs to survive a global war of national wealth in the era of ever-changing globalization."
Korea Investment Corp. President Choi Jong-seok said in his commemorative speech, "Preserving and creating national assets through the efficient overseas investing of domestic money is designed to create finances for boosting the growth momentum of the national economy for the current and future generations, and in addition to the existing growth engine of exporting goods and services, it is to set up a new growth engine for creating the returns of investments." Managing foreign currency demand and supply through foreign investments is designed not just to accumulate assets abroad, but also to create a precious value of stabilizing the Korean currency, he added.