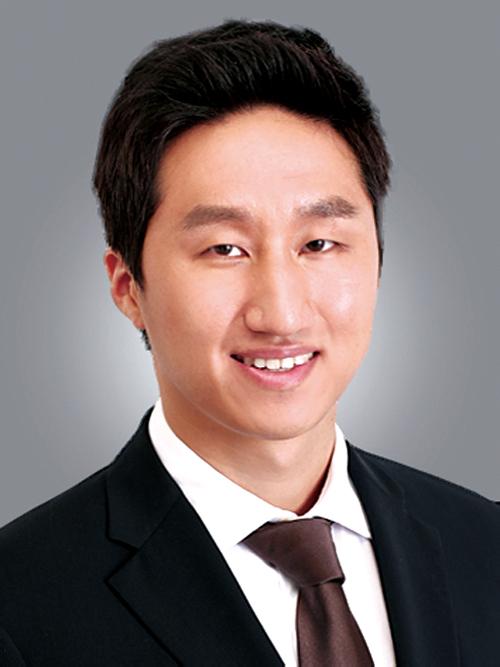 Chung Ki-sun, the eldest son of Rep. Chung Mong-joon of the
Saenuri Party and HHI's largest shareholder. [Photo on courtesy of HHI]
Hyundai Heavy Industries (HHI) will likely be awarded an order for 10 super large-sized containerships, each capable of carrying more than 10,000 TEU (20-foot equivalent unit) container boxes, solidifying its hegemony in the global large-sized containership market.
According to relevant business circles and wire service reports, it was learned that Hyundai Heavy Industries signed a letter of intent (LOI) to build orders for super large-sized containerships with United Arab Shipping Co. (UASC). HHI will build a total of 10 container ships for UASC – five 18,000-TEU containerships and five 14,000-TEU containerships. The two sides have agreed to an option for an additional seven containerships. The containership HHI are to build are to be delivered to the ship owner beginning in early 2015.
An HHI official said the company is in talks for more orders for super large-sized containerships, but would not give details.
The combined value of the containerships has not yet been disclosed, but business analysts estimate that the price tag of each of the containerships would be similar to the value of each of the five 18,400-TEU containerships whose order was awarded to HHI in May by China Shipping Container Lines (CSCL). Given the figures from CSCL, they estimate the price of the 18,000-TEU containerships and 14,000-TEU containerships from UASC at $140 million and $110 million, respectively. The combined value of the 10 ships from UASC is projected to stand at between $1.2 billion and $1.3 billion.
HHI has made a strong showing in the global super large-sized containership market so far this year. Besides the latest 10 containerships from UASC, the company landed an order from CSCL to build five 18,400-TEU containerships in May, and this past January, HHI was awarded an order from Canadian marine corporation Seaspan to construct five 14,000-TEU containerships.
Under the deal from CSCL, HHI, the world's largest shipbuilder, will build five vessels, each with a capacity of 18,400 TEUs. The ships will be the world's largest, breaking the previous record of Daewoo Shipbuilding and Marine, which won an order in 2011 to build 20 18,000 TEU container ships for Denmark's A.P. Moeller-Maersk.
The mega-vessels will be delivered starting in the latter half of 2014. They will boast electronically-controlled main engines that automatically adjust fuel consumption in line with sailing speed and sea conditions, helping to improve fuel efficiency, reduce noise, and cut emissions.
Groomed to be the heir-apparent of the de facto owner of HHI
Chung Ki-sun, 31, the eldest son of Rep. Chung Mong-joon of the Saenuri Party and HHI's largest shareholder, has returned to HHI after some four years of absence, touching off speculation that he may be groomed to be the third generation leader of HHI on the heels of his father.
The junior Chung recently re-entered HHI as general manager in charge of management planning at HHI headquarters in Ulsan. He quit HHI as an assistant manager in charge of finances at HHI in 2009 and went abroad to study.
A graduate at Yonsei University Economics Department, the junior Chung obtained a master's degree in business administration from Stanford University and worked at Boston Consulting Group.
An HHI official said it is natural that Ki-sun has returned to HHI after accumulating diverse career experiences.
Business circles speculate that Ki-sun's return has something to do with grooming the junior Chung to be the third generation leader of HHI. The reality is that the senior Chung, a lawmaker, is the largest shareholder of the company, but he has not participated in the management of HHI, which is run by professional managers.