President Min Min-hong of Incheon Tourism Organization (ITO).
As people's daily life returns to normal on the back of relaxed social distancing measures for the COVID-19 pandemic, the tourism industry is re-emerging.
The Incheon Tourism Organization (ITO) is making preparations for the full-scale normalization of so-called contact tourism.
That includes the resumption in August of large-scale festivals and events like the Incheon Pentaport Music Festival 2022, which contributed greatly to attracting Korean and foreign tourists.
ITO is stepping up efforts to attract international events to Incheon.
"Incheon's tourism era" encompasses tourist spots related to the opening of Incheon Port in the 19th Century — designed as the nation's first smart tourism city — and also Incheon's core content categories: cleanliness & nature, recreation & rest, and food & leisure.
ITO President Min Min-hong said, "ITO is aggressively striving to develop attractive tourism products and attracts events to meet diverse needs of tourists who thirst for tours for a long time and make Incheon a tourism center of Northeast Asia."
The INK Concert 2022, designed as a A-grade project by the Korea Tourism Organization, will take place at Incheon Munhak Stadium on Oct. 1. (Photos: ITO)
ITO Aims to Attract Domestic and Inbound Tourists and Int'l Events
ITO has built its foundation on expanding Incheon's tourism partners in Korea and abroad and supporting diverse incentives to attract inbound tourists.
The institution has preemptively prepared for the resumption of the international tourism market. In February, it had a marketing session on attracting inbound tourists.
ITO plans to accelerate efforts to attract inbound tourists by hosting the Incheon International Travel Mart, targeting domestic and foreign tourist businesses slated for July.
Furthermore, in the second half of the year, ITO will participate in tourism exhibitions in Southeast Asia, including in Singapore, the Philippines, Japan, Europe and America.
Particularly, they will involve presentations and sales calls targeting markets whose demand is expected to pick up.
The organization has begun to aggressively explore programs designed to reinvigorate the cruise tourism, which is expected to resume, along with transfer tourism and the recovery of the international aviation business.
ITO is making its utmost efforts to attract domestic and inbound tourists to Incheon by resuming international festivals and events that have contributed greatly to spreading hallyu (Korean Wave).
The Incheon Pentaport Music Festival 2022, Korea's representative music festival, is slated for August. Incheon K-POP (INK) Concert, which has led hallyu tourism, is to be held in Munhak Stadium on Oct. 1.
The INK Concert, marking the 13th rendition this year, is the nation's representative and longest hallyu concert. Over 10,000 inbound tourists toured Incheon for an INK concert a few years ago.
The non-contact INK Concert 2021, streamed to 135 countries, was watched by about 16 million spectators. The INK Concert 2022, to be held online and off-line, is designed as a A-grade project by the Korea Tourism Organization, so it is entitled to a 300 million won subsidy.
Next Year, Incheon will be the venue of two big international conventions.
One is the ADB Annual Meeting, to be held in next May with about 5,000 people in attendance, and the other is the WCA World Championship 2023, to be held at Songdo Convention Center next August with about 2,500 people from 50 countries expected to attend.
Incheon Shoots For MICE, Medical Tourism Destinations
Incheon City Government and ITO are devoting themselves to attracting international conventions.
Incheon has a track record of having hosted the OECD World Forum 2018 and the 2014 Asian Games. Incheon accommodates 15 international institutions, corresponding to its standing as a global city.
Incheon, very close to Incheon International Airport, has abundant international convention infrastructure, such as Songdo International Convention Multi-purpose District and Yeongjong Multi-purpose Resort.
In particular, Songdo International Convention Multi-purpose District, centering around a convention center, has a cluster of hotels, shopping centers and performance options.
The district is designed to define its brand and competitiveness. It previously won a public contest organized by the Ministry of Culture, Sports and Tourism (MCST) for the fourth consecutive year.
Songdo Convention Center, a convention facility in the district, is outfitted with facilities capable of holding hybrid-type MICE events, such as virtual studios and virtual conferences.
Incheon plans to continue to expand digital infrastructure to establish itself as a sustainable MICE city by obtaining a sustainable MICE international certification.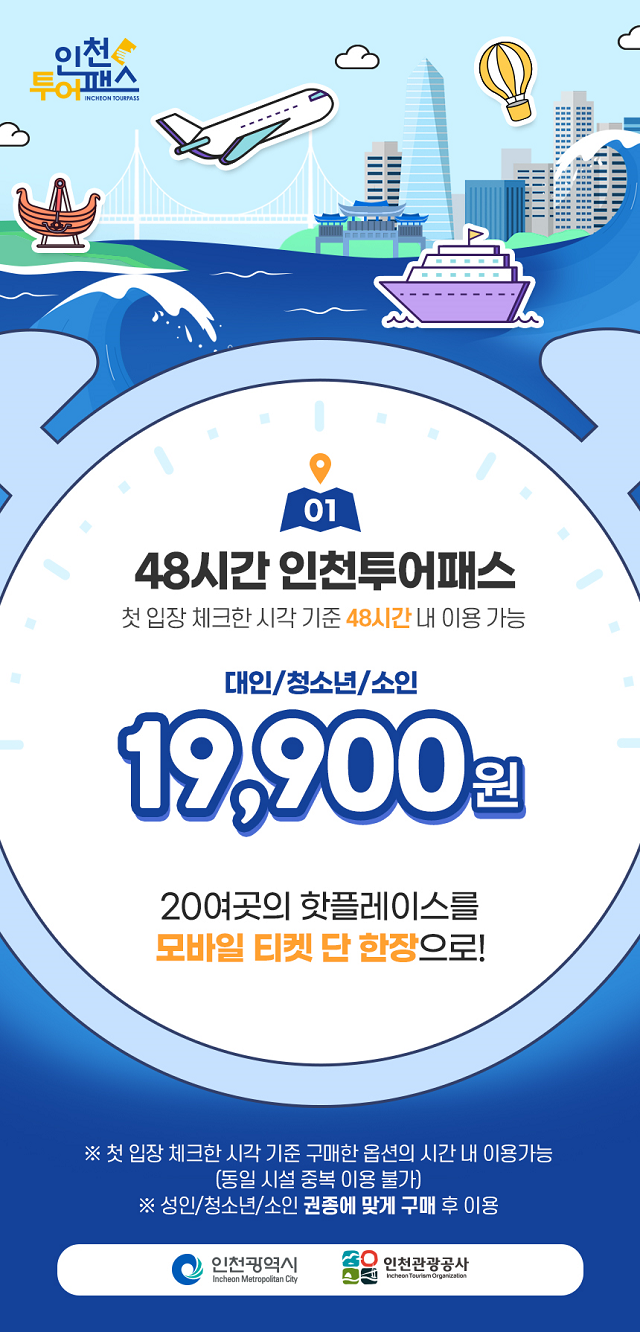 An image of publicizing the "Integrated Incheon Tour Pass," released by the Incheon municipal government and Incheon Tourism Organization (ITO).
Integrated Incheon Tour Pass Allows Users to Tour Incheon's Major Tourist Sites
The Incheon municipal government and Incheon Tourism Organization (ITO) issued the "Integrated Incheon Tour Pass" which allows visitors to enjoy traveling Incheon's hotspots at a reasonable price with ease.
The conventional Incheon Tour Pass, focusing on two theme-type products connected with two tourism facilities, has been overhauled into a tourism product format of free usage to comply with recent travel trends.
The Integrated Incheon Tour Pass allows users to tour Incheon's major tourist sites at a price of 19,900 won for 48 hours.
In particular, the mobile ticket, employing a location-based service technology, can allow users to see tourist spots at the order of distance, and it can show about 40 outlets which give discounts to holders of the ticket at a glance.
A single ticket, catering to tourists who want to stay and use one facility for a long time and package tickets, connected to experience facilities, have been also issued to meet customers' diverse needs.
Han A-reum, head of the Domestic Tourism Teat at ITO, said, "The Incheon Tour Pass has been dramatically upgraded to reflect customers' needs coupled with returning to normal life, the tourism industry's opinions."
Han expressed hope the renewed tour pass will enable balanced consumption in the whole of the Incheon area and customer satisfaction can be raised.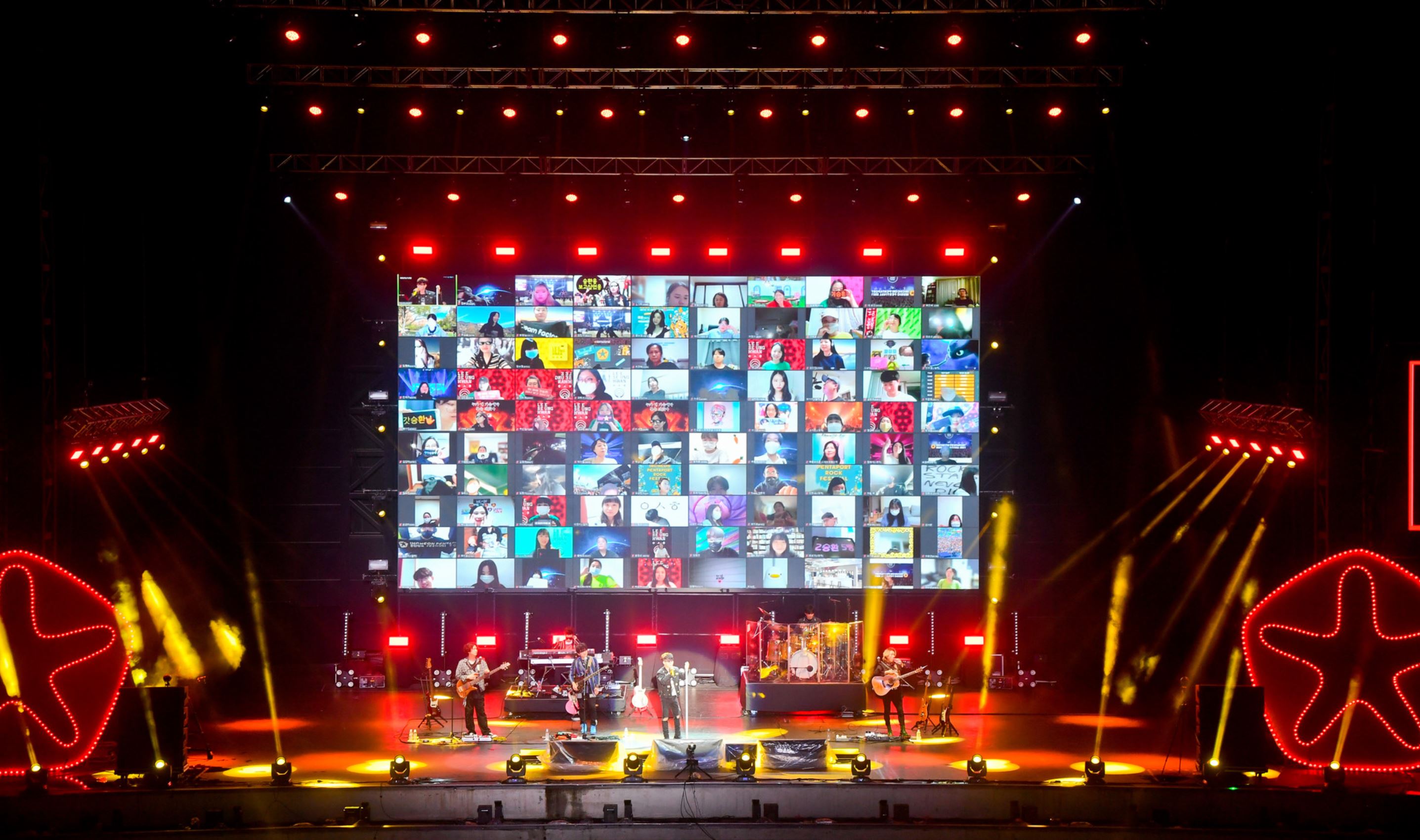 The Incheon Pentaport Rock Festival 2022 will take place at the Songdo Dalbit Festival Park in Incheon from Aug. 5 to Aug. 7. A view of the Incheon Pentaport Rock Festival 2021.
Incheon Pentaport Rock Festival 2022 Scheduled for Aug. 5-7
The Incheon Pentaport Rock Festival 2022 will herald a return of the 2022 performance culture to normal and a resurge.
The festival will take place at the Songdo Dalbit Festival Park in Incheon from Aug. 5 to Aug. 7.
Incheon Pentaport Rock Festival 2022 is hosted by the Incheon metropolitan government and organized by the Incheon Tourism Organization.
It will bring together 50 teams consisting international super-heavy artists and Korean top-rated artists.
Artists in the Incheon area will be allowed to participate in the "Penta Super Lookie," an event designed to nurture young artists with a focus on a rock festival, "Pentaport Live Stage" in major hotspots and "Pentaport Live Club Parties" at live clubs in the Incheon district, steps to build foundation for a sustainable music city.
Familiarization Tour for Thai Tourism Industry Delegation
The Incheon metropolitan government and Incheon Tourism Organization conducted a familiarization tour inviting 16 Thai tourism industry officials for three days from April 28.
The fam tour was designed to introduce to the Thai tourism industry Incheon's tourism content that has been renewed compared to the pre-pandemic and plan and develop Incheon's attractive tourism products based on cooperative partnerships.
The delegation, which arrived through Incheon International Airport, toured tourist hotspots such as Yeongjong Sea-side Rail Bike, Songdo Central Park for experiencing water taxis, Triple Street and Songdo Hyundai Premium Outlet.
They also toured Gangwha Luge Experience Spot and the former Joyang Textile café.