President Kwon Joon-hak of NongHyup Bank. (Photos: Nonghyup Bank)
As airliners began to expand their flights with COVID-19 pandemic measures easing, NongHyup Bank President Kwon Joon-hak is also putting a spur into the bank's penetration of the Southeast Asian market.
NongHyup Bank has been working hard for several years, making the Southeast Asian region as an outpost for its global expansion.
President Kwon completed a one-week overseas trip to Singapore and Cambodia from April 17 to 24. This marked the second time President Kwon, who is in his second year in office, has gone on a business trip abroad.
In November of last year, right before the delta-omicron variants spread, Chairman Kwon visited the NongHyup Bank's first overseas branch, the New York branch, after flying to the United States.
After that, as the COVID-19 pandemic spread again, Kwon had online meetings with those at overseas branches and office.
As soon as the world tried to recover from the plague on April 18, Kwon visited key areas of the Southeast Asian market. The bank is running a total of nine units abroad.
NongHyup Bank entered Cambodia, one of the countries Kwon, when it acquired a local subsidiary in September 2018.
In the first year of the acquisition, the local subsidiary's total assets stood at only 22 billion won. But in three years, they swelled to 80.4 billion won at the end of 2021.
As the localization strategy worked, NongHyup Bank shifted to a surplus of 3.4 billion won at the end of 2021 from a loss of 200 million won at the end of 2018.
During the business trip, President Kwon encouraged local employees in Cambodia and at the same time carried out social contribution activities such as delivering relief goods to Acting for Women in Distressing Situations (AFESIP) Cambodia, which helps women and children victims of human trafficking, receiving much attention from local media outlets.
Singapore, one of his business trip destinations, has emerged as a new Asian financial hub.
Therefore, Kwon's visit to the country was seen as an intention to grasp local business situations such as seeking synergies with the Singaporean subsidiary of NH Investment & Securities, an affiliate of NongHyup Financial Group.
However, NongHyup Bank declined to comment directly on the possibility of entering Singapore or taking over a local corporation in Singapore.
"We need to finish securing bases in core markets and generate global profits with customized models for each target market," Kwon emphasized in his New Year's address this year.
Nonghyup Bank has a mid- to long-term goal of operating 14 overseas branches in 12 countries around the world by 2025.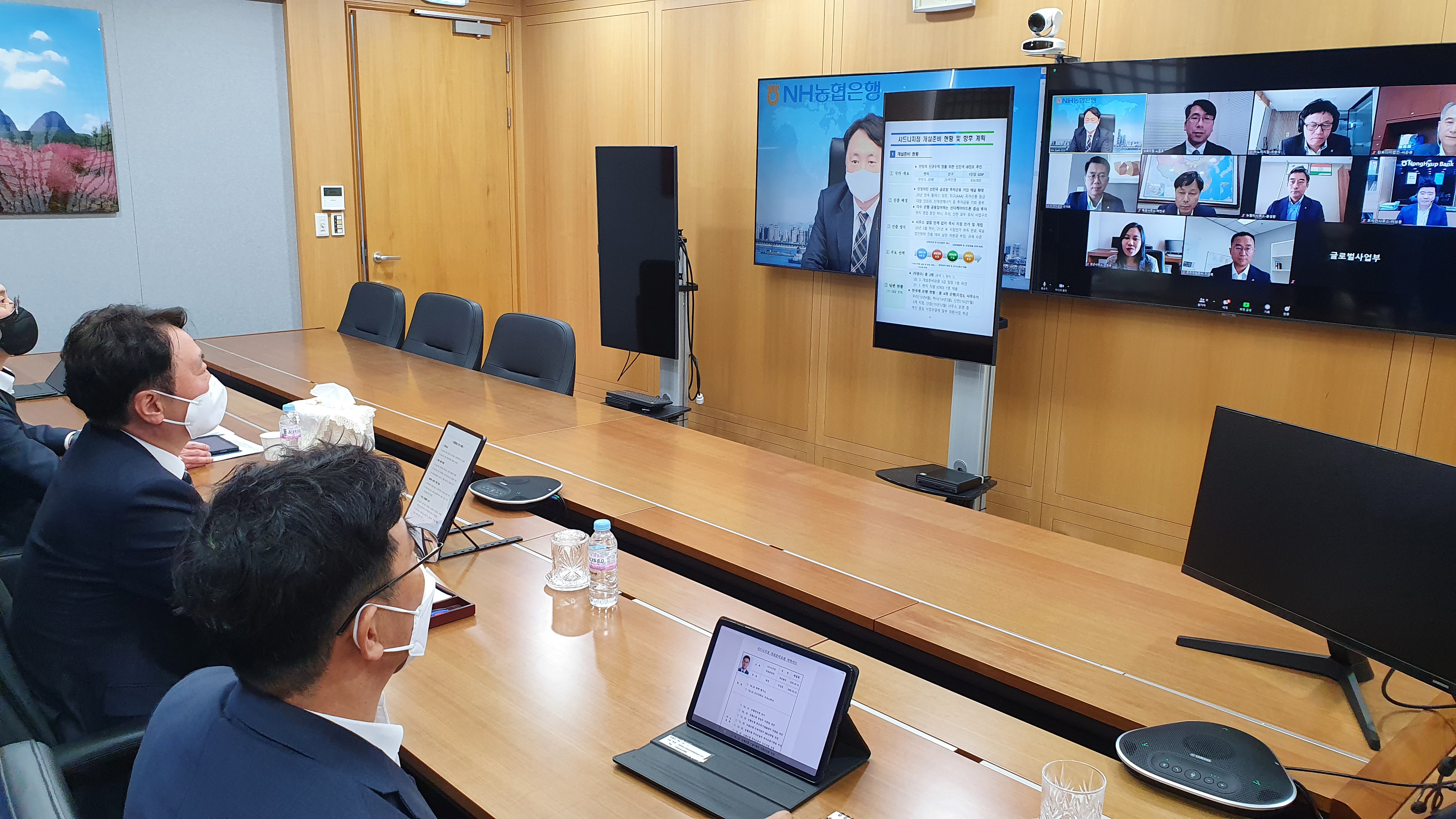 NongHyup Bank President Kwon Joon-hak holds a video conference to listen to employees of overseas branches in Myanmar, China and Vietnam.
Meanwhile, NongHyup Bank signed a business agreement on the creation of social values with the Government Employees Pension Service (GEPS) at the GEPS headquarters in Jeju on May 12.
By inking the business agreement, the two organizations agreed to jointly carry out social value creation activities, provide preferential financial services to former and current public servants and cooperate for other mutual development.
This agreement paved the way for the GEPS to collaborate with NongHyup Bank in many areas in order to create social values.
NongHyup Bank is expected to contribute to making an improvement to the welfare of current and former government workers and secure more customers by providing differentiated financial services.
"Recently, our society needs to help the vulnerable and the socially marginalized more than ever due to COVID-19," said Hwang Seo-jong, president of the GEPS. "We are very happy to have this opportunity to work with NongHyup Bank during this time."
"Under this agreement, the GEPS will actively create social values and NongHyup Bank will actively participate in spreading them," said Kwon Joon-hak, president of NongHyup Bank.