Sohn Tae-seung, chairman of Woori Financial Group. (Photos: Woori Financial Group)
Woori Financial Group recorded record-breaking quarterly earnings in the first quarter, thanks to the incorporation of subsidiaries and an improvement in its profit structure.
The group produced an earnings surprise that exceeded market expectations.
Woori Financial Group announced on April 22 that it posted 884.2 billion won in net profit in the first quarter.
This was the financial group's highest quarterly performance ever. It also marked a 32.5 percent increase from a year ago, easily exceeding the consensus (790.5 billion won) among analysts in the securities market.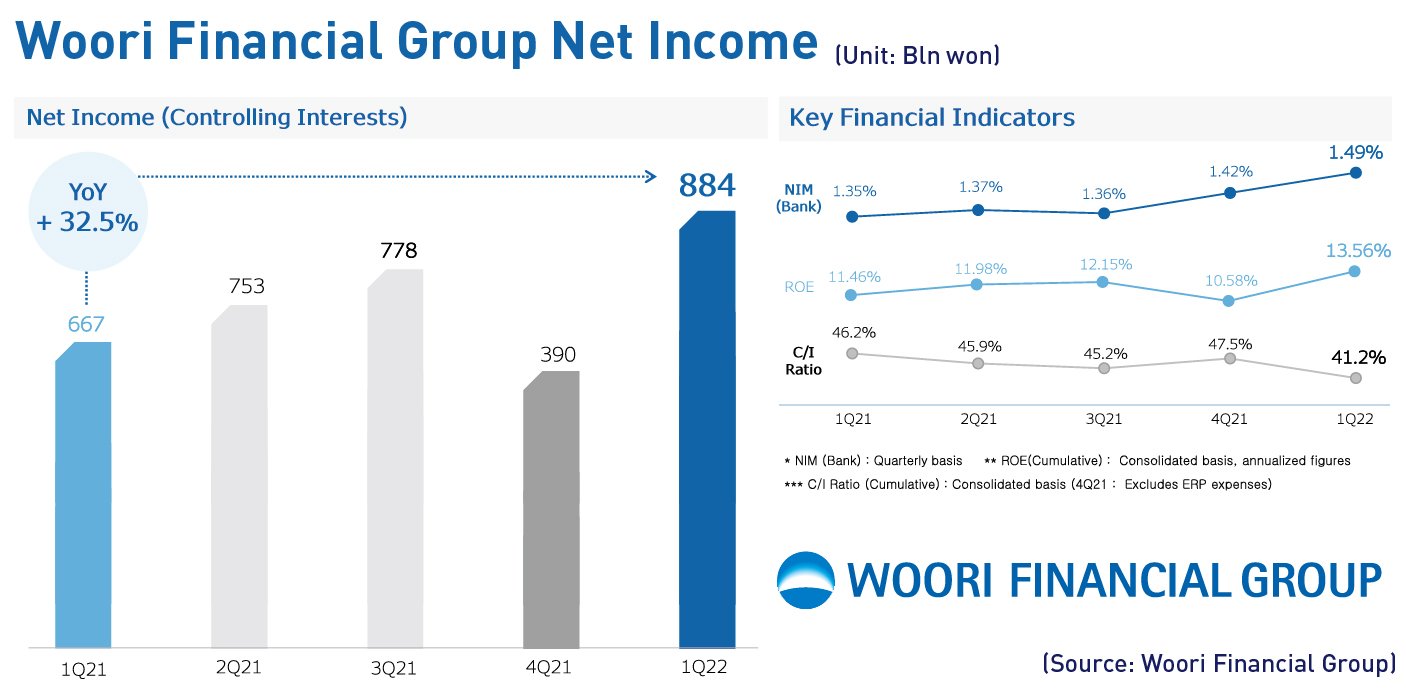 "We attribute the results to the incorporation of a subsidiary, an improvement in our profit structure, and efforts to manage costs," a Woori Financial Group official explained.
Woori Financial Group made a remarkable improvement in non-banking and non-interest income in the first quarter.
Net operating income, which consists of interest income and non-interest income, reached 2,371.2 billion won, up 19.3 percent from the same period last year.
Among them, interest income hit 1,987.7 billion won due to efforts to improve the financial group's profit structure such as asset growth centered on corporate loans and an increase in key low-cost deposits.
Its non-interest income touched 383.5 billion won, up 4.4 percent from the same period in the previous year, to an increase in core commission income resulting from the expansion of all subsidiaries' sales power and strong profit in the foreign exchange/derivatives sector.
Non-interest income drove the growth of Woori Financial Group's net operating income.
In particular, the non-banking sector's contribution to net profit rose to about 20 percent in the first quarter, proving that the diversification of its business portfolio began to pay off in earnest.
The proportion of non-banking profit and loss of Woori Financial Group steadily grew from 10 percent in early 2019, the first year of establishment of the holding company, to 17.2 percent at the end of 2021 and 19 percent in the first quarter of this year.
Woori Financial Group enjoyed high asset quality, too. Despite concerns about an economic slowdown caused by the spread of the Omicron variant, its NPL ratio hit 0.28 percent and its delinquency rate 0.21 percent.
The high-quality asset ratio and NPL coverage ratio stood at 90.0 percent and 205.1 percent, respectively, securing sufficient capacity to respond to future economic uncertainties.
The group's cost to income ratio stayed at 41.2 percent, an improvement of 5.0 percentage points compared to 46.2 percent in the same period of the previous year.
"Through the first quarter results, we were able to confirm not only the external growth of profits, but also the diversification of profit creation and excellent cost management capabilities." a Woori Financial Group official said.
"We will expeditiously carry out digital innovation through the enhancement of our digital platform competitiveness and customer experience innovation to strengthen the foundation for sustainable growth."
Woori Financial Group's headquarters in Jung-gu, Seoul.