CEO Yang Dong-gi of Hyosung Heavy Industries. (Photo: Hyosung Heavy Industries)
GalaxiaMoneytree, an IT subsidiary of Hyosung Group, inaugurated "GalaxiaNext."
The newly inaugurated corporate entity is planning its detailed business direction, but it is predicted to implement a new business related to a platform service under the full support of its parent company.
Business sources said Hyosung Group had completed registration of GalaxiaNext.
GalaxiaNext is a small incorporated entity with a paid-in capital of 50 million won.
Han Bong-yong, a director with GalaxiaMoneytree, has him listed as an inside director of the newly incorporated entity. Director Han serves as chief personal security officer with GalaxiaNext.
GalaxiaNext's mainstay businesses are not clear at this point. The new entity, in an initial stage of business, is considering new businesses in diverse perspectives.
Its business purposes are related to software development, operation and supply, system software development, operation and supply, management, labor affairs and personnel management consulting services, portal & other internet information channel services, video, record and other content production, supply and distribution, and business and intangible property rights transaction.
The new entity may be inferred as a platform provider.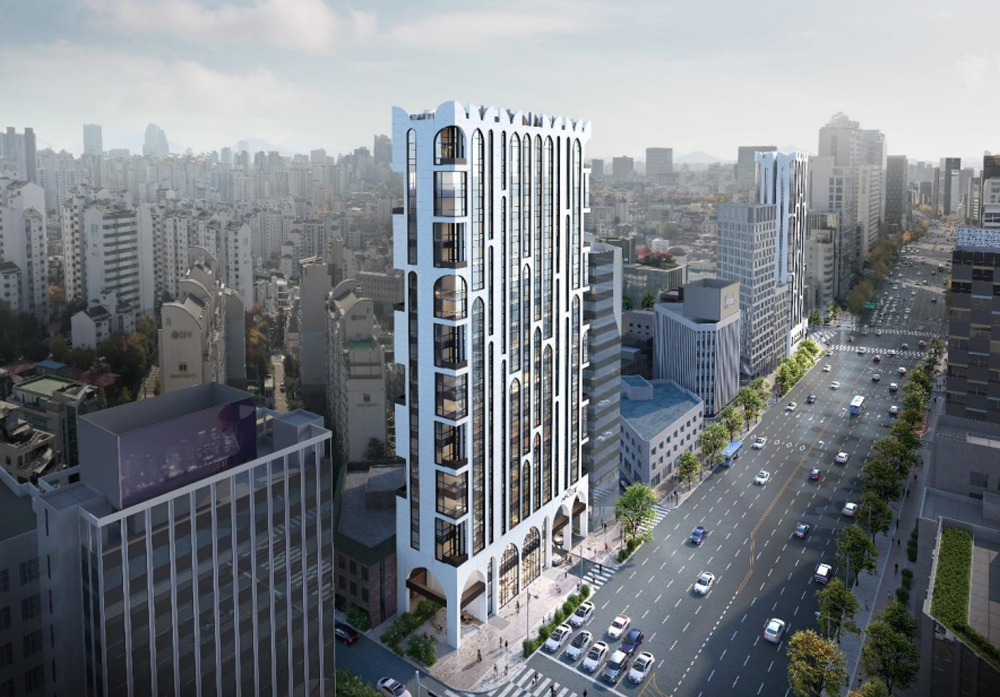 Hyosung Heavy Industries issued the nation's first real officetel NFT in cooperation of Galaxia Metaverse, a blockchain company. A bird's eye-view of "The Apogee Cheongdam," to be sold by Hyosung Heavy Industries. (Photo on the courtesy of the website of The Apogee Cheongdam)
Hyosung Group Steps on Gas to Implement ESG Management
Hyosung Group plans to ramp up ESG management. The group held "Ethics Management ESG Forum" at the Finland Tower in Seodaemun, Seoul, on April 28, and CEOs of the group pledged to implement ESG management.
CEOs of Hyosung Corp., the holding company of Hyosung Group, Hyosung TNC, Hyosung Advanced Materials, Hyosung Heavy Industries and Hyosung Chemical held a ceremony to submit a written oath on the implementation of ESG management.
The participants pledged to put into practice carbon neutrality, cooperate on realizing social values, spreading ESG culture in the industry community, and fulfilling their responsibilities in attaching top priority in creating a better social and environment for future generations.
Hyosung Group has been operating a fair-trade compliance program on a continuous basis as part of efforts to put into practice ethics management.
Hyosung Group's CEOs have vowed their determination to implement ethics management through the declaration of fair-trade compliance, written oath of BIS summit integrity on top of a written pledge to implement ethics ESG management.
Subsidiaries of the group established ethics codes and action guidelines, and educated all staffers on ethics and fair trade to implement ethic management and spread awareness toward it.
Hyosung Vice Chairman & CEO Kim Kyoo-young said, "Ethics management is not a matter of choice, but a foundation for corporate management."
The group will insert ethics management into its DNA and spearhead SDGs through ESG management, he added.
The Ethics Management ESG Forum, established under the umbrella of the Institute of Policy Studies (IPS) is a civilian forum among industry, academia and research circles, designed to spread ethics management and spearhead the industry community's ethics culture.
A ceremony to mark CEOs written vows on ethics management is held every year so that ESG management can be established as part of corporate culture.
The cumulative number of participants at written oath ceremonies stood at about 1,120, and the number of companies which has so far joined in the drive totaled about 420.
About 140 people from corporate, social organization and academia circles joined the drive this year.