An image of cacao chocolate products, released by Lotte Confectionery. (Photos: Lotte Confectionery)
Global renowned scholars revealed diverse and affluent effects of Cacao. Cacao's polyphenols has become the subject of concern among consumers from a long time ago.
A recent report, citing the U.S. Federation of American Societies for Experimental Biology (FASEB), showed that if a dark chocolate is eaten in the morning, it had an effect of feeling less hungry and reducing weight.
As for the representative effects of Cacao's polyphenols, they have an effect of preventing adult diseases such as high blood pressure and heart diseases. The effects are enough to gratify Cacao aficionados.
Look at a few scholar studies. Dr. Dirk Taubert of University Hospital of Cologne, Germany, claimed that a tiny piece of chocolate could reduce blood pressure, and the reason was that a dark chocolate had abundant polyphenols, which could clean the blood vessels by increasing nitric oxide amounts in body.
In particular, a dark chocolate has abundant polyphenols. Eating a dark chocolate with more than 60 to 70 percent cocoa content along with healthy foods and a habit of continuously working out could bring about better effects.
Eating chocolates has a different effect according to physical constitution, and it has a better efficacy at cool seasons. Studies showed that consuming chocolate property could boost stamina.
Cocoa is known to have an efficiency of polyphenols, flavanols and catechins, so eating it along with exercises is said to bring about benefits.
In particular, a dark chocolate with high cacao content is enjoying popularity among women due to attraction of a bitter taste.
Meanwhile, there are many chocolate products with high content in cacao, but consumers find it not easy to choose it.
For example, a representative one of chocolate products with a high content in cacao in the Korean chocolate market is Lotte Confectionery's "Dream Cacao."
Dream Cacao, released in 2006, is a chocolate with a high content in cacao, tailored to meet the needs of health-conscious consumers.
Dream Cacao has attracted keen concern due to a high content in cacao and the substance of polyphenols. "Dream Cacao" is named for concepts based on these ingredients.
The excellent taste of Dream Cacao is on everyone's tongue. It is an essence of the chocolate with a bitter yet strong cacao content.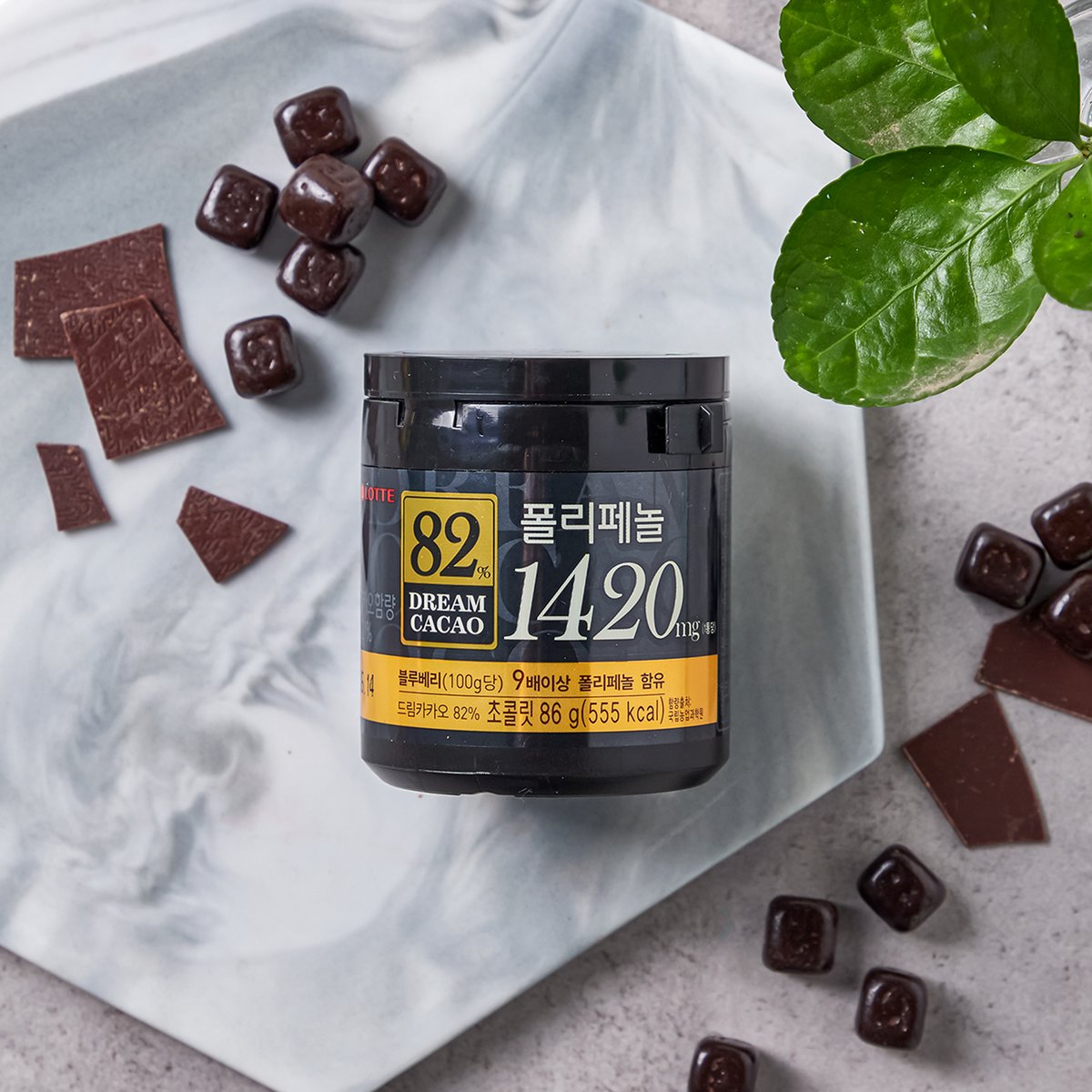 An image of Dream Cacao 82%, produced by Lotte Confectionery.
Dream Cacao 82% contains 1,420mg of polyphenols apiece. The product accommodates content in polyphenols nine times more than 100 gram of blueberry.
Dream Cacao 56 percent and Dream Cacao 72 percent hold 900mg and 1,120mg of polyphenols, respectively.
DREAM CACAO. This yummy product is called the Lotte Dream Cacao, and you probably recognize it from the K-Drama, "Hospital Playlist"!
The Dream Cacao's offish product description reads: "Made from premium quality cocoa beans, Dream Cacao offers a full-body chocolate taste and the health benefits of antioxidants.
Besides increasing energy, promoting healthy skin, and reducing the risk of heart disease, dark chocolate also stimulates the production of Endorphins which elevates our mood! Now you can enjoy the irresistible taste of chocolate without the guilt!"