LG Chem announced on April 27 that the company racked up revenue of 11.61 trillion won and operating profit of 1.02 trillion won in 2022 Q1.
Revenue rose 6 percent QoQ, while operating profit reported increased 36.9 percent. On a yearly basis, the company reported minus 27.3 percent YoY in operating profit.
Cha Dong-seok, Executive Vice President and CFO of LG Chem said, "Even under the harsh business environment, LG Chem achieved the highest-ever quarterly revenues and operating profits over KRW 1 trillion.
"The company expects revenue growth in the next quarter and will strive to generate sound profits by improving operational efficiency. This includes reducing costs, increasing sales price in accordance with rising raw material prices, strengthening product competitiveness, and improving customer satisfaction."
2022 Q1's performance breakdown for each business unit and 2022 Q2 projections are as follows:
The petrochemicals unit reported revenue of 5.96 trillion won and operating profit of 635 billion won.
Under deteriorating external business environments, including raw material price increases and lockdowns in China, the company generated the highest-ever quarterly revenues and sound profitability based on its differentiated product portfolio that spans across POE (Poly Olefin Elastomer) for solar panel encapsulation films and SAP (Super Absorbent Polymer) for diapers.
The second quarter of 2022 is likely to be accompanied by difficult business environments due to increased oil prices and sluggish demand. LG Chem, however, will continue its growth in both revenue and profitability by strengthening its sales activities focusing on high value-added products.
The Advanced Materials Company reported revenue of 1.57 trillion won and operating profit of 154 billion won.
The company achieved the highest-ever quarterly revenue by increasing the number of shipments for battery materials as well as for premium products including high-nickel cathode materials, OLED materials, and semiconductor materials.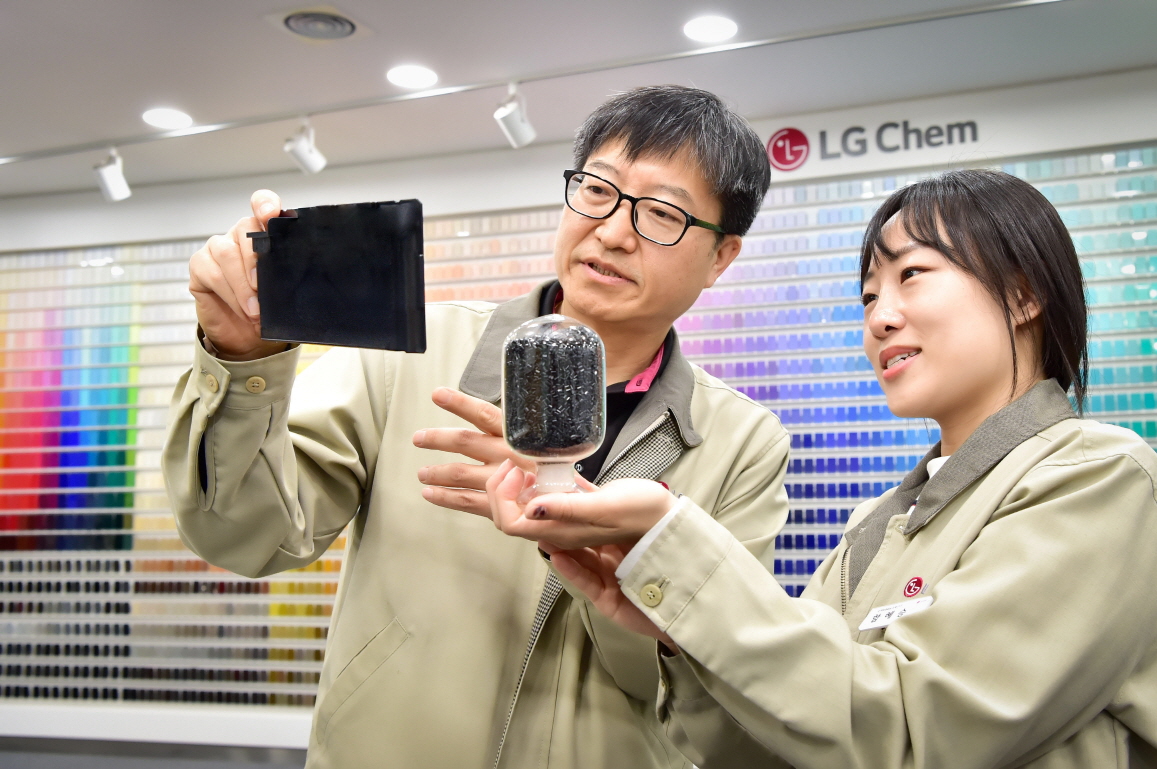 Researchers with LG Chem look at specialized fire-proof plastic materials, newly developed by the company. (Photo: LG Chem)
LG Chem Develops Advanced Plastic Materials that Prevent Battery's Thermal Runaway
LG Chem plans to target the battery market with the recent development of battery pack plastic materials that can delay thermal runaway of electric vehicle batteries for the longest period in the world.
With its own technology and manufacturing methods, LG Chem announced that it developed flame-retardant engineering plastic material that prevents deformation by heat.
Thermal runaway, the main cause of fire in electric vehicle batteries, is a phenomenon where a battery cell suffers stresses from various origins and subsequently heats up.
Flames arise once a battery's internal temperature rises above a certain level due to short circuit such as overvoltage and overdischarge.
Lithium-ion batteries have high reactivity to water, which makes it difficult to extinguish it with water in case of fire.
LG Chem's newly developed special flame retardant is a high-functional engineering plastic material that consists of various material groups such as polyphenylene oxide (PPO), polyamide (PA), and polybutylene terephthalate (PBT).
LG Chem, KIST Open Joint Research Lab for Commercializing Carbon Neutrality Technologies
LG Chem and the Korea Institute of Science and Technology are conducting joint R&D to get the commercialization of carbon neutrality technologies in full swing.
The two institutes announced they held a technology transfer signing ceremony, and a joint research lab signboard hanging ceremony, for the development of carbon neutrality technologies at the main building of KIST in Seoul on the 26th.
LG Chem and KIST signed an MOU for join R&D on technologies related to carbon neutrality, hydrogen energy, etc. in April of last year and drew up 10 prospective carbon neutrality technology projects.
Among them, they decided to launch a joint research lab for the transfer of 'electrochemical production technology of ethylene using CO₂ (carbon dioxide)' and 'biological production technology of organic acid using biomass/by-product gas.'