A view of K-water headquarters in Daejeon. (Photos: K-water)
Korea Water Resources Corp. (K-water) has introduced a robotic process automation (RPA) in earnest to reinvent ways of working through building a digital work environment.
RPA is a work automation technology using robotic software of carrying out given orders in accordance with uniform regulations.
In particular, using RPA in regular repetition sectors such as data gathering and compiling leads to a dramatic reduction in working hours, thus raising productivity and preventing human errors, such as officials' simple mistakes.
In 2019, K-water conducted a pilot project to introduce an RPA involving basic accounting work. A public contest on officials wanting the application of RPA was made in 2021.
Application of RPA at a combined 23 work categories has so far resulted in reducing 5,631 working hours annually.
In particular, in order to improve the efficiency of SAP's enterprise resources planning, automating six work categories has resulted in reducing about 1,400 working hours.
Applying RPA to regular and repetitive work categories, such as dam operation information gathering, gathering of basic information on drought and compiling of metropolitan tap water consumption amounts has also cut off working hours.
Meanwhile, K-water is seeking to implement "Digital Workplace targeting more closer collaboration, more open communication, higher productivity and more convenient infrastructure environment.
K-water, setting RPA as a more higher productivity task, plans to improve work productivity and reinventing ways of working by reducing 7,000 working hours annually.
Park Se-hoon, head of the Digital Innovation Division at K-water, said, "We'll devote ourselves to offering services to people in a precise and fast fashion by expanding digital environment and ways of working based on the outcomes of the introduction of the RPA."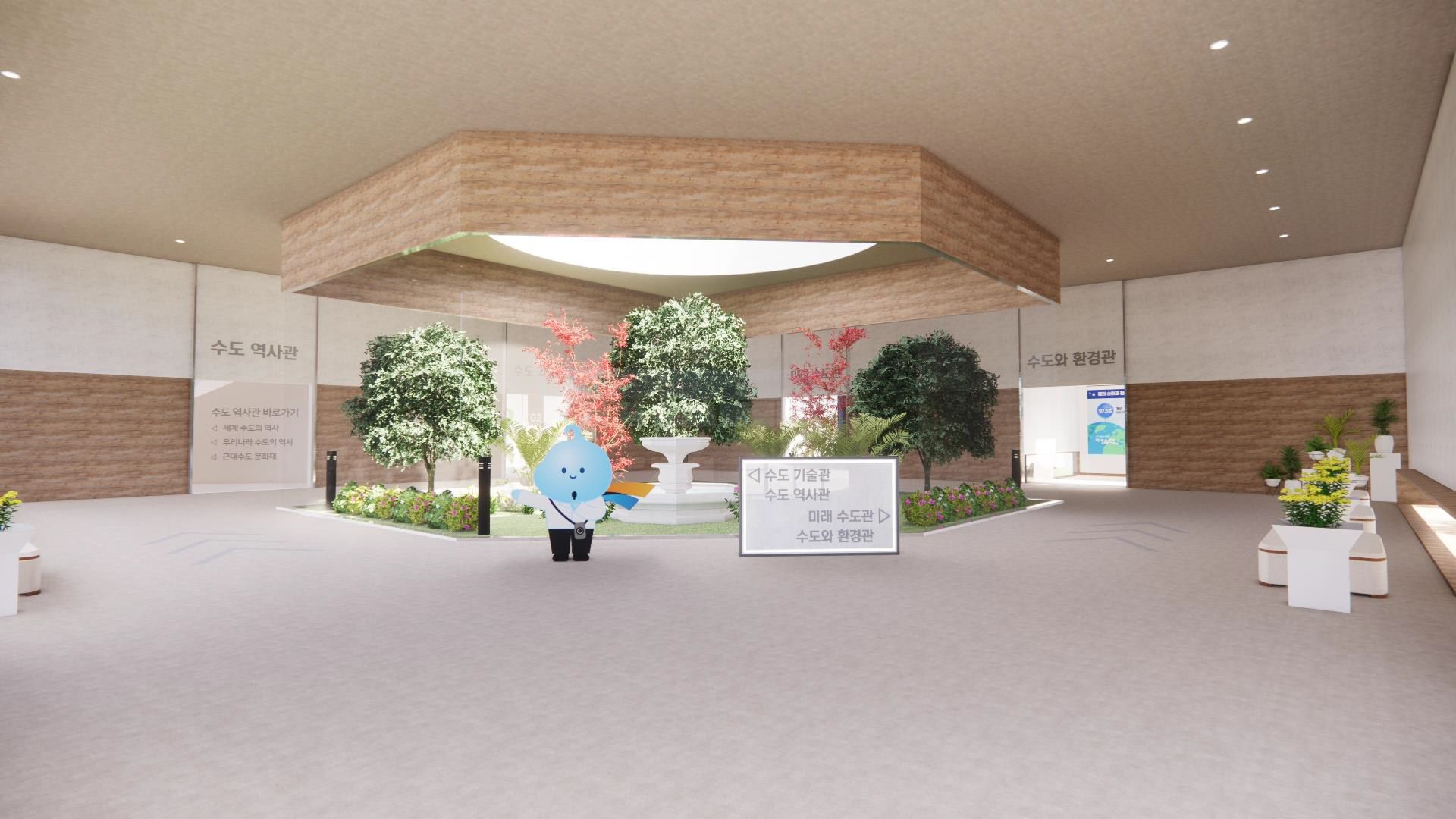 An image of the exhibition space of the online tap water museum, built on 3D virtual reality by K-water.
K-water Produces 'K-water Online Water Museum'
K-water produced the 3D virtual exhibition pavilion "K-water Online Tap Water Museum" that can look into tap water coming side by side with the development of humanity the corporation said on April 28.
The virtual museum has divided into four themes: the history of tap water, technology, future and environment.
The museum introduces the past, the present and the future of Korean and foreign tap water, Korea's first water reservoirs and drainage facilities, guidance on tap water production technology and supply process and smart water management employing advanced technologies of the 4th Industrial Revolution such as AI, big data and digital twins.
"Bangeuli," K-water's mascot, serves as a curator to inform the exhibition's content. Anyone can enjoy vis the website (www.kwater.or.kr) sans an application process.
K-water President Park Jae-hyeon said, "The planning of the virtual reality-based museum is designed to have the preciousness of tap water known."
K-water will aggressively communicate with people in diverse ways in the future, he added.