President Chae Hee-bong of Korea Gas Corp. discloses hydrogen projects and a new business vision at "KOGAS 2021 A New Era" event last Sept. 27. (Photos: KOGAS)
Korea Gas Corp. (KOGAS) plans to make 2022 the starting point to make a leap forward to become Korea's hydrogen platform provider.
KOGAS decided to set this year as a "golden time" for determining the next 30 years of KOGAS.
To this end, KOGAS has set five core tasks: Working out specific action plans to realize carbon neutrality and achieving the early introduction of green hydrogen; expanding new energy businesses such as LNG cold energy and overseas gas to power projects and developing new business models; thorough demand-supply management and strengthening marketing activities of an individual pricing system; building a top-rated safety management regime; and implementing of a transition to digital-based work process and organizational innovation.
As for the hydrogen business, KOGAS held a ground-breaking ceremony to build a hydrogen production center in Gwangju last December.
The corporation plans to build hydrogen facilities in areas such as Changwon and Pyeongtaek, corresponding to each region's conditions and demand characteristics.
KOGAS plans to produce 830,000 tons of hydrogen annually in 2030 or later while seeking to produce green hydrogen in Southeast Asia and Australia with renewable energies, such as wind power and photovoltaic power.
KOGAS plans to supply a combined 1.03 million tons of hydrogen to Korea by introducing 200,000 tons of green hydrogen in the course of implementing overseas green hydrogen production.
KOGAS plans to build a combined 152 hydrogen charging stations by 2030.
The corporation plans to set up 90 liquefied hydrogen charging stations in keeping with building mobility hydrogen infrastructure in Pyeongtaek and Tongyeong. KOGAS plans to run Gimhae and Daegu "innovative city" charging stations.
The corporation plans to set up 60 gaseous hydrogen charging stations through collaboration with the private sector like the hydrogen energy network "Hynet."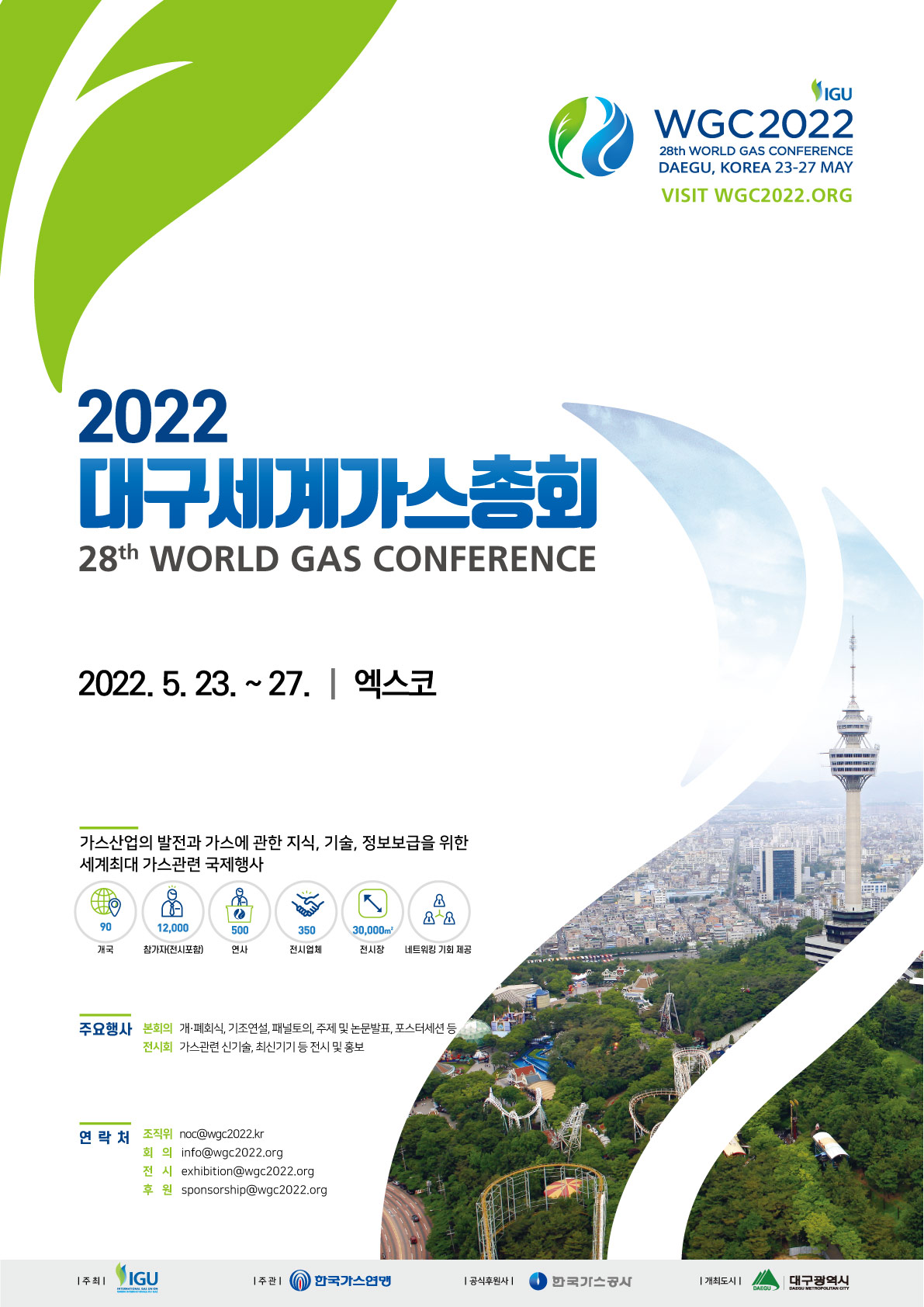 A poster to publicize the World Gas Conference 2022 (WGC2022), to be Held at EXCO in Daegu from May 23-27.
WGC 2022 to be Held at EXCO in Daegu from May 23-27
World Gas Conference 2022 (WGC2022) will take place at EXCO (Daegu Exhibition & Convention Center), Korea's leading purpose-built, world-class exhibition and convention venue, in Daegu.
WGC 2022, to be hosted by the International Gas Union (IGU) and organized by the Korea Gas Union (KGU), is a triennial event. It is the world's biggest event in the energy sector.
Korea, the venue of WGC 2022, has chaired the IGU for the past three years.
Seoul and Busan made a bid to host World Gas Conference in 2002 and 2011, respectively, but failed. In 2014, Daegu was granted the right to host WGC 2022.
An estimated 12,000 people, including about 4,000 foreigners, are expected to participate in WGC 2022, to be held under the theme "Energy for Humanity." Among the participants are delegations from global energy leaders such as Chevron, Exxon Mobil, Qatar Gas, and Cheniere Energy. WGC 2022 will comprise of the IGU General Assembly, conferences and exhibitions.
About 500 Korean and foreign opinion leaders, including former UN secretary general Ban Ki-moon, Executive Director Fatih Birol of the International Energy Agency (IEA), and Qatari Energy Minister Saad Sherida Al-Kaabi, participate as key speakers.
Korea Gas Corp. held an event for the successful hosting of World Gas Conference 2022 (WGC2022) in cooperation of Daegu municipal government and WGC2022 Organizing Committee.