New KFS Minister Nam Sung-hyun gives his inaugural speech as he took office as the first minister of Korea Forest Service (KFS) of the President Yoon Suk-yeol government at the Daejeon Government Complex on May 13. (Photos: KFS)
Former president Nam Sung-hyun of the National Institute of Forest Science (NiFoS) took office as the first minister of Korea Forest Service (KFS) of the President Yoon Suk-yeol government at the Daejeon Government Complex on May 13.
Minister Nam held key positions such as head of the Nambu Regional Forestry Office and NiFoS while serving his 38-year public duty career.
He was also engaged in educating students while serving as a professor with Kookmin University and Gyeongsang National University.
He delivered his inaugural speech in which he called for ushering in of a "forestry renaissance era" through raising forestry management to the levels of advanced countries, a forestry policy vision.
Minister Nam suggested major tasks of the vision: ramping up competitiveness of the industries related to forestry by aggressively implementing the "economically feasible forestry" and creating jobs; strengthening support for people in the forestry management industry to raise public interests of the forestry industry; expanding forestry welfare services tailored by aggressively implementing "social forestry," ramping capabilities to cope with forest disasters and preserving and restoring the healthy forest ecosystem; strengthening studies on forestry science and forestry technology, and substantializing international forestry cooperation and promoting forestry collaboration between the two Koreas.
Minister Nam said, "We'll make joint efforts to make KFS a government agency loved and trusted by those in the forestry industry and people and build a healthy and dynamic organizational environment."
He pledged to usher in a forestry renaissance era by aggressively communicating with people and those in the forestry industry to know what they want by putting him and forestry officials into others' shoes.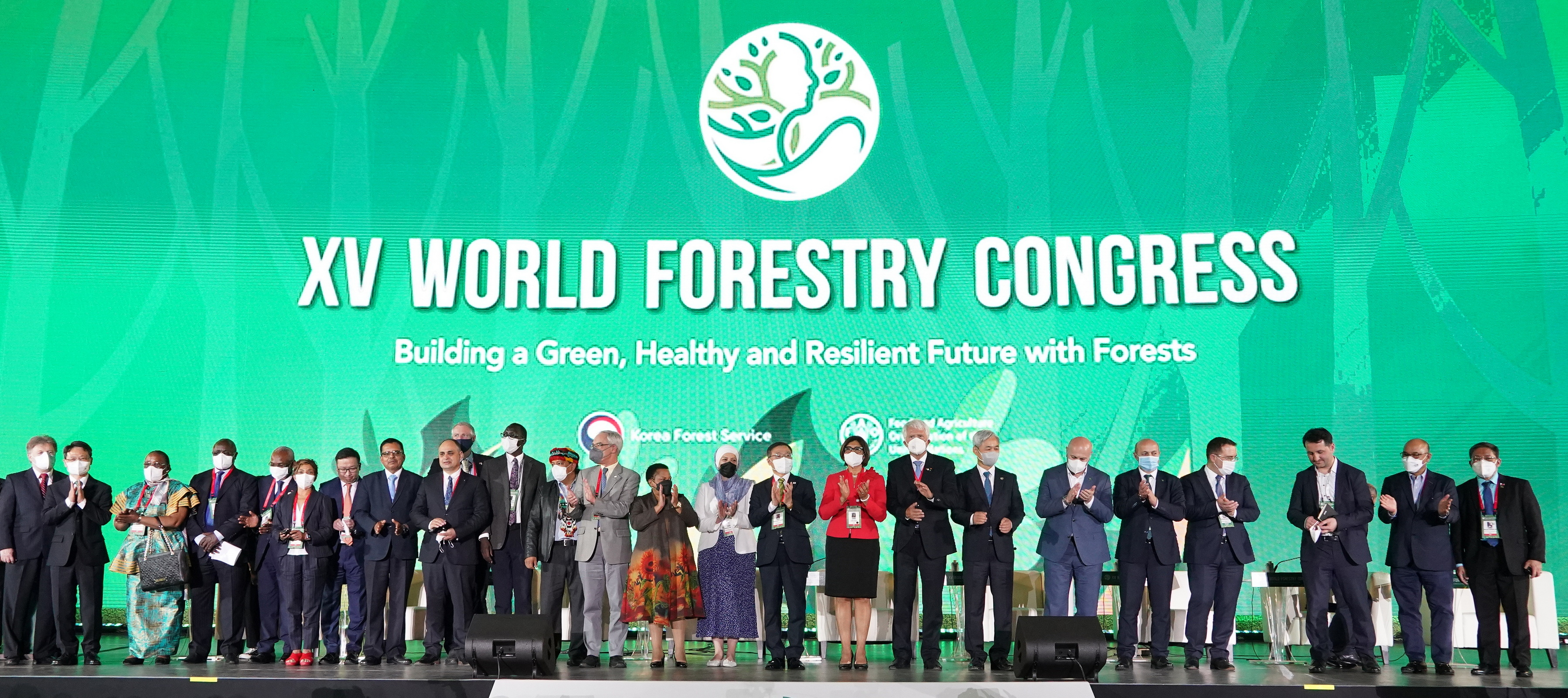 Korea Forest Service Minister Choi Byeong-am, Executive Secretary Ibrahim Thiaw of the UNCCD, and Deputy Director-General Maria Helena Semedo of FAO pose along with other participants as they attended a closing ceremony following of the 15th World Forestry Congress at COEX in Seoul.
15th World Forestry Congress Ends with Great Success
The 15th World Forestry Congress wrapped up a five-day run with a closing ceremony held at COEX in Seoul on May 6.
The Congress, hosted by FAO and held every six years, is the largest and most influential forest sector gathering to share worldwide forest-related and environmental problems, like climate change, biodiversity loss and desertification, and devise solutions through forests.
The closing ceremony started with the announcement of outcomes across the five days.
The Seoul Forest Declaration, prepared by the host country, the Republic of Korea, was announced among the major outcomes.
The Declaration highlighted that future sustainable forest management responsibilities should be integrated among various agencies and stakeholders.
Additionally, the need to build new partnerships, like AFFIRM Mechanism, SAFE initiative, and REDD+, and establish financing for sustainable forest management was announced.
In the Ministerial Forum on Sustainable Wood, the 'Ministerial Call on Sustainable Wood' was announced.
The declaration says solutions for using wood sustainably should be built into sustainable forest management, with each country agreeing to contribute to achieving NDCs (nationally determined contributions) by 2030.
Meanwhile, the 15th World Forestry Congress was recorded as the largest world forestry congress ever held despite the coronavirus's worldwide spread.
Around 10,000 participants from 141 countries participated, a record high, which far exceeded 7,000, the 13th congress's total.
The congress was attended by forest officials from all over the world, such as delegates from each country, including around 50 high-level officials and leaders of international organizations, academia, and civic society organizations.
These officials covered various programs, such as plenary sessions, special events, sub-theme sessions, side events, networking events, exhibitions, and poster sessions.
In particular, Korea shared its excellent forestry policies with the world and strengthened its position as a forest-advanced country that leads global forest issues through special events, including the fire management forum and PFI roundtable, which were held under its leadership.