Seoul Mayor Oh Se-hoon, running for reelection on the ticket of the People Power Party (PPP), flashes a victory gesture at PPP's Seoul constituent meeting at K-Turtle in Mapo-gu, Seoul, on May 17. (Photo: Oh Se-hoon's facebook)
Seoul Mayor Oh Se-hoon of the People Power Party (PPP) defeated Park Young-sun, a candidate of the Democratic Party of Korea (DP) in a Seoul mayoral by-election by a wide margin of 18.32 percentage points a little more than one year ago.
Mayor Oh prevailed over Park in all 25 local district constituents. In particular, Mayor Oh bested Park by an almost three-fold margin in Gangnam-gu: 73.54 percent vs. 24.32 percent.
The then ruling party DP's humiliating loss was owed to the former president Moon Jae-in government's mismanagement, including those related to real estate policies.
Mayor Oh, on the ticket of the ruling party PPP this time, is running for reelection for the fifth time in the upcoming Seoul mayoral local election slated June 1.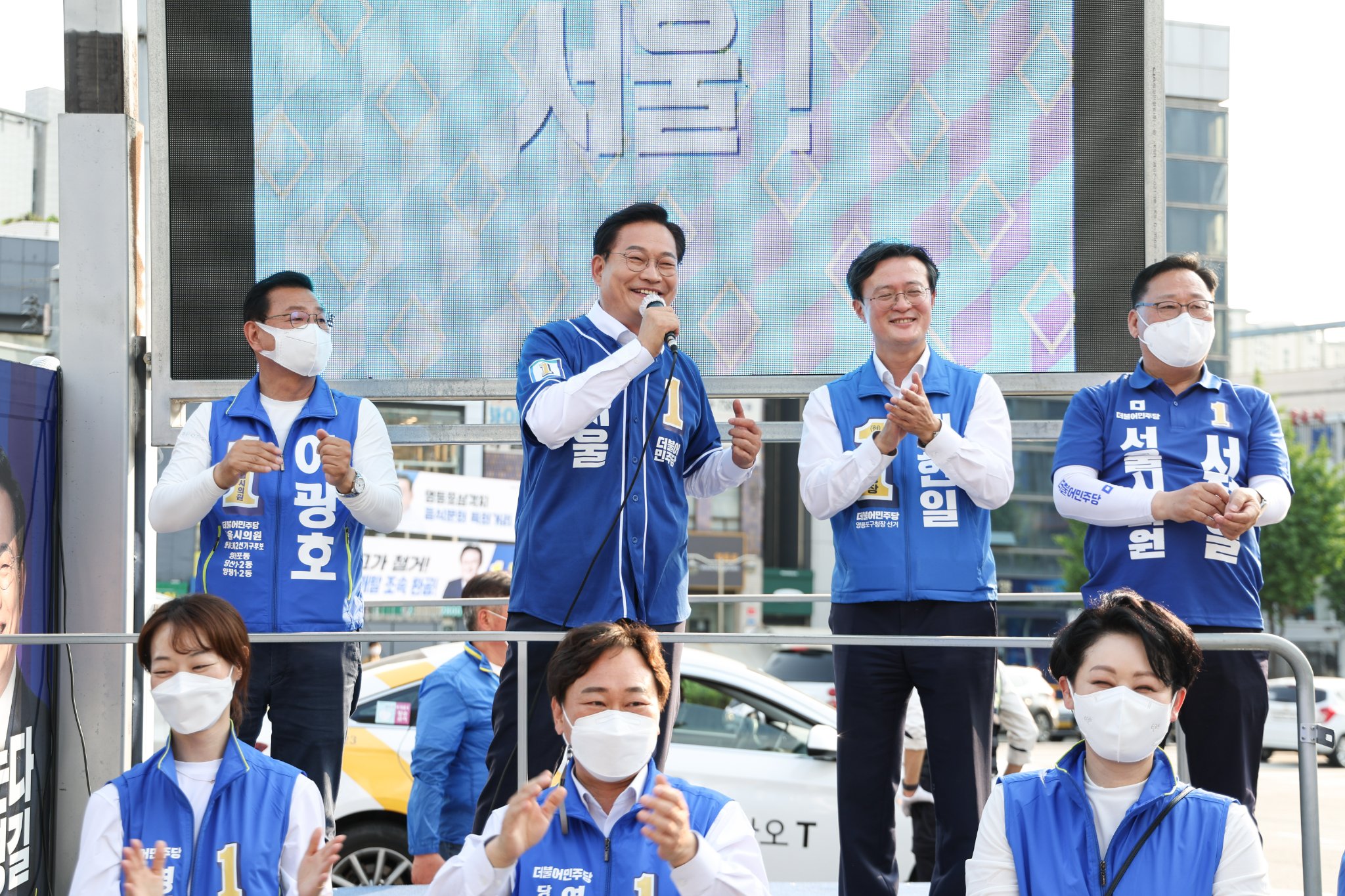 Song Young-gil, running for Seoul mayoral race under the ticket of the Democratic Party of Korea (DP), solicits support from merchants while touring the Yeongdungpo traditional market on May 20. (Photo: Song Young-gil's facebook)
Mayor Oh takes on Song Yo
ung-gil, a fifth-time lawmaker and former DP Chairman. PPP says it needs victory to stabilize the current President Yoon government, which will hold local elections three weeks after its inauguration.
On the other side, DP says it needs victory as a "vaccine" designed to keep in check the President Yoon government's one-sided rule.
In his speech at a ceremony to open Mayor Oh's campaigning office, PPP Floor Leader Kwon Sung-dong said, "Mayor Oh should spearhead efforts to reclaim local government power."
"A change of government has been achieved, but half-finished," he said.
Mayor Oh, characterizing the upcoming mayoral election as a livelihood-oriented mayor vs. a politicized mayor battle, claimed that Seoul mayor was not a job designed to make a show by politicizing issues.
The Seoul mayoral race is expected to be one of the tightest election races among ruling and opposition parties in the June 1 local votes, whose campaigning has just kicked off.
Ahn Cheol-soo, former chief of the presidential transition committee for Yoon, who also ran in the presidential election in March and agreed to unify candidacy for PPP candidate Yoon's win in the past presidential election, is running in a parliamentary by-election for a constituency in Seongnam, Gyeonggi Province.
He is expected to win hands down, according to recent surveys. Lee Jae-myung, who lost the last presidential election on the DP ticket, is now running for a parliamentary by-election for the Incheon Gaeyang-B constituent.
Opinion surveys showed that Mayor Oh was leading Song by margins beyond error range. For instance, a survey, conducted by Gallup Korea on 1,001 people 18 or above between May 13 and May 14 showed that Mayor Oh was leading Song 56.5 percent:31.4 percent by 25.1 percentage points.
Who will win the Seoul mayoral race will have a great impact on the power landscape of local governments. As the late ex-mayor Park Won-soon was elected in the local elections in 2018, his DP party candidates swept all ward mayoral races except Seocho-gu. DP party candidates took more than 90 percent of the total 110 seats of Seoul City Council.
Mayor Oh said on CBS Radio News Show PPP had only six seats in the 110-seat Seoul City Council and I wished PPP to take more than half of the seats.
In that case, Mayor Oh claimed that he would push 20 core tasks in the four areas and 70 unit projects under the "Seoul Vision 2030," planned.