President Hwang Chang-hwa of Korea District Heating Corp. (KDHC)
Korea District Heating Corp. (KDHC), the nation's largest community energy provider, is spearheading 'shared growth' through collaboration with SMEs to develop the community energy industry and ramp up its competitiveness.
First of all, KDHC succeeded in the localizing of a technology to recycle and repair high-temperature components through cooperation with Korean SMEs last year.
The nation has depended on the importation of gas turbines and core equipment of power plants. Foreign makers had also been responsible for recycling and repairing high-temperature components of gas turbines.
KDHC established a plan to localize a technology to recycle and repair gas turbine high-temperature components in 2016.
KDHC's strenuous efforts paid off, as the corporation collaborated with Korean generator repair companies to acquire technologies and conduct small-sized projects.
Finally, KDHC managed to help Korean SMEs recycle and repair gas turbine high-temperature components from last year.
KDHC implemented the recycling and repair of small-sized and mid-size gas turbines with Korean SMEs.
By localizing the recycling and repair of gas turbines, KDHC will save about 2.4 billion won in maintenance costs annually and accelerate shared growth with SMEs by helping Korean companies raise about 65 billion won and create 137 jobs by 2025.
Disclosing 436 kinds of public data related to the localization of power generation facilities is expected to contribute to raising Korea's technology power related to gas turbines.
KDHC also jointly struck an agreement with the Ministry of Economy and Finance and 44 public entities on the establishment of "K-testbed," a national integrated platform designed to support the verification of new technologies and products, developed and produced by SMEs and venture companies, connectivity of public procurement and exploration of overseas markets.
KDHC has strived to pursue shared growth with innovative SMEs by offering financial support worth 4 billion won to test prototype products and purchase developed and designated products to raise SMEs' technology competitiveness.
In a related development, KDHC has implemented "Community Energy Technology Sharing Academy," an educational program designed to share technology expertise with community energy businesses to ramp up the competitiveness of the industry.
The program made its debut in 2018. Under the program, 166 officials of 14 member companies affiliated with the Korea District Heating Community Association received on-the-job training on combined cycle power generation, heat transport and heat usage facility sectors.
KDHC had already signed an MOU on the standardization and improving of heat pipe work design with 10 community energy businesses.
The deal is expected to share and improve design and construction expertise KDHC has accumulated with community energy businesses, thus dramatically raising the quality and safety levels of heat transport pipe works.
KDHC was honored with the Global Quality Manager Grand Prix at the 2021 KSQM Quality Awards ceremony in recognition for developing of the community energy industry and pursing shared growth.
KDHC was recognized for its leadership by proactively putting into the development of the industry and social responsibilities.
KDHC President Hwang Chang-hwa said, "KDHC, a public entity leading the district heating community, will establish a cooperative regime with its cooperative firms and community energy businesses to develop the industry and do its utmost to ramp up the competitiveness of the industry and promote shared management."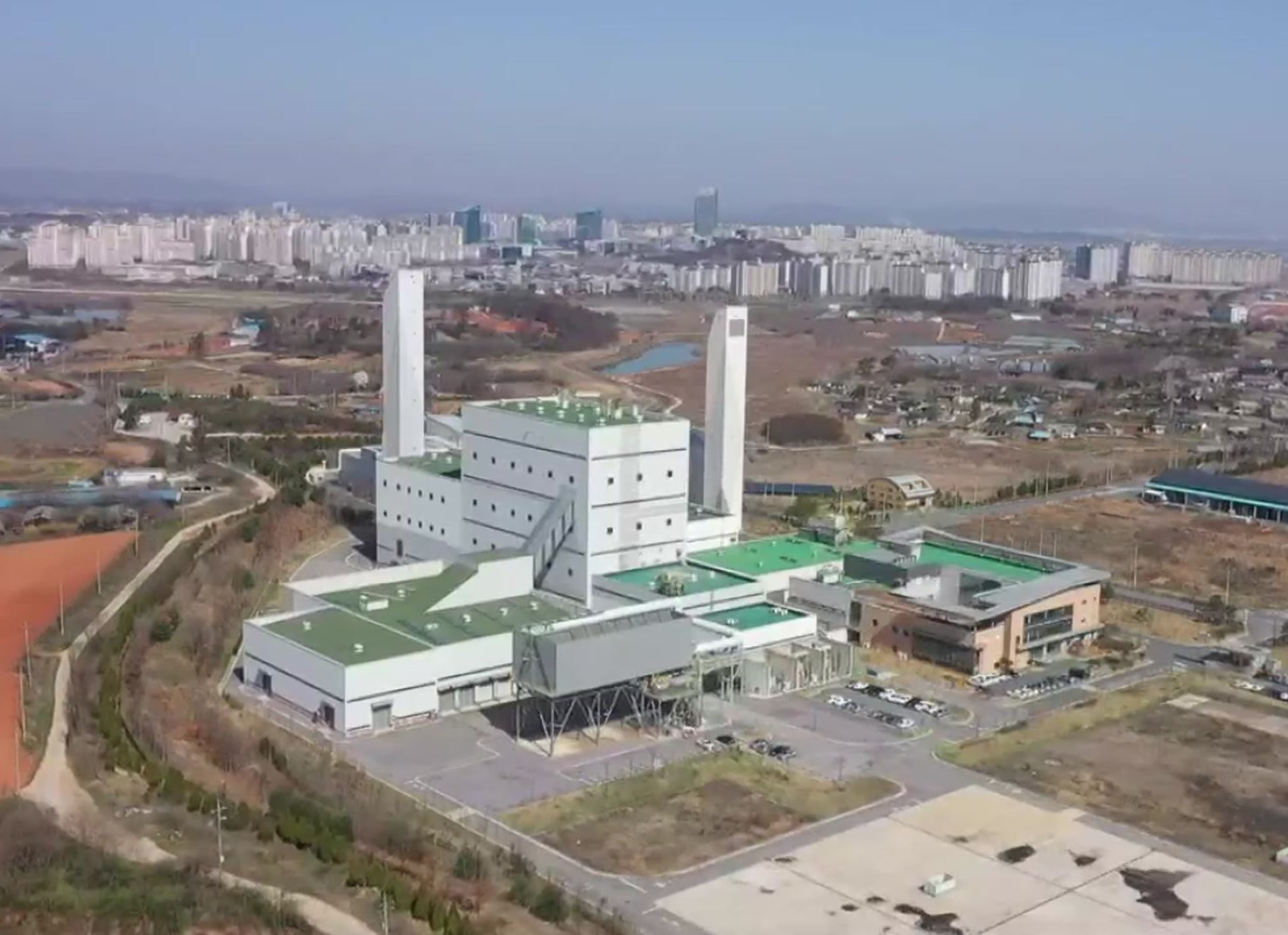 A whole view of the Naju Solid Refuse Fuel Combined Cycle Power Plant. (Photos: KDHC)
KDHC to Normalize Operation of SRF Power Plant in Naju
The Naju Solid Refuse Fuel (SRF) Combined Cycle Power Plant, built by KDHC, is to be put into operation soon. KDHC decided to ease losses, caused by the stopped operation of the combined cycle power plant and solve conflicts with the local community.
KDHC released a statement on March 28, citing the unavoidable operation of the plant and its determination to promote shared growth with the local community.
KDHC reconfirmed the legality and public interests of the operation of the SRF power plant by winning an appellate lawsuit related to the power plant against Naju City on Feb. 10.
The SRF power plant was found to cause no harm to the environment through an environment impact evaluation conducted in 2020. SRF (Solid Refuse Fuel) Solid fuel which is processed by collecting combustible waste instead of incinerating or burying it.