The new 140-horsepower SUV developed and produced in Korea will be sold in over 140 countries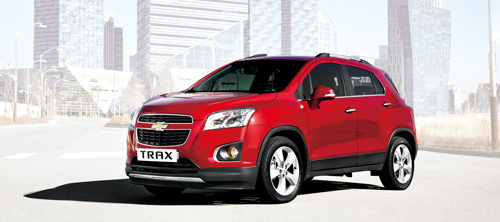 GM Korea's Chevrolet Trax that debuted at Seoul Motor Show.
GM Korea unveiled the new sports utility vehicle Chevrolet Trax on Feb. 20, which is a little smaller than its rivals in Korea' s car market, such as the Tucson and the Sportage. GM Korea, the local unit of General Motors Corp. of the United States, said it has debuted the new Chevrolet Trax global small SUV in a bid to strengthen its presence in the segment in South Korea.
GM Korea President and CEO Sergio Rocha said the Trax, developed through 60 months of vehicle engineering by a team of engineers in South Korea, is the first small SUV from GM' s global vehicle development program.
The vehicle, 4.24 meters in length and with a wheelbase of 2.55 meters, is equipped with a 1.4-liter turbocharged engine, offering up to 140 horsepower and 20.4 kilogram-meters of torque.
The powertrain has a combined fuel efficiency of 12.2 kilometers per liter with a six-speed automatic transmission.
"With its dynamic design, great SUV power, spacious interior, practicality, and stable sedan-like ride comfort, Trax is leading the domestic market into the new ULV (Urban Life Vehicle) segment," Rocha said in a statement. "It sets a new standard for design as well as quality, performance and safety for small SUVs."
GM put Trax through more than 1 million kilometers of testing around the world and an array of crash tests to ensure the highest level of safety, according to GM Korea.
GM Korea said the driver can communicate with Siri, the voice recognition function available for the iPhone 4S and iPhone 5, through the steering wheel microphone to control both the phone and Chevrolet MyLink.
GM Korea said the Trax will go on sale in South Korea on Feb. 25 and it will also be available in more than 140 countries, including many European markets, by year' s end.
The price of the Trax ranges from 19.4 million won ($18,000) to 22.8 million won, said the carmaker.
The new SUV looks stylish, without the heavy look seen in traditional SUVs, and the rear view looks like an arch from the hood to the trunk line. The interior design looks simple, avoiding a complicated look by placing a number of gadgets in the proper place and order including the touch panel and liquid screen.
There is no navigation system, but one doesn' t have to buy one. For 10,000 won, one can buy "Bringo" and use a smartphone to get directions.
After driving around downtown Seoul for about 20 km, the new SUV gives the feeling and comfort of a sedan. It also handles curves very well due to the control system of its body.
The new SUV, however, showed one shortcoming on the highway °™ namely its inability to quickly accelerate. But through its slow acceleration, the driver can enjoy the pleasure of its six gears.
Amid the growing acceptance of small-engine, fuel-efficient vehicles globally, carmakers have recently been betting big on the niche segment °™ compact SUVs. And the Korean-flavored Trax is the first of its kind to be introduced here.
"Trax is a vehicle of a new concept. It combines the functionality of SUVs and the comfort and stable handling of sedans," said GM Korea' s vice president Ankush Arora during an unveiling event held in Jeju on Feb. 25.
He cited Kia Motors' Sportage and Hyundai' s Tucson SUVs as key competitors, but added that the Trax could compete against all vehicles in the segment due to the new car' s unique, unprecedented concept.
Except for vehicles for the South and North American markets that are currently produced in Mexico, all the Trax cars that will be marketed in Korea and other overseas markets are manufactured at the Korean unit' s Bupyeong factory in Incheon.
Instead of a diesel engine, which is more widely adopted by SUVs, the Trax comes equipped with a 1.4 liter turbocharged gasoline engine, whose production has started in Korea following GM' s U.S. and European operations.
As a result, the Trax offers up to 140 horsepower and a fuel efficiency of 12.2 kilometers per liter, the carmaker said.
Other distinctive features include Chevrolet' s MyLink, GM' s next-generation smart infotainment system, and a premium Bose sound system.