The tire maker aims for 15 percent market share Down Under through unique sales strategies, taking over local tire dealers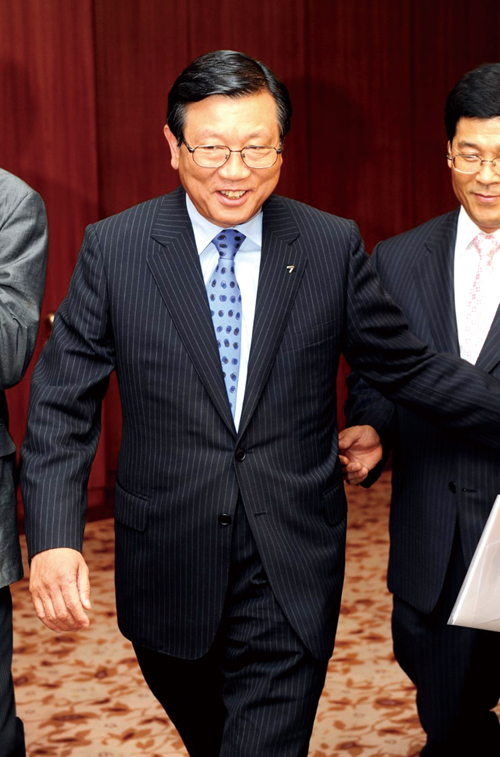 Chairman Park Sam-koo of Kumho-Asiana Group
with Kumho Tires Co. as its major affiliate.
Kumho Tires Co. is doing exceedingly well in Australia with its tire logistics center in Glendenning, New South Wales, handling the sale of its tires in the island nation.
The auto tire company' s logistics center is located 40 km from Sydney and is capable of storing 80,000 tires in its 5,144 sq. meters facility. The center handles some 30,000 tires monthly for distribution in the greater Sydney area.
Kumho Tire has an extensive operation in Australia with its logistics centers for tires located in a number of key areas including Melbourne and Brisbane with a total storage capacity of 293,000 tires.
President Kim Ki-young of Kumho Tire Australia, said, "We can hardly meet the demand for Kumho tires in Australia, although 193 containers bring them to Australia on average monthly from such countries as Korea, China, and Vietnam."
Last year, Kumho Tire sold 1,190,000 replacement tires, boosting its market share in the Australian tire market to 6.4 percent, the third largest behind the world' s two largest auto tire makers Bridgestone of Japan (17.5 percent) and Goodyear-Dunlop of the United States (16.5 percent).
Yokohama Tire of Japan is ranked fourth in Australia with a 4.5 percent market share followed by Michelin with 3.5 percent. Like them, Kumho extensively relies on its own sales network and local tire dealers there.
Kumho Tire had a head start by taking over a local auto tire dealer, Tire Master, with over 4,000 sales outlets in 2006 to market its tires, and in 2010 the tire company signed an agreement to supply its tires to Bob Jane Inc., the largest auto tire dealer in Australia, to expand its sales.
The company also developed its own systems to improve sales from its logistics centers with programs for ordering and inventory management including the charge back system for truck tires. It allows trucks moving around Australia to buy Kumho tires at the same price anywhere in Australia where the tires are available and pay for them later.
Kumho also introduced the system for tires for SUVs whereby the company will provide tires for replacement if something is wrong with them after using them for up to 60,000 to 80,000 km free of charge. As a result, the sale of those tires jumped around 70 percent with the start of the new system and the operating profit has been rising 25 percent annually since then.
Kumho aims to boost its market share in Australia to 10 percent by 2015 with annual sales reaching $200 million. The sale of autos in Australia jumped 10.3 percent on year to 1,112,000 units, while the rest of the world was mired in an economic slowdown.
This year, the company plans to increase the number of its "platinum" dealers, whose sales of Kumho tires account for over 60 percent of their total sales, from 23 to 40.
The company will also strengthen its sports marketing and expand social service activities including an environment-friendly campaign to upgrade its brand name.