Cee'd captures Best of Best Award for design along with the Carens, while Cee'd Sports Wagon and sedan win excellent design awards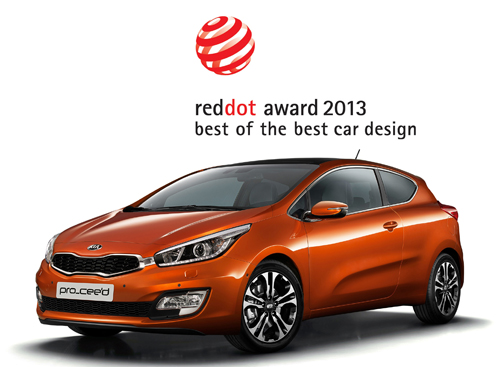 The Pro.Cee'd, a new sedan model being marketed by
Kia Motors won the 2013 Red Dot Design Award.
Kia Motors has captured four major awards at the Red Dot Design Awards 2013 with the Cee'd clinching the Best of Best Award in the Product Design Sector, while the Carens, the Cee'd, and the Cee'd Sports Wagon also grabbed awards, the motor company said on March 13.
It is unusual for a motor company to clinch four awards in the same year, let alone the four best-known awards in car design, the company said.
Furthermore, the car maker won the Red Dot Design Award for five years in a row with the Soul clinching the award in 2009, followed in 2010 with the Venga capturing it, in 2011 by the K5, the Sportage R and the Morning in 2012, and the four awards in 2013.
The four awards won this year has brought the total number of Red Dot awards to 10 overall for the motor company. The Proceed has become the second Kia car to win the Best of the Best award following the K5 in 2011.
The car maker also captured the iF Design Award now has two of the three major "best design" awards in the world. In particular, the last three models of the Cee'd have won awards.
The Proceed, which captured the Best Design Award, showed off the dynamic style of its three-door model with a hatchback at the Paris Motor Show last September.
President Peter Schreyer in charge of overall design at the Hyundai Motor Group, said Kia's four car models winning the Red Dot Awards is a sign that Kia Motors' strategy for design that has been pursued continuously for the past several years is producing solid results.
Kia Motors officials said Kia will continue to boost the value of its cars with design management as the base and continuously turn out car designs that are satisfactory to their customers.
The Red Dot Design is one of the three grand design awards in the world along with iF Design and the IDEA Design Award and is managed by Germany's Design Zentrum Nordheim Westfalen, which focuses on reforming the nature of the design of the product, its functional features, and other factors that make up the core evaluation criteria for the selection committee.