(from left) Lotte E&C President Ha Seok-joo, President Hwang Jin-goo of Lotte Chemical's Basic Material Business, Vice Chairman-CEO Kim kyo-hyun of Lotte Chemical, Indonesian Ambassador to Korea Gandi Sulistiyanto Soeherman Gandi, and Hong Hyun-sung, head of Hyundai Engineering's Plant Business attend an EPC agreement related to the Indonesia Line Project at Lotte World on Jan. 7.
Lotte E&C has established itself as a comprehensive real estate developer in the overseas construction business. Despite hard times caused by the COVID-19 pandemic, Lotte E&C achieved winning orders worth 3.6 trillion won in the overseas construction business by focusing its capabilities on the Southeast Asian market last year.
This year, the contractor plans to expand its overseas construction business to global markets such as Europe and Australia.
Lotte E&C said on Feb. 23 the contractor won overseas housing, construction and civic engineering orders worth 2.1 trillion won, and overseas plant orders worth 1.5 trillion won last year.
The business performance was owed to outcomes of Lotte E&C's efforts to overhaul its fundamentals since 2018.
From that time, Lotte E&C has made efforts to establish itself as a comprehensive developer specializing in project exploration to project financing and management, a departure from simple undertaking of construction projects as a contractor. Lotte E&C has focused on project financing for both development and construction.
In early 2019, Lotte E&C designated Vietnam and Indonesia as beachheads for business in the Southeast Asian region, and established Lotte Land, a local incorporated entity, in two countries.
Lotte Land has implemented projects in collaboration with local developers. Currently, four projects, being implemented in Hoh Chi Minh, are to sell 3,000 apartment units and 1,200 villa units.
Of late, Lotte Land has solely won Dai Phuc Township Project to build 1,402 apartment units and 89 villa units in Vietnam.
Lotte Land plans to sell 4,200 apartment units in the "Garden City Newest 2" Project in Jakarta in cooperation with the local large-sized developer Modern Land.
In addition, Lotte E&C is participating in the Line Project, a super chemical complex in Cilegon, Indonesia, Lotte Chemical Titan, a subsidiary of Lotte Chemical, is implementing.
The project is expected to serve as an opportunity for Lotte E&C to ramp up its plant project performance capability.
As part of efforts to expand its business areas as a developer, Lotte E&C is seeking to implement a variety of businesses, including logistics warehouse on top of the housing sector.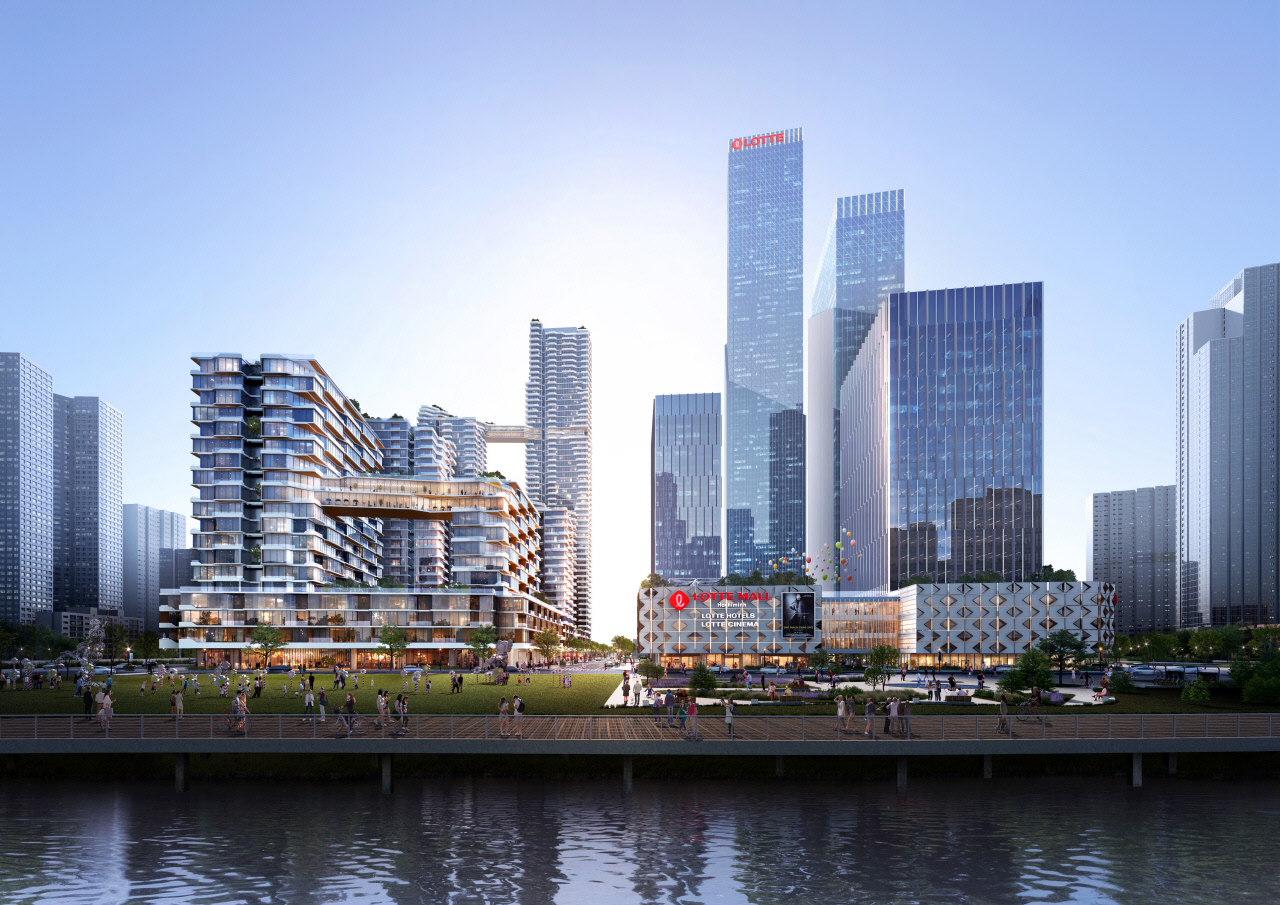 An artist view of Eco-smart City, a large-sized mult-purpose structure, to be built by Lotte E&C in Thu Thiem New Urban Area., Hoh Chi Minh City, Vietnam. (Photos: Lotte E&C)
Lotte E&C is implementing two logistics warehouse projects, including one in Phu An Thanh, Hoh Chi Minh.
In addition, Lotte E&C landed a hydro power project in Lower Spat Gah, Pakistan. Hydro power, classified as one of renewable energies, can obtain carbon credits from the Pakistan government.
Lotte E&C is standing out as a contractor in the overseas business. Lotte E&C was the winner of a project to build a transport hub in Singapore from the Singapore Land Transport Authority.
The project is expected to help Lotte E&C secure a foothold in the large-sized infrastructure project in Singapore.
In April 2021, Lotte E&C won the SND Star Lake Project worth 350 billion won to build a six-star hotel in Star Lake City near Hanoi, Vietnam.