A "coastal sky rail" in Jukbyeon, Uljin, which was opened last Aug. 5, is a tourism facility designed to watch a landscape from above the sea.
The Gyeongsangbuk-do provincial government has made a fresh start to help the tourism industry make a leap forward this year by overcoming hardships caused by the COVID-19 pandemic.
The provincial government's efforts to explore new tourism content and settle its marketing strategies to brace for the aftermath of the pandemic have paid off. Gyeongsangbuk-do has decided to reshape its tourism industry anew.
Despite last year's difficulties, Gyeongsangbuk-do saw its tourism industry achieve positive outcomes.
Statistics on visitors to each city and province through KT's big data analysis, compiled by Korea Tourism Organization (KTO), showed that the number of visitors to Gyeongsangbuk-do stood at 149 million as of the end of November.
If Seoul and Gyeonggi-do are excluded, in which a majority of people come for purposes other than tourism, Gyeongsangbuk-do topped the list of visitors. Gyeongsangbuk-do logged a growth rate of 5.2 percent to rank 2nd following Jeju Island.
An annual survey of summer visitors by Consumer Insight, a public opinion firm, showed that Gyeongsangbuk-do jumped two slots to rank 3rd, after Gangwon-do and Jeju Island last year.
Given these indexes, Gyeongsangbuk-do was assessed to have fared well even though the tourism industry suffered a setback for the past two years.
The good performance of the tourism industry was owed to the provincial government's efforts to explore content to cope with changed trends after the pandemic hit the nation, and related marketing strategies.
Based on the past's achievements, Gyeongsangbuk-do aims to make this year a year in which the province sees the tourism industry grow higher than each of the previous two years by attracting 200 million visitors via big data analysis.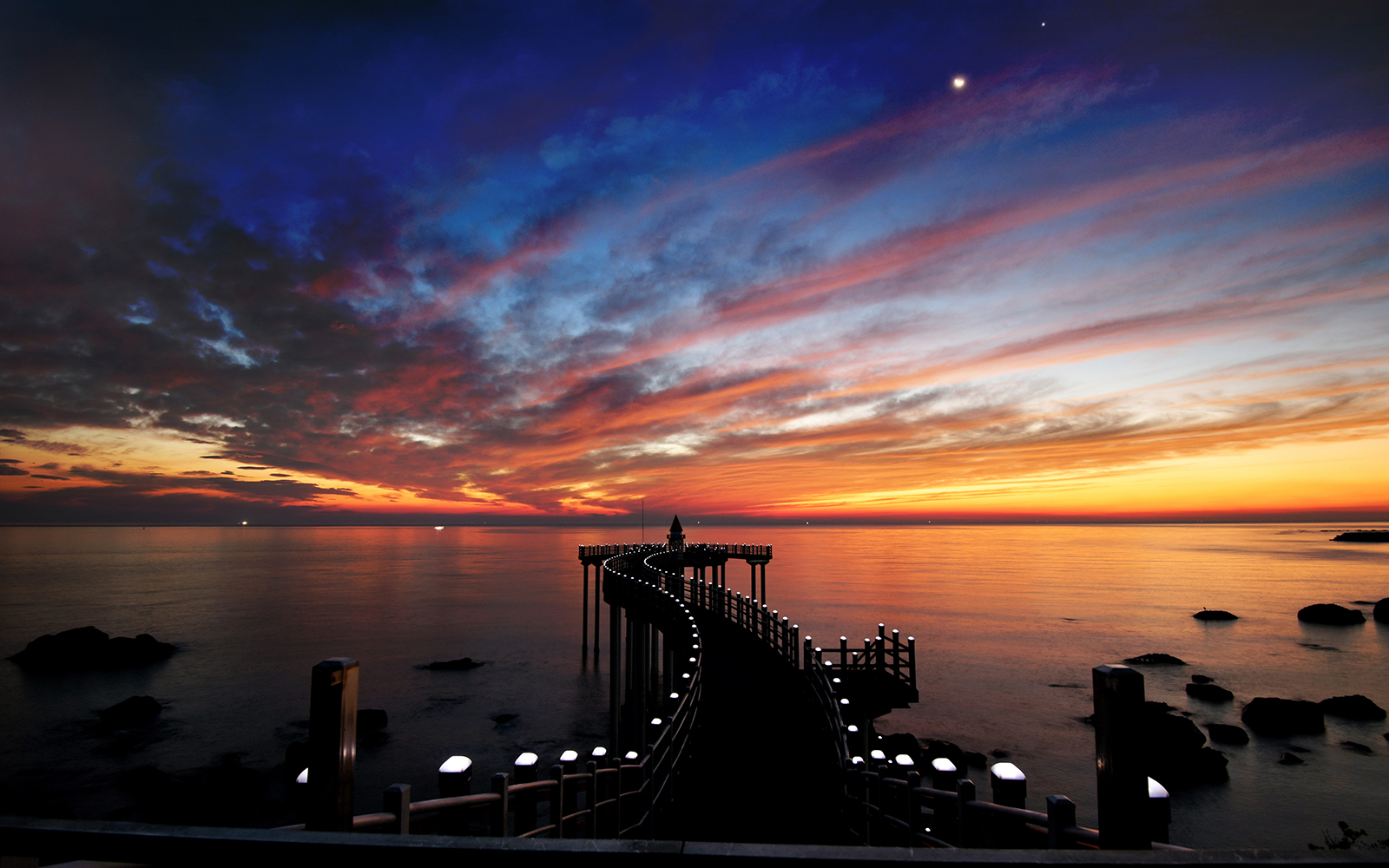 A sun-setting view of "Igari Dat (Anchor) Observatory" in Pohang. (Photos: Gyeongsangbuk-do)
As a first important content strategy, the provincial government designated four kinds of content: healing, cultural experiences, activities and camping and decided to conduct marketing activities on the four content categories.
To this end, Gyeongsangbuk-do designated four action tasks: spreading content through diverse channels, reinvigorating the tourism industry by returning to business as usual, conducting overseas marketing activities utilizing hallyu and K-content and reinvigorating culture and tourism festivals.
Kim Sang-chul, director general in charge of culture, tourism and sports at Gyeongsangbuk-do, said the provincial government's final goal is to attract the number of tourists to the pre-pandemic levels by exploring content categories that can make the most of the province's strong points, conducting promotion marketing activities, offering tourism programs so more tourists can enjoy and experience and providing extraordinary, wider tourism support.