SK Telecom CTO Byun Jae-woan on Feb. 27 held a press conference at MWC 2013 to announce the company's future technological direction to secure global leadership in areas of next-generation technologies.
CTO Byun announced that SK Telecom will focus on developing HMI (Human-to-Machine Interface) technology, video recognition/analysis technology and big data analysis technology, while creating innovative technologies that will serve as the basis for the company's future growth businesses.
Development of powerful technologies to create new global ICT trends
HMI is being highlighted as an essential technology for many types of new services such as English learning and automated assessment. SK Telecom's smart learning robot Atti, exhibited at MWC 2013, is embedded with core HMI technologies including voice recognition technology and sentence analysis technology.
The rapid advancement of wireless networks is boosting customers' use of video contents, hence calling for advanced video recognition/analysis technologies that can extract and process meaningful information from running video. The company plans to focus on developing more sophisticated video technologies and use them to create diverse intelligent video solutions/services such as video surveillance.
Big data technology is becoming of greater importance in the field of ICT as it processes, in real-time, massive data into meaningful information. SK Telecom will use the technology to understand customers' usage patterns and gain business insight, which will, in turn, enable the company to offer enhanced service quality, launch effective marketing campaigns, and design viable business models.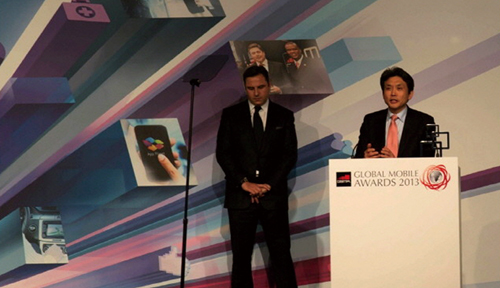 SK Telecom CTO Byun Jae-woan speaks
about his company's future plans at MWC 2013.
Supporting the growth of its new growth businesses - healthcare, solution and media through innovative technologies/solutions
SK Telecom is actively conducting research and development in new diagnostic products, including diagnostic reagent, as well as ICT-based medical diagnostic device platforms to promote its healthcare business in full-swing this year. Moreover, the company is also making efforts to develop new types of healthcare services including one that provides personalized treatment through bio-data analysis.?
SK Telecom is also actively promoting its solution business through creation of innovative technology/solutions. At present, it is developing 3D-based Smart Guide, an in-building navigation service, and Biz SNS Solution that can be utilized for enterprise marketing. Furthermore, the company will continue to offer differentiated solutions based on fixed/wireless cloud infrastructure and data analytics to enhance productivity of its enterprise customers and propel its own growth.
With the aim to achieve innovations in the area of media service, SK Telecom is developing an Android-based set-top box that can be linked with smartphones. The set-top box will allow users to operate various applications on the TV screen and use the Internet for searching and browsing. In addition, the company completed development of Mobile Smart Node, a technology the dramatically reduces content download time by streamlining the content delivery route on wireless network, in January 2013. In the long-term, SK Telecom plans to develop IPTV technology based on HTML 5 in order to overcome limitations imposed by different operation systems and platforms.
SK Telecom Wins GSMA Chairman0s Award, the most prestigious GSMA award, for Its Contribution in Mobile Telecomm-uni-cations
SK Telecom has been named the winner of the Chairman's Award at this year's Mobile World Congress Leadership Summit.
The GSMA Chairman's Award, first presented in 1996, is the most prestigious GSMA award given in recognition of outstanding achievements in the mobile industry. The award honors personal or company contributions as well as achievements that span entire organizations, over a sustained period of time. Winner of the award is chosen by the GSMA's Chairman alone.