President-elect Yoon Suk-yeol receives congratulations from leaders and officials of the People Power Party and Ahn Cheol Soo, chief of the People's Party, in the Election Situation Room of the People Power Party in the National Assembly Library in the morning of March 10.
As candidate Yoon Suk-yeol won the hotly contested presidential race and Ahn Cheol-soo took over as chairman of the 20th Presidential Transition Committee, attention is turning to a pledge between President-elect Yoon and Chairman Ahn. Compensation for losses to small business owners and merchants affected by COVID-19 is considered the top priority for the new administration.
The new Yoon administration is expected to abolish the outgoing Moon Jae-in administration's nuclear phase-out policy and adjust Korea's nationally determined contribution (NDC). As a presidential hopeful, Yoon promised to boost the supply of houses by 2.5 million households.
The eradication of illegal short selling and the reform of the virtual asset taxation system are also expected to be prioritized by the incoming President Yoon administration.
President-elect Yoon and Chairman Ahn are seeing eye to eye on the areas of responses to the COVID-19 situation, science and technology development, carbon neutrality and energy and the capital market.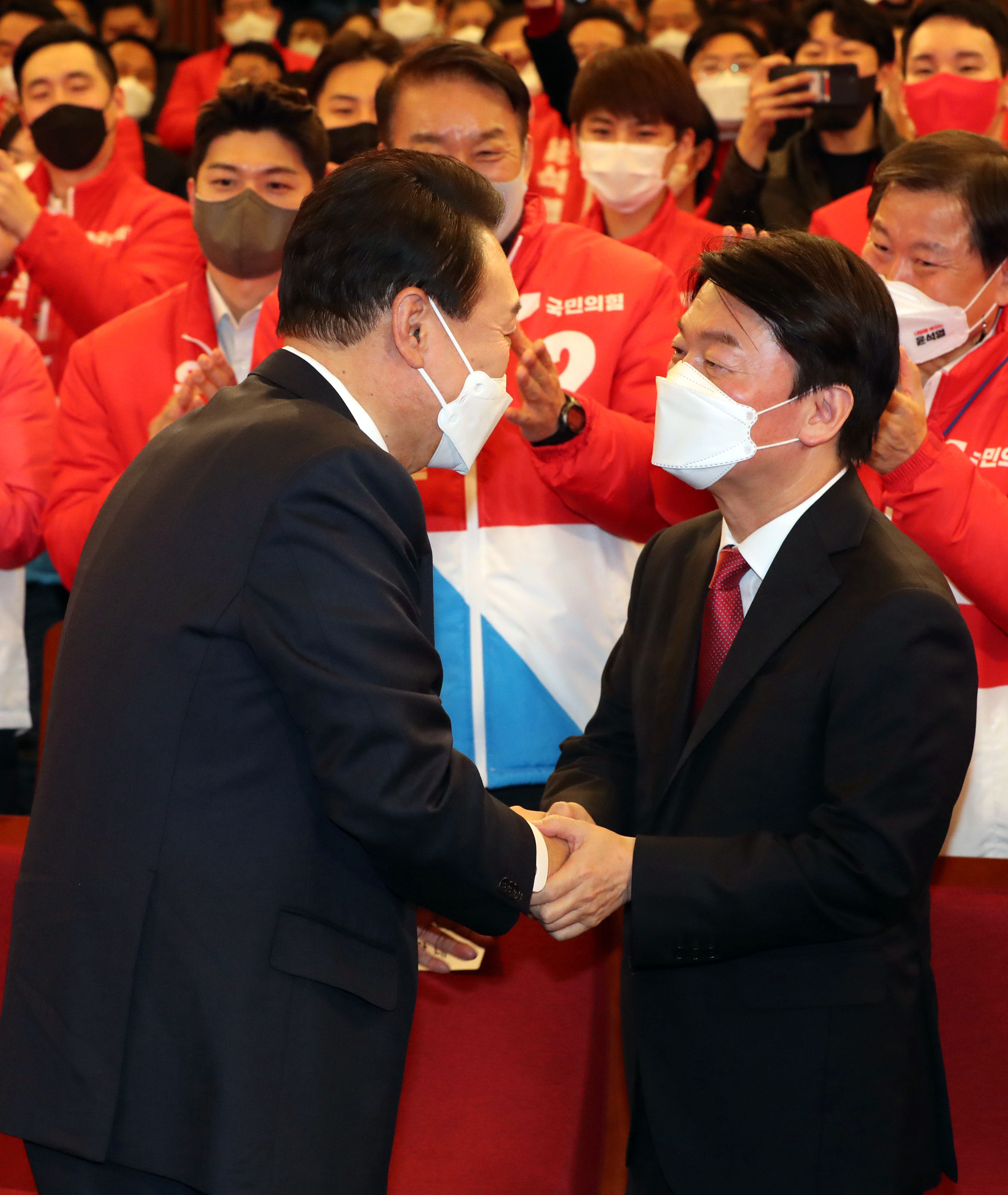 President-elect Yoon is joining hands with Ahn after the results of the presidential election are confirmed. (Photos: People Power Party)
First of all, Yoon is expected to accelerate support for those affected by COVID-19, which he emphasized during his election campaign. President-elect Yoon promised total loss compensation by securing 50 trillion won in funds.
As Yoon and Ahn agreed to support small business owners. The key to securing and utilizing financial resources is the establishment of a special accounting system, he said.
Yoon proposed a special account to support those hit hard by the COVID-19 pandemic, and Chairman Ahn included the establishment of COVID-19 special account worth 30 trillion won a year for a total of 150 trillion won for five years in his campaign promises.
As Yoon has been insisting on supporting those hit hard by the COVID-19 pandemic with 50 trillion won, the new administration is expected to prepare at least 50 trillion won in financial resources.
The nuclear phase-out policy pursued by the Moon Jae-in administration will be reexamined from the ground up, as both Yoon and Ahn pledged to abolish the policy.
The construction of Shin-Hanul Units 3 and 4, which had been suspended, is expected to resume with the inauguration of the new administration.
Yoon announced that he will achieve the export of 10 nuclear power plants by 2030, and the development and advancement of small modular reactors (SMRs), a next generation of nuclear power plants, are highly likely to become an important economic policy again.
Yoon suggested an adjustment to Korea's NDC, which aims to cut carbon emissions by 40 percent in 2030 compared to 2018.
Although he agreed with a carbon-neutral policy for 2050, he took into consideration the point that a sharp increase in the reduction target could significantly weigh on the Korean economy.
Accordingly, the new government is planning to completely revise the plan to attain the NDC goal.
As a way to strengthen national competitiveness in the economic field, Yoon and Ahn are looking to grow Korea into one of the world's top five science and technology powerhouses.
It is also expected to promote the establishment of a separate organization that promotes regulatory innovation in order to rev up the Korean economy centered on the private sector such as private companies.
In the case of real estate, we plan to promote reconstruction and redevelopment, expand housing supply, and revise the three laws on leases.
Both Yoon and Ahn made a pledge to supply 2.5 million houses with the supply in the Seoul metropolitan area reaching a maximum of 1.5 million houses.
Various types of housing supply plans are expected to be implemented under the leadership of Yoon.
Ahn proposed one million half-rent houses as a pledge. Yoon promised to bring deregulation to reconstruction and redevelopment areas.
Yoon proposed the abolition of the stock transfer tax and promised to devise and implement strict measures against illegal short selling.
Moreover, Yoon is expected to put a brake on attempts to newly list the company through the split-off of its main business, like LG Energy Solution.
The taxation system for virtual assets, such as Bitcoin, is also expected to be overhauled. Yoon proposed a policy to exempt tax on up to 50 million won in returns on investment in virtual assets.