President Yoon Jae-ki of Finetech Korea is humming these days as his company has laid a welding automation foundation to boost sales and established a plan to relocate its headquarters and plant. Thanks to LSIS's policy to pursue shared growth, Finetech Korea, which has seen its sales more than double since 2011, is an up-and-coming SME.
Yoon said his company's super fast growth is owed to LSIS's solid partnership with its cooperative companies, which has allowed Finetech Korea to have a competitive edge to differentiate itself from other rivals by living up to LSIS's guidelines on product quality, delivery time, and price.
Finetech Korea, which supplies mainstay items such as contact assemblies, press parts, and composite assemblies to LSIS, has achieved a remarkable single-digit parts per million (PPM) failure rate in 2011 and won quality management awards from LSIS twice thanks to its strenuous efforts to innovate quality.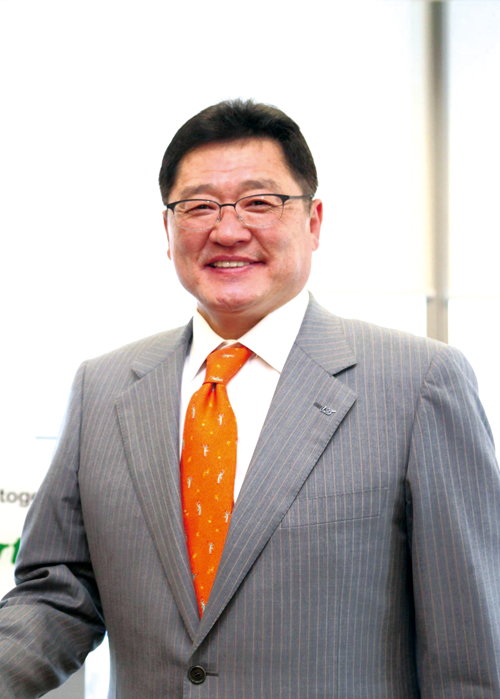 LSIS Vice Chairman & CEO Koo Ja-kyun
The company is one of the beneficiaries of the ACE Club program LSIS has in place for securing technological power in the long-term perspective and pursuing shared growth with its cooperative SMEs. The name of the program, established in 2008, is a combination of the initials of words °™Activity for fast-track implementation with cooperative companies, Challenge for breaking barriers, and Excellent for pursuing top performances and the best partnership. Cooperative companies prized for becoming excellent in the three aspects are designated as LSIS's partners for shared growth, which are then taught LSIS's management knowhow.
LSIS aims at helping ACE Club member companies evolve into up-and-coming hidden gem mid-size companies by providing support in building infrastructure for their own innovations, such as the nurturing of core manpower and informatization systems as well as securing competitiveness in such areas as quality, productivity, and development.
ACE Club members with lower performances are delisted from the program to give them more motivation for growth.
LSIS expects the ACE Club program to suggest what its desirable partners should look like: cooperative partners who will secure capabilities corresponding to the levels of LSIS in specialized areas; partners who will participate in the development stage of new products and new businesses through horizontal and vertical supply networks; and partners who will obtain sustainable competitiveness by establishing management transparency and entrepreneurship.
LSIS requires cooperative SMEs to go through a few stages toward becoming excellent partners. The company initially explores "hidden gems" for selecting the ACE Club member companies before moving on to select "star" cooperative partners among the ACE Club members to transform into "heroes." LSIS carries out the final stage of letting other companies take cues from hero companies serving as "innovative special task force members."
In this vein, LSIS operated an education program designed to nurture innovative special task force members at Innovation Academy in Asan, Chungcheongnam-do, for six months between last June and December. About 40 executives and staff members from 14 cooperative companies participated in the training camp program.
The trainees were taught "how to catch fish" °™ getting employees from the cooperative companies buckle down to innovative activities on a voluntary basis. The graduates of the program will serve as innovative leaders and next-generation CEOs of cooperative companies charged with the mission of halving losses and redoubling sales.
LSIS invests in joint research and development activities while dispatching its employees to conduct technological training courses for cooperative company employees. The company spares no efforts in assisting its cooperative partners in promoting product innovation, offering technological guidance, and obtaining the ACE grade certification.
Thanks to LSIS's support, the number of ACE Club member cooperative companies with more than 10 billion won in annual sales rose from two in 2008 when the ACE Club program was launched to 12 in 2012.
LSIS has seen their cooperative companies' average subcontract amounts surge from 4.7 billion won in 2008 to 13.2 billion won in 2012.